Social media platforms like Instagram are increasingly becoming a more important source of information to potential customers, helping them decide if they want to visit your restaurant or not. In fact, Millennials and Gen Z are 99% more likely to rely on social media and online reviews than Gen X'ers and Baby Boomers. This means unless your restaurant strictly serves older demographics, including Instagram in your restaurant marketing strategy is vital.
Using Instagram for restaurant marketing is great because food is one of the best performing content types on the platform. This popularity can make marketing your restaurant on Instagram seem daunting since there are so many other Instagram accounts you'll be competing with.
However, with a combination of great content and a well-thought-out strategy, you'll be able to boost engagement and increase your restaurant's following on Instagram.
Let's check out the tips below:
16 Instagram Restaurant Marketing Tips

1. Set Up An Instagram Business Account
Using an Instagram Business account for marketing your restaurant is important because it gives you access to several features not available with a personal Instagram account. This includes access to insights that can help you understand who is engaging with your business on Instagram.
An Instagram Business account also gives you access to the professional dashboard that allows you to track your performance and access tools such as call-to-action buttons, adding contact information, and shopping.
The steps for setting up an Instagram Business account according to Facebook is as follows:
Go to your profile and tap the Burger Menu in the top right-hand corner.
Tap Settings.

For some accounts, the Switch to professional account option will be listed directly under Settings.

Tap Account.
Tap Switch to professional account.
Tap Continue.
Select a category for your business and tap Done.
Tap OK to confirm.
Tap Business.
Tap Next.
Add contact details and tap Next. Or tap Don't use my contact info to skip this step.
If you'd like, you can follow the steps to connect your business account to a Facebook Page associated with your business. This step is optional and will make it easier to use all of the features available for businesses across the Facebook family of apps. At this time, only one Facebook Page can be connected to your business account.
Tap X in the top-right corner to return to your profile.
2. Optimize your profile
First impressions count, and this definitely applies on Instagram. Ensuring your profile is optimized for Instagram will increase the chance of you winning over potential customers that are viewing your Instagram profile.
Your Instagram profile bio is your opportunity to give visitors relevant information about your restaurant. With a maximum of 150 characters, 1 link, and a few action buttons, you need to ensure that you capture the attention of visitors and the essence of your restaurant succinctly.
3. Create beautiful content
All chefs know the saying "you eat with your eyes first," and on Instagram, this is just as true. Your restaurant's Instagram feed should encourage potential customers to visit your restaurant. Posting beautiful, eye-catching photography of your dishes is a great strategy for driving interest in your restaurant.
4. Use Editing Tools
Editing tools will help you take an average photograph and turn it into something eye-catching and worth sharing on social media. While Instagram does include editing tools, its options are limited.
Desktop image editing tools such as Adobe Photoshop are an option, but since these photos will be shared and consumed via mobile devices, it makes sense to edit them on one as well.
A few photo editing tools include:
Snapseed
Snapseed is a free, complete, and professional photo editor developed by Google. Its features include 29 Tools and Filters, JPG and RAW support, saving personal looks and applying them to new photos later, and a selective filter brush.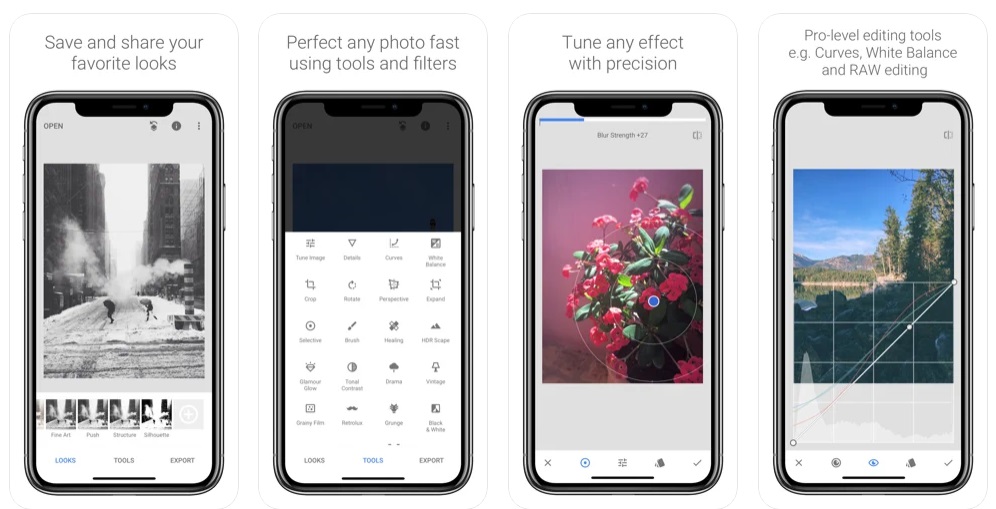 Photoshop Lightroom
From the creators of Adobe Photoshop comes Photoshop Lightroom, a free, powerful photo editor and camera app that empowers your photography, helping you capture and edit stunning images. Features easy image editing tools like sliders and filters, which simplify photo editing.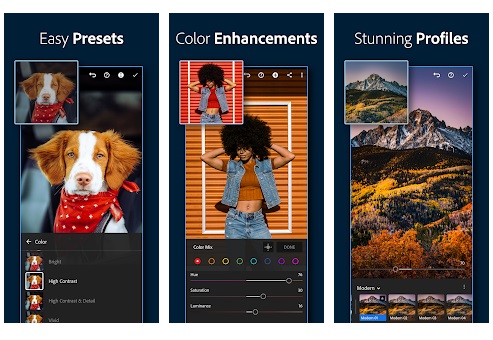 VSCO
VSCO offers some creative photo and video editing tools, including a free photo editor. For advanced editing tools, however, you'll need to sign up for a VSCO Membership to access VSCO's complete preset library.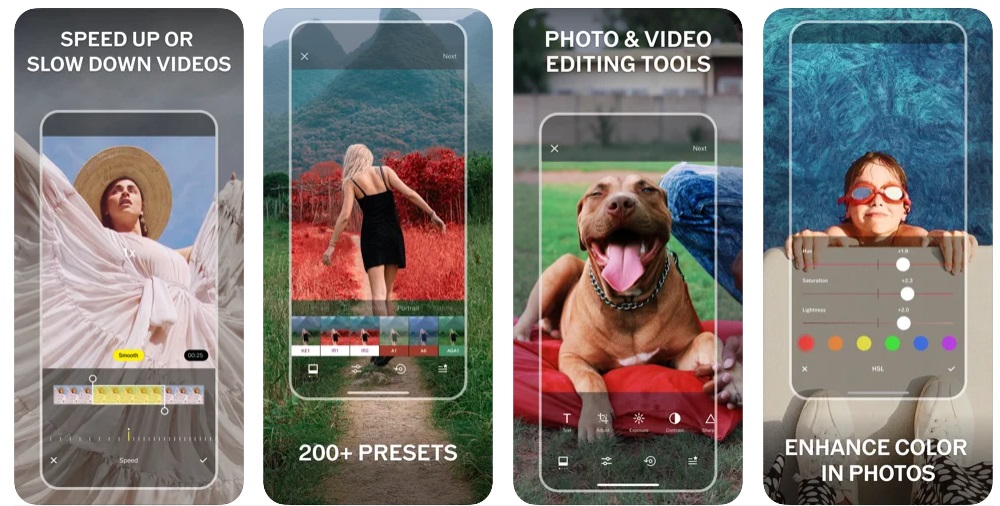 5. Harness the Power of Captions
As much as high-quality photos are important on Instagram, an informative, insightful, or witty caption is a great way to increase the engagement your Instagram posts receive.
6. Use Restaurant Hashtags
Hashtags allow people to find your posts even if they're not following your Instagram account. By using restaurant hashtags, your Instagram posts will form a part of the wider restaurant community on Instagram.
With a maximum of 30 hashtags allowed on Instagram, you'll need to be strategic about which ones you use. Popular hashtags are going to give you more traction than more specific or niche hashtags.
Below are the most popular restaurant Instagram hashtags for you to use on your next post:
#restaurant #food #foodie #foodporn #instafood #dinner #foodlover #bar #yummy #delicious #foodphotography #foodstagram #lunch #instagood #cafe #chef #love #foodblogger #hotel #foodies #tasty #pizza #eat #delivery #wine #restaurante #foodgasm #healthyfood #travel
7. Use Branded Hashtags
Branded hashtags are hashtags you've created specifically for your Instagram account, allowing your content to be found easily as well as making it easy for you to track any user-generated content your customers have posted about your restaurant.
If your restaurant's name is unique, you can use that as your branded hashtag. Otherwise, include your location like Austin-based restaurant Uchi did with their branded hashtag #uchiaustin.
Clicking the hashtag takes you to a page showing you all the posts that have been uploaded to Instagram with the hashtag, as you can see below: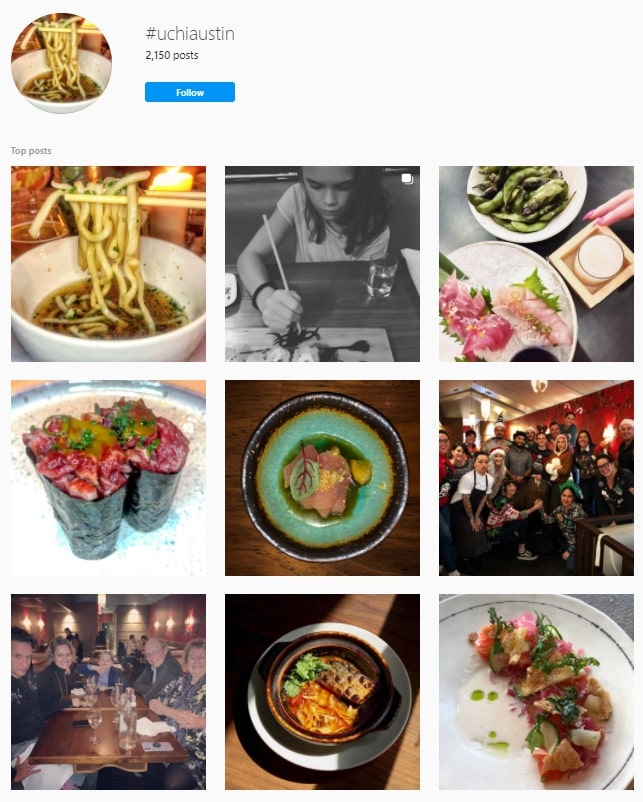 8. Engage
It's no secret that no matter the social media platform, to be successful, you need engagement. A simple way to increase engagement is to reply to comments in your Instagram posts.
Just like on other social media platforms, it's important to address comments both positive and negative if the situation calls for it. Reading your comments is also a good way to understand the behavior of your followers.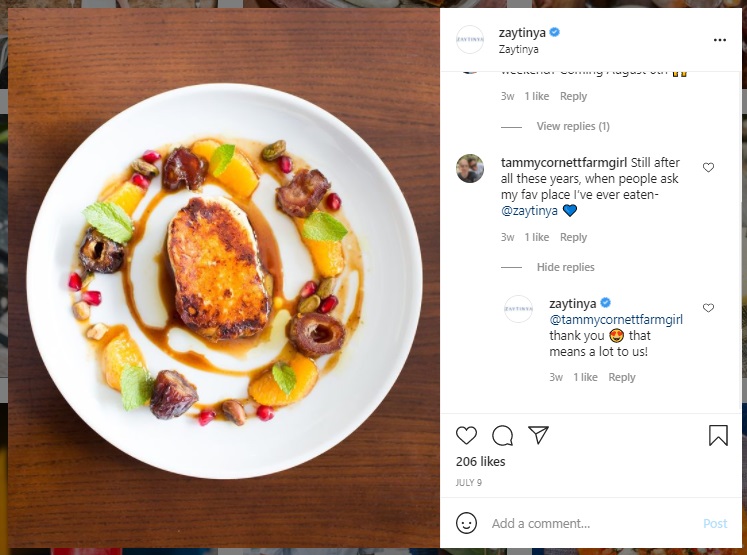 Commenting on posts your customers have tagged you in is also an excellent way to engage with them, making them feel seen and appreciated by your restaurant, increasing the chances of becoming loyal customers.
9. Use Instagram Stories
Instagram Stories are a fantastic way to share content with your followers that you don't want to permanently display on your Instagram grid. Since they disappear after 24 hours, you can use Instagram Stories to update Instagram users about what is going on at your restaurant on any given day.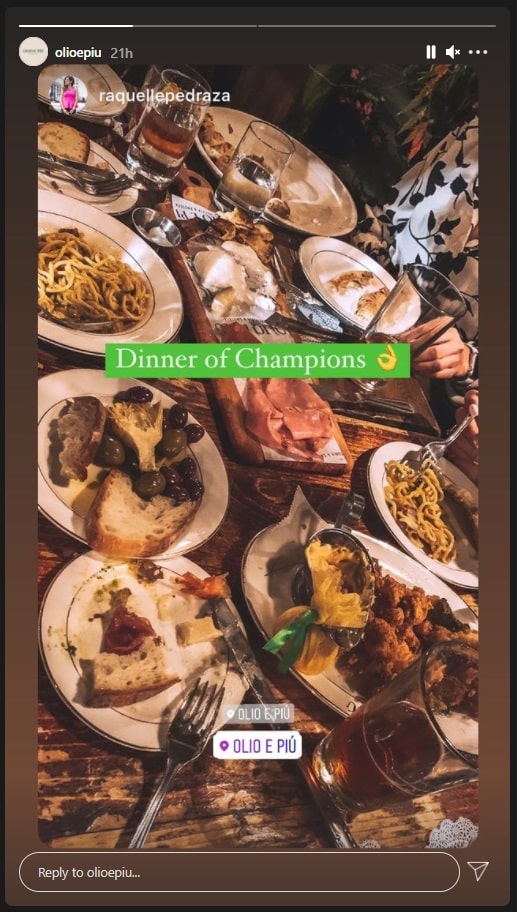 This can include specials, updates to menu items, or a look behind the scenes. Another great way to use Instagram Stories is to repost the content your customers create in your restaurant.
10. Highlight Important Stories
Since Instagram Stories disappear after 24 hours, Instagram includes a feature that allows you to highlight stories at the top of your Instagram profile. You can create as many highlight categories as you want, allowing you to provide additional information about your restaurant to people visiting your Instagram profile.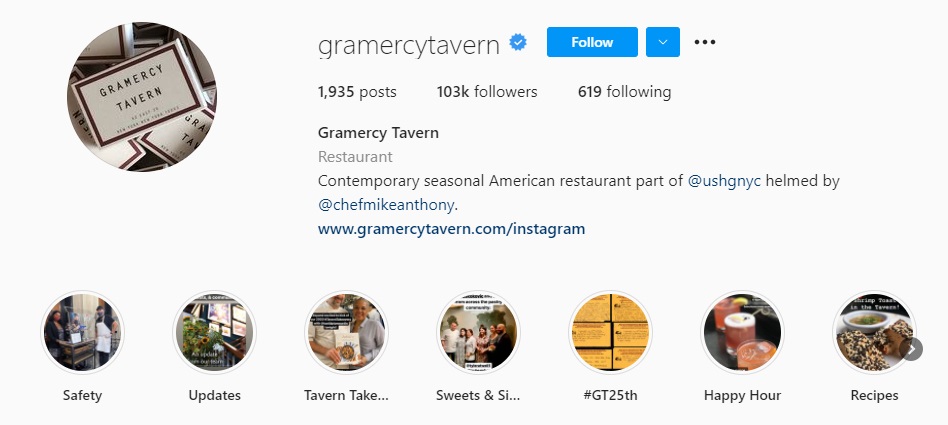 In the example from Gramercy Tavern above, you can see they used their highlights to share information about safety, restaurant updates, selected events, their happy hour, and recipes, among others things.
11. Use Video
Video content is a great way to increase your engagement rate on Instagram because Instagram users will generally spend more time on video to watch the content, signaling to Instagram that this piece of content is interesting, which in turn will lead to it being shared with more of your followers.
You have several ways of posting videos to Instagram, and which you choose will depend on the nature of your content. For short updates, Instagram Stories is perfect, while an IGTV video is more suitable for longer content, such as showcasing how a specific dish is prepared. Another option is to go live. This feature is great for when your restaurant is hosting events or other notable occasions, or big announcements.
12. Use Instagram Reels
Instagram reels are a great example of content, that when done right, is a highly engaging marketing strategy for your restaurant. These short clips are fantastic for telling short stories about your restaurant or highlight dishes.
13. Schedule your posts
Posting consistently on Instagram is highly important if you want to maximize your reach and engagement with your followers. Posting at least once a day is generally recommended.
The best way to ensure your Instagram feed follows a consistent posting schedule is to use scheduling software to plan when your posts go live ahead of time.
Luckily, there are many different scheduling apps to choose from, including:
Buffer
With one simple dashboard, Buffer lets you plan and publish content for Instagram, Facebook, Twitter, Pinterest, and LinkedIn.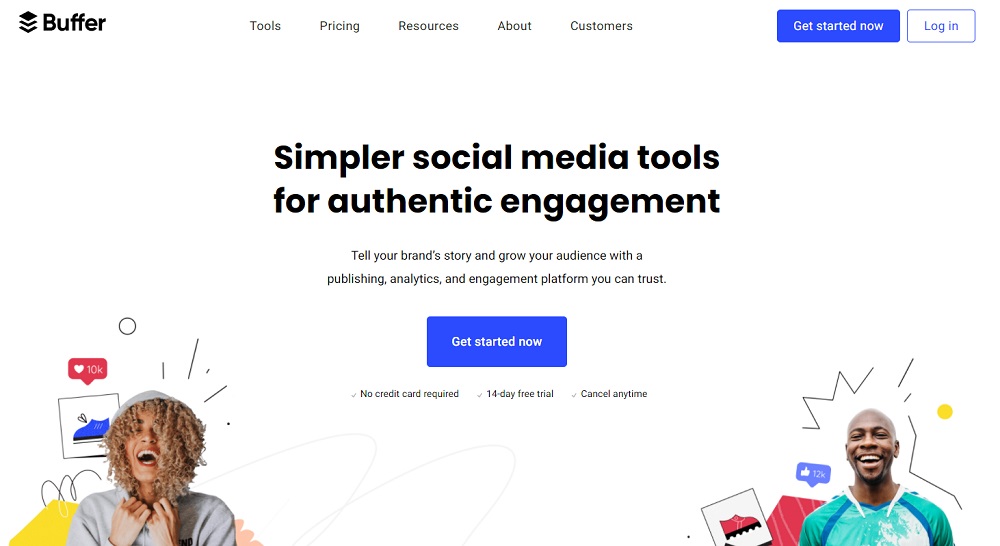 For Instagram, it offers direct scheduling, an option to add the first comment when you schedule Instagram posts, the ability to drive traffic and sales to your shop from your Instagram bio, and post reminders.
14. Analytics
To get the best results from your restaurant's Instagram marketing strategy, you'll need to track your performance using analytics tools. Luckily, there are several different options to choose from, including native solutions from Instagram, design to help you do just that.
Instagram Insights
Instagram Insights is Instagram's native analytics tool. It is only available on the mobile app. Through Instagram Insights, you can learn more about your account's followers and performance. You can also view insights on your audience's engagement with specific posts, Stories, IGTV videos, Reels, and Live videos, along with insights and metrics about paid activity.
To view Instagram Insights, you need to have an Instagram Business account.
To view account insights according to Facebook:
Go to your profile.
Tap the Insights action button.

You can also go to the Burger Menu in the upper right corner, and tap Insights.

Tap the metrics under the Overview section or specific content you've shared for a more detailed breakdown.
Creator Studio for Instagram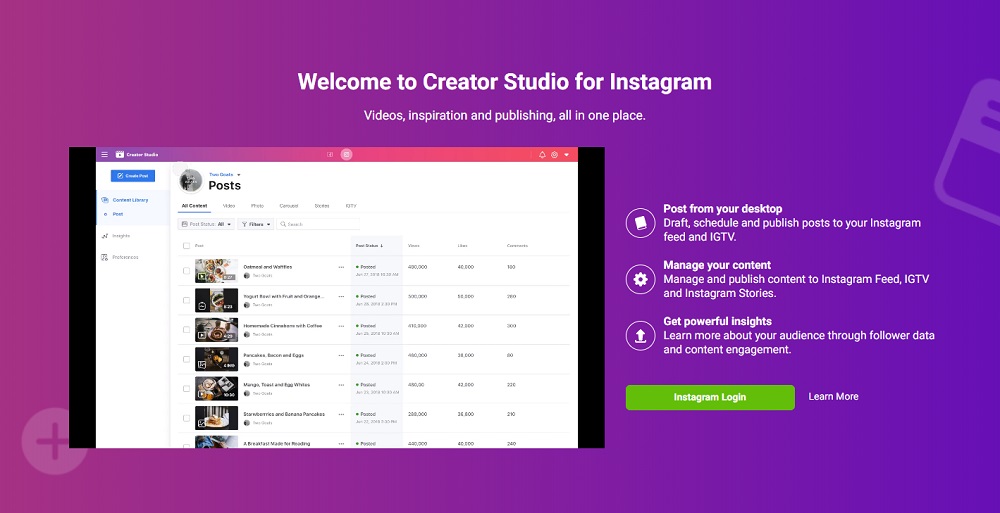 Another native option is Creator Studio for Instagram. However, it is only available on desktop. Apart from letting you post from your desktop and managing your content, Creator Studio also features powerful insights that allow you to learn more about your audience through follower data and content engagement.
Although the metrics are the same as Instagram Insights, in Creator Studio, they're only available for 7 days.
Hootsuite Analytics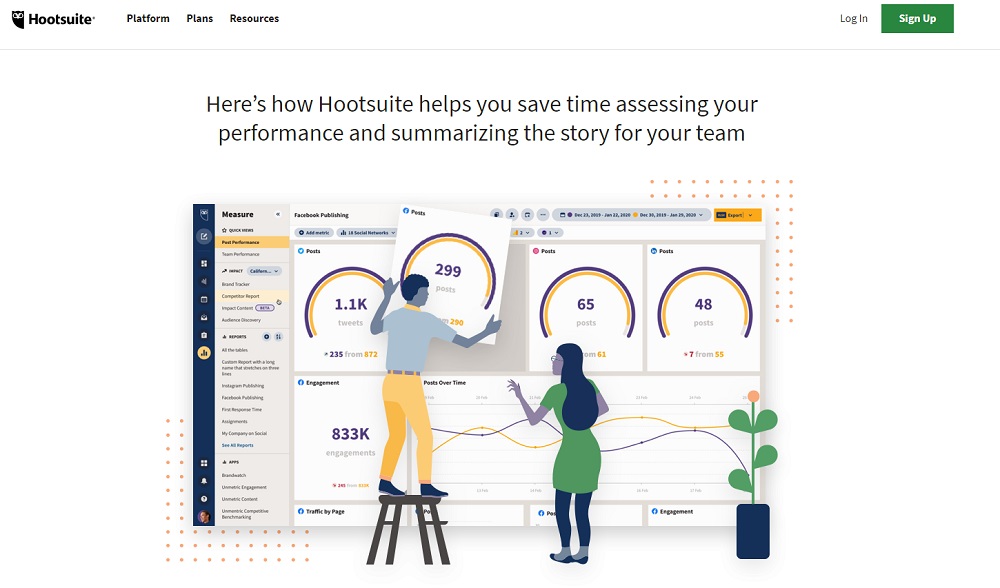 For more information that Instagram Insights can provide, 3rd party tools such as Hootsuite are required. Hootsuite Analytics allows you to look at data from further into the past than Instagram, compare metrics over time to give you a historical perspective, rank comments by sentiment, generate custom reports, and more.
15. Content Ideas
Once you've developed your restaurant Instagram marketing strategy, you'll need to share content consistently for your Instagram posts to appear in the feed of your followers. To inspire your content strategy, check out some examples of Instagram content ideas for restaurants below:
1. Feature Popular Dishes
There's a reason why certain dishes are popular at your restaurant, so sharing them on your Instagram feed is a great way to entice loyal customers to return for a taste of an old favorite or encourage new visitors to try the dish.
2. Introduce New Dishes
If you've added a new item to your menu, sharing the fact on Instagram is a simple way to increase awareness of this new offering with your followers, as well as potential customers.
3. Giveaways
A giveaway is one of the best restaurant Instagram marketing strategies to increase followers and increase engagement.
Running an Instagram hashtag contest where followers have to share their own photos taken at your restaurant with a specific hashtag is a simple but effective way of gathering a lot of new user-generated content and interest in your restaurant.
Another option is to send people to a social contest landing page via the link in your bio.

4. Sales Promotions
When it comes to restaurant marketing, running a sales promotion is a tried-and-tested way of increasing sales and visitors to your restaurant.
Be it free samples, discounts, or other enticing offers, everyone loves a deal, which is also true for your audience on Instagram.
By sharing the sales promotions your restaurant is currently offering on Instagram, you have a surefire way of letting a wider audience know about the promotion, increasing its reach.
5. Show Behind the Scenes
When it comes to restaurant Instagram marketing, it's easy to focus on sharing what you can offer your customers while forgetting to show that you're also human, just like your customers.
Letting people into your life and behind the scenes of your restaurant is a great way to connect and engage with your customers on a more personal level, making them feel more connected to your business.
This can be as simple as sharing a photo of yourself and your family on an outing celebrating your birthday, as Rich Table did for the birthday of its owner, @sallyhurricane.
6. Highlight Your Staff
Your restaurant is only as good as the people who staff it. Show your followers that you are staffed by the best by highlighting staff members and their expertise in dedicated posts.
Highlighting your staff is also a fantastic way of showing that you value their contribution to your restaurant and the customer experience.
With these types of posts, you can not only introduce your staff to your followers, but it is also an opportunity to let them share a bit about how their specific experience and knowledge will enhance the experience of customers at your restaurant.
7. User-Generated Content
User-generated content is any type of content that, as the name suggests, was created by Instagram users. Specifically, it is content created by others that is related to your business.
You can encourage your followers to share user-generated content with you by offering rewards for featured posts such as free meals or drinks at your restaurant.
To track the submission of user-generated content, you can create a branded hashtag such as the name of your restaurant, which you can encourage your followers to use.
You should also keep an eye on posts that your restaurant has been tagged, as it's not always the case that people use your branded hashtag when posting content created at your restaurant.
Finally, if your restaurant's Instagram account was tagged in a customer's Instagram Story, you'll be notified and given the option of adding it to your story.
What's great with user-generated content on Instagram Stories is that they disappear after 24 hours, which means they're perfect for sharing content that's not as high-quality as the posts you need to share on your Instagram feed, while still making the user feel like your restaurant values them and their visit.
16. Accounts You Should Follow

https://www.instagram.com/p/COOUVGfliEa/?utmsource=igwebcopylink
Related Content
Wrapping Up
From the above restaurant Instagram marketing tips, it should be clear that there are many different marketing strategies you can use to make your followers become customers and increase your Instagram engagement rates.
From the basics such as setting up an Instagram Business account, optimizing your content, engaging, and posting high-quality content with great captions that are on brand, to using tools for scheduling, editing, and analytics, to more advanced tactics such as taking advantage of other content formats such as Instagram Stories, Reels, IGTV and video, along with using the right hashtags, a good restaurant Instagram marketing strategy will have many moving parts.
Luckily there are many great examples of existing Instagram restaurant profiles that you can use for inspiration.
There you have my 16 restaurant Instagram marketing tips. Do you market your restaurant on Instagram? What marketing strategies do you use? Let me know in the comments below.