Email marketing can help you build a connection with your target audience and ultimately make more sales. But you can't just write a newsletter without a strategy. To get more subscribers, engage your readers, and draw more people to your website, you need to consider various tips and strategies.
In this article, we're going to outline how you can write an engaging email newsletter. Let's get started.

1. Make your subscribers feel special with personalization
Personalizing your email newsletters is a great way to make your subscribers feel special! You can do this by adding your subscribers' names, providing personalized product recommendations, or sending post-purchase content related to their recent buys.
Email personalization like this is a great way to ensure that your subscribers and customers feel more connected to your business and start to build a relationship with them.
There are various programs, including WishPond, that can assist you with email marketing personalization. Many of these programs can help you incorporate customer names into the subject lines of your email, specific product recommendations into the body of your email, and more.
Let's take a look at a few examples of businesses that use this tactic well.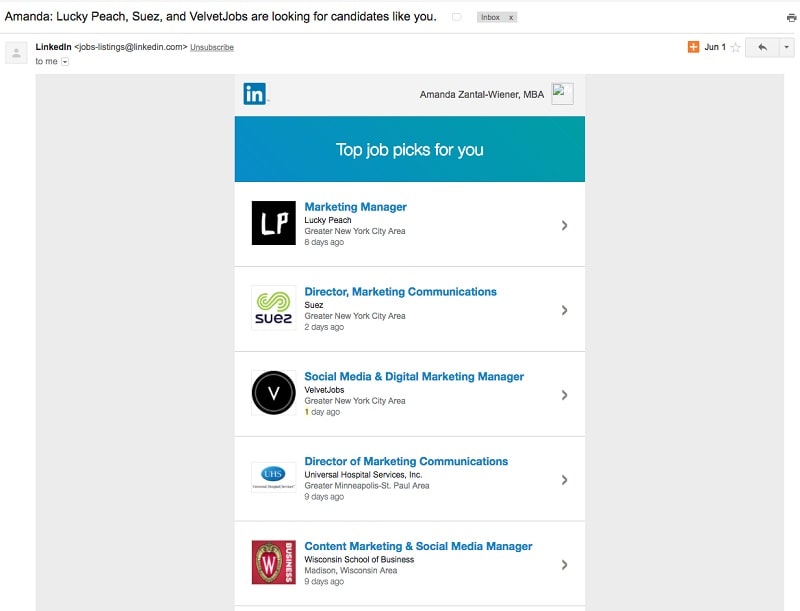 LinkedIn, a social networking website for professionals, has a very effective strategy for personalizing their messages.
In some of their emails, they recommend various jobs to their users, depending on what they're in the job market for. As you can see above, this particular user has worked in marketing and social media, so they've received news about social media management jobs, marketing director positions, and the like.
This is a great strategy and will draw people back to LinkedIn. In your email newsletters, think about what personalized suggestions you can make to attract people to your site.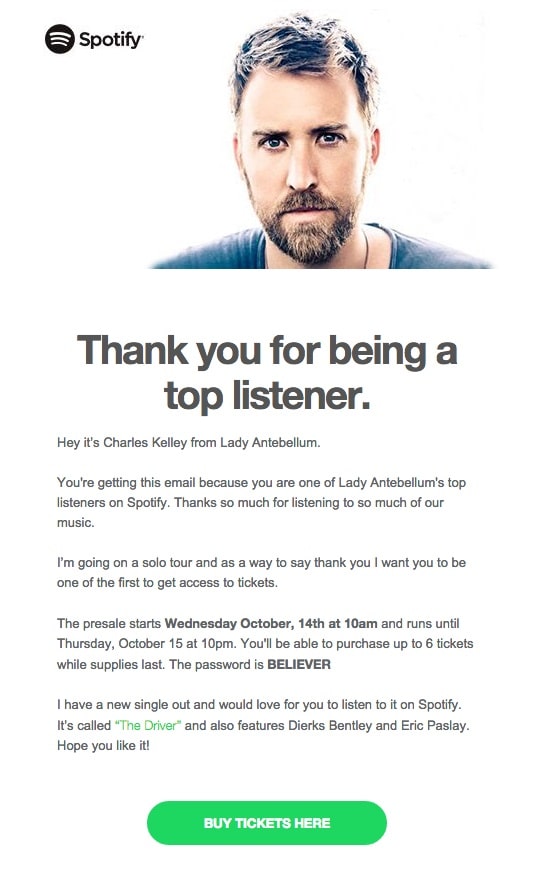 Spotify, a music streaming service, sends great personalized emails as well.
This copy makes the user feel special — because they're a top listener of Lady Antebellum, they're getting exclusive access to a concert presale. Since they're already a big fan of this particular band, it's an easy way to draw people to the Spotify website. Additionally, the body copy, which is written from the perspective of a Lady Antebellum member, can help engage the reader and keep them reading until they're encouraged to buy tickets on the Spotify website.
In your email newsletters, consider promoting different items, services, or events your customers would be interested in. Not everyone can promote concerts, but think about what product or event recommendations you could include in your newsletter to make the reader engage with your website.
2. Make your newsletters more informative than promotional
While you might be aiming to make more sales with your email newsletters, there's no reason that all of your content has to be overly promotional. Aim to make them more informative — this will build a strong bond with your audience, which should eventually lead to more conversions.
You need to strike the right balance between informative and promotional email content to ensure that people open your emails. If you're trying to sell a product, think about how you can center your promotion around newsworthy events, personalized recommendations, and the like.
Let's look at some examples of newsletters that implement this strategy well.

Jins, an eyeglasses retailer, often offers informational content in their newsletter. For instance, the first thing a reader sees in the hero image of this email is a PSA about using vision benefits or healthcare savings account dollars before they expire. It's informational because many people might not know their time is running out — while it's on their mind, they can take advantage of some of Jin's new eyewear styles and deals.

Austin Kleon, a writer and illustrator, also has a newsletter that's simple and educational. His weekly Friday newsletter contains 10 things that Kleon believes are worth sharing, including art, writing, and other interesting links. Despite its focus on being informational, it's still successful at building Kleon's brand. Subscribers likely look forward to this newsletter every week and respect Kleon more as a result.
With your newsletters, think about what your readers would look forward to receiving in their inboxes regularly. They are likely inundated with emails that push various sales and products — how can you stand out? How can you add value to their morning when they read it?
3. Send free resources that provide a lot of value
Another way you can provide real value for your subscribers is by sending out helpful but free resources. Some of the different resources you could send in your email newsletters include calculators, eBook previews, virtual try-on promotions, and the like.
There are a lot of benefits to this strategy! It can help you build a stronger connection with your audience, it gives you a chance to show off your expertise and capabilities, and will give prospective customers a positive experience without having to spend money with you.
Let's look at some examples of businesses with strong free resources that would make a great addition to their email newsletters.
>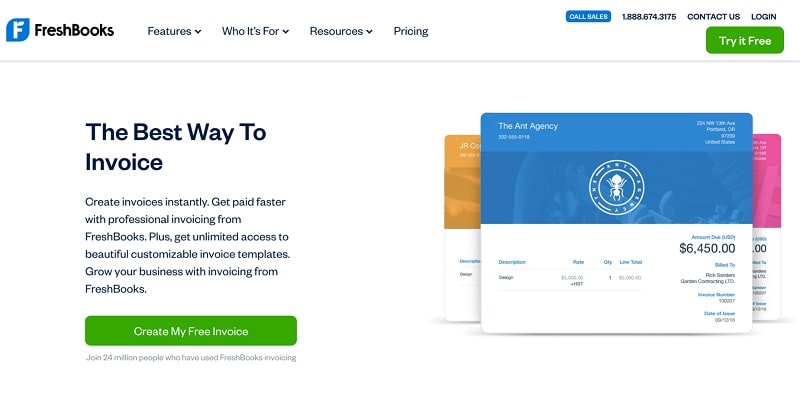 FreshBooks, an online accounting software company, has a series of invoice templates that are a great resource. Anyone who comes across this page can access these templates for free! People sending out invoices are likely business owners or freelancers, who make up a large proportion of FreshBooks' audience. When creating your email newsletters, think about what types of templates you could offer for free to draw people to your website and into using your products or services.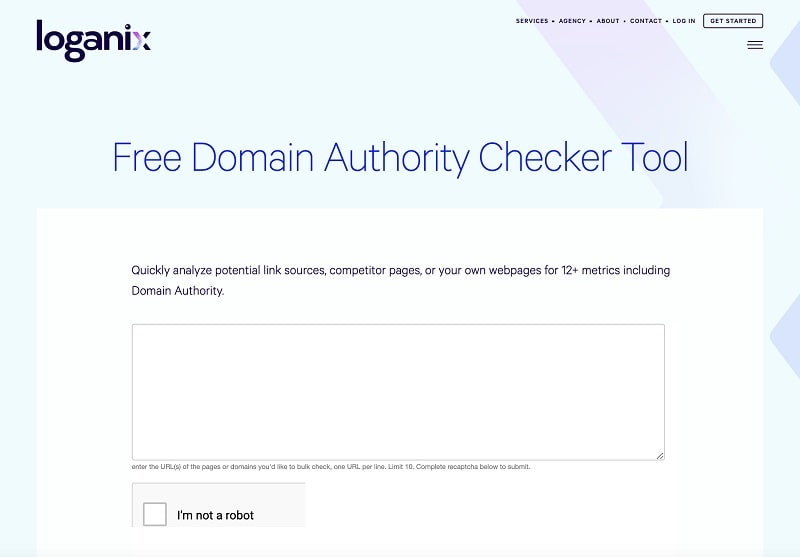 Loganix does something similar. We have a free domain authority checker tool that can evaluate any given website's ability to boost another's search engine rankings through its hyperlinks. Loganix's audience is full of startups and digital marketers — if they were to receive this tool in an email, they very well might head to our website to check it out or use it.
A genuinely helpful tool like this can make a great addition to your newsletters because it's engaging, solves a pain point, and provides prospective customers with a positive experience.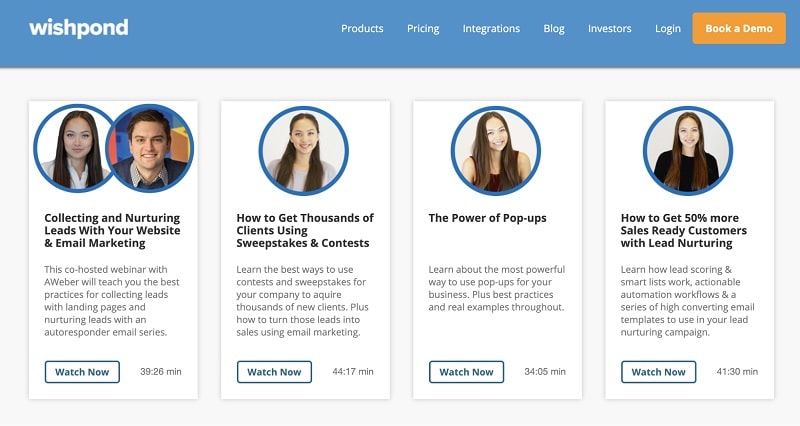 Lastly, Wishpond has a series of webinars that anyone can watch for free. Sending a selection of them out in an email newsletter would encourage many different readers — all with different interests — to head to the website and watch.
In your newsletters, think about what different articles or videos, for instance, that you could recommend to your readers to bring them back to your website.
4. Ensure you fully understand your target audience
A lot of businesses make the mistake of just sending newsletters for the sake of it, but you need to ensure that you truly understand your audience so you can create the perfect email that they'll genuinely love.
Before sending out marketing emails, you need to know your target audience. Make sure you understand their spending habits, demographic information, and what needs and pain points they have. You can collect this information through your website and social media analytics, as well as through marketing surveys.
Need help identifying your target market? Bookyourdata can help. Their digital marketing guide can help you gather the most important demographic information, create email campaigns, and more.
5. Make sure your email newsletters are designed well
Having well-designed emails is important to keeping your readers engaged and ready to buy. Keep your graphics simple and make sure your emails aren't too cluttered. Plus, be sure to use your brand colors and logo where appropriate — whoever reads your email should immediately know that it's from you!
Infographics can add some great design elements to your email newsletters. These are colorful displays of facts and figures that break down information in an easy-to-understand way. Adding them to your newsletter can make them easier to read and more engaging. If you need help, take a look at the infographic maker offered by Venngage.
No matter what kind of newsletter you're creating, there are a variety of different things you _need _to include. Make sure your logo is clearly visible at the top of your newsletter; immediately upon opening, a reader should know it's from you. A header image can be helpful, as well. Then, include your top stories or product recommendations that you're trying to promote the most. Don't forget to include your social media handles so people can follow you if they don't already.

Related Content
Summary
Email marketing is a vitally important part of running a successful business online. This article outlined how you can write an engaging email newsletter that your audience will love. We discussed personalization, including informative content, sending free resources, finding your target audience, and important design aspects. All of these things can help you create an engaging email newsletter.
---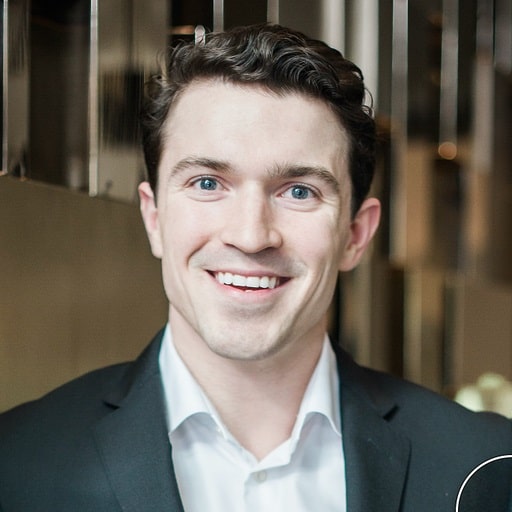 Written by our guest writer Adam Steele, COO at Loganix
Loganix is an SEO fulfillment partner for agencies and marketers. We build easy-to-use SEO services that help businesses scale. If you liked this article, please check out our SEO guides and templates on the Loganix blog.