In 20 years, we've seen a lot of changes in the world of social media.
How many of us remember MySpace, Friendster, or Bebo?
Social media platforms come and go, with TikTok becoming an enormous channel with over 800 million active monthly users. No matter which platform you choose, a successful social media strategy is a must for any business trying to reach and engage a broad audience.
Social media is a powerful marketing tool. Companies should have a solid social media content plan to reach their audience, share information, and tell stories. Using social media channels, a brand can interact with customers and prospects in a more personal way.
The future is now.
In 2021, social media will be a pivotal part of marketing and advertising. If you want to stay on top, you need to be plugged into the latest trends and strategies. To help you stay ahead of the game, we've put together a list of social media content marketing tips for 2021.
Read on to learn about the latest trends and strategies that you can use to dominate social media.

1. Building Branded Content Communities
Building brand communities is an essential aspect of online business development. A brand that connects with customers helps develop a loyal customer base that trusts and supports the company's channels.
Therefore, this brand community acts as a free and unofficial spokesperson for the brand and a continuous and devoted buyer group. By creating communities focused on content sharing and production, marketing teams will continue to extend their reach while requiring fewer resources.
Expanding your reach is beneficial for brand awareness—and, of course, metrics—but it's also helpful for building a feeling of community among your audience.
Adobe purchased Behance, an established online design community platform, in 2012. Behance is a social media platform for creatives (and still is) popular in the design world.
It enables people worldwide to display their creative work while also discovering the work of others. So, why did Adobe decide to buy it for $150 million?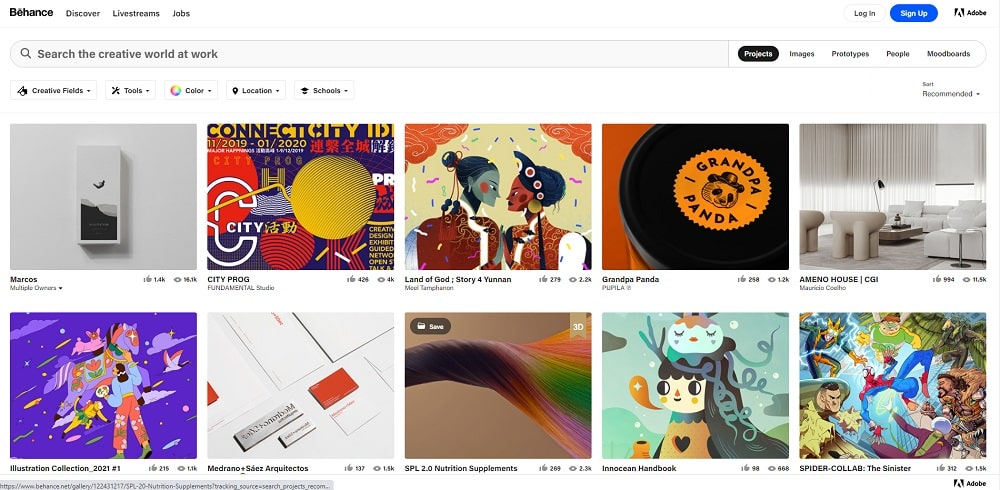 Adobe has an income stream from the sale of creative software such as Photoshop and Acrobat and the rising use of Creative Cloud.
As a result, cultivating a network like Behance places it at the heart of the creative community, bringing everything from critical tools to professional networking together.
2. Going live with video and webinars
With events on the decline this year, video and webinar material has become even more critical—and it isn't going away anytime soon.
Video marketing will continue to increase in 2021. But it's not only due to physical limitations; there's a reason why live video was popular even before the outbreak.
What is the reason?
Video is a fast and easy way to get your message out and educate your audience. Consumers want to learn and acquire information quickly, and there's no better method to accomplish that than through video marketing.
Increasing focus on live video and webinars might be beneficial. As a result of this, we'll see some inventive new ways to create webinars.
People want to interact and ask questions. Therefore, the opportunity to be part of a small group asking specialists questions remains appealing, and many brands will try this shortly.
A live broadcast is all about community. It helps your consumers feel both included and special at the same time.
Businesses can capture the live stream and post it to a site like YouTube in addition to the live feed itself. This permits individuals who were unable to see the live event to do so at a later time.
After you've published the recorded broadcast to YouTube, embed it on your website and all of your company's social media accounts.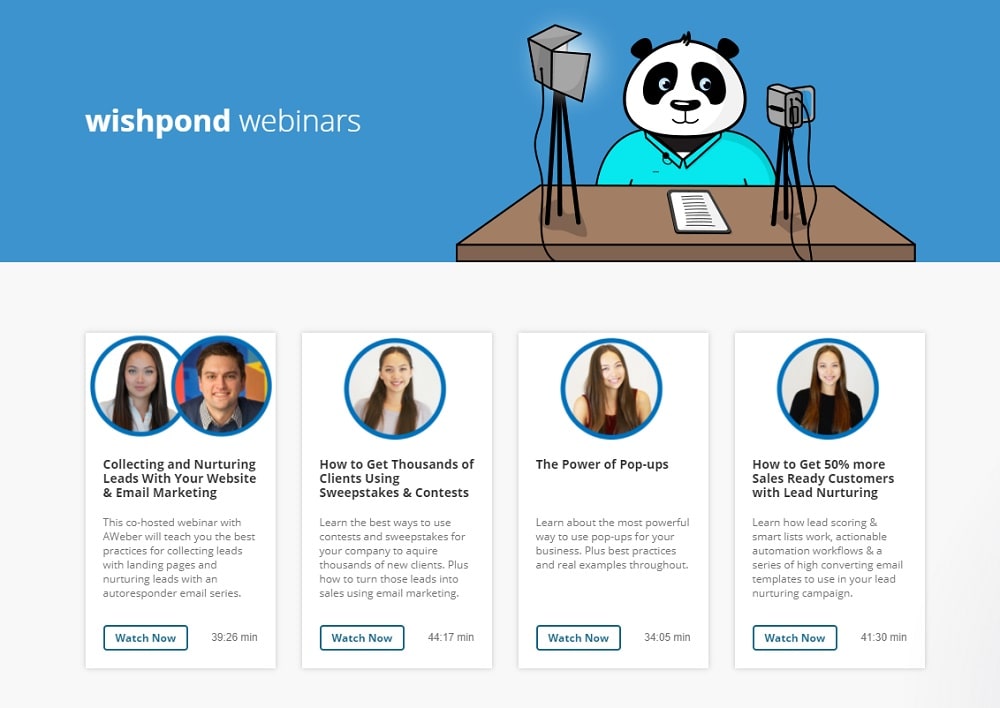 Some brands utilize live streaming to help new employees with their onboarding process and their training programs. At the same time, everyone receives the same training and product knowledge, saving the firm money.
Interaction with the audience is also another vital factor. Businesses may humanize themselves and connect with their customers by spending time with them face to face. You'll be able to communicate your brand's narrative more successfully.
When it comes to social media, leverage the power of platforms like Instagram and Tik Tok to upgrade your game and include content from behind the scenes, success stories, or even events.

3. Improving the Content Experience
Have you ever clicked on an item you wanted to read only to be greeted by pop-ups and ad panels?
It's terrible, and I usually close the website without reading anything.
The main conclusion is that engaging with content can sometimes be just as significant as what content you interact with. As a result, whether it's fresh, interactive content, or improved UX, an emphasis on content experience will be a significant content marketing trend.
You must focus on content experience to drive ROI with content. You want people to remain on your channels, enjoy what you write about, find what they're searching for, and join a sales funnel.
To do that, many influencers and brands leverage the power of text. Adding text to visual content enables the users to have a more precise understanding of your content. It can be an infographic, a photo, or a video with text that adds information or transfers the message when sound isn't an option.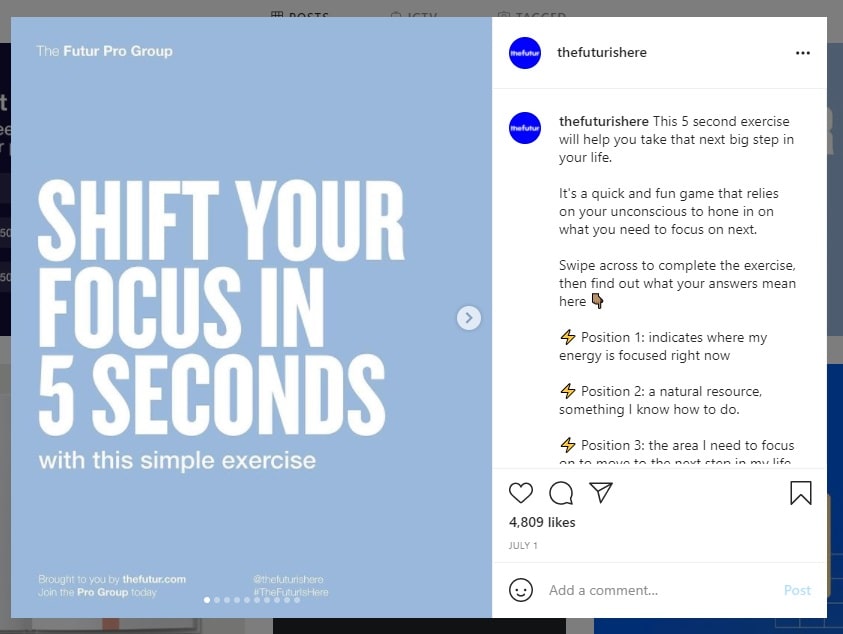 Last but not least, content experience is all about getting the whole message, and carousels help a lot in this process.
Instead of providing bits and bites of content, try to create an entire story through a carousel post to increase the chances of your audience engaging with your brand.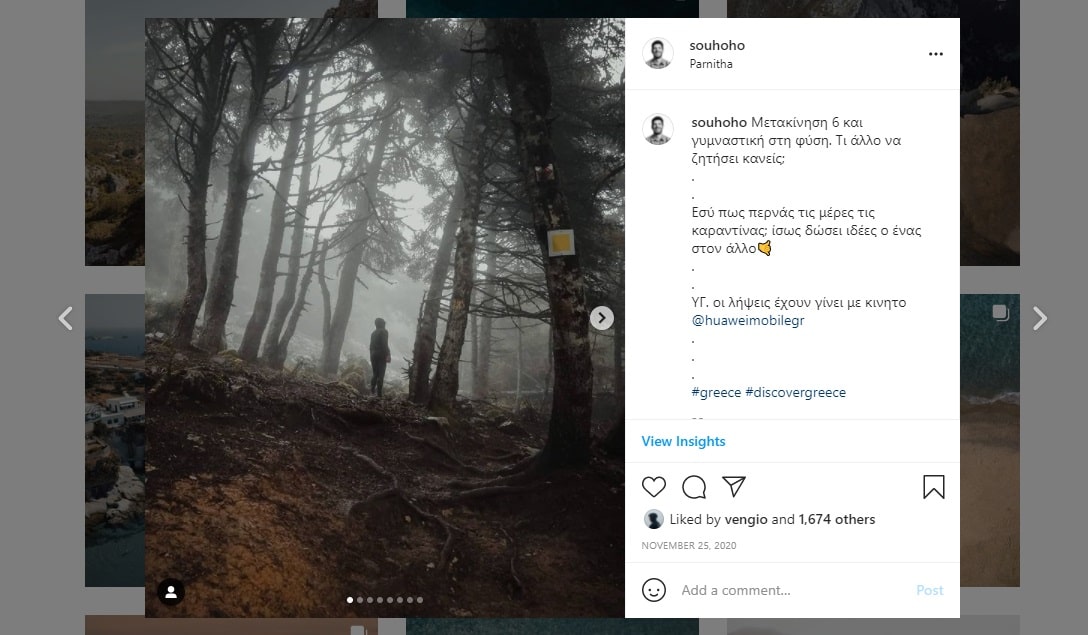 4. Focusing on Social Media Giveaways
Businesses have utilized giveaways to gain publicity from social media followers for years. Companies have used innovative freebies to grow email lists, increase online interaction, and develop trusted connections with their consumers over time.
There is no better approach to develop your business for marketers and business owners than a social media giveaway tailored to your target demographic. A giveaway can improve interaction, build brand recognition, and generate buzz for your company, whether small or huge.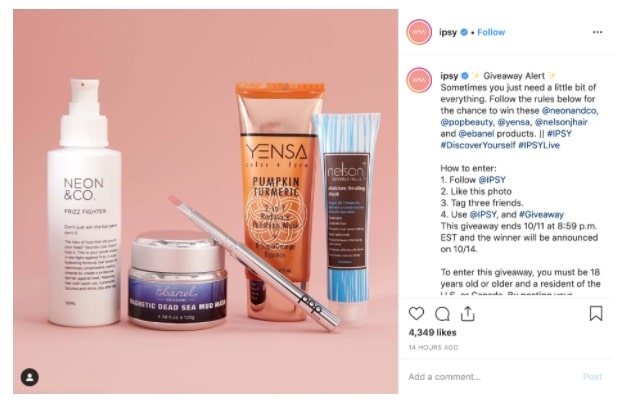 There are great benefits from running social media giveaways, including:
Engagement
What is the definition of engagement?
Any contact on your social media network counts as engagement. Customer involvement includes anything from comments, likes, sharing, and tweeting about your content.
You may still be active online, but if you aren't creating fascinating material for your audience, they aren't likely to engage with your company. Organizing a social media giveaway will boost your audience engagement substantially.
Brand Awareness
Giving consumers additional chances to view your brand or product is one of the most effective methods to raise brand awareness. Hosting a giveaway allows individuals who aren't following you to learn about you by observing how others interact with an entry.
For example, if someone from your network tags you in a giveaway post for a chance to win, this is a kind of word-of-mouth advertising.
Additionally, your other social media connections may view the post and participate in the contest even if they have never come across your brand or product before.
Create a Buzz
Are you trying to find a way to get more people to know about your giveaway? Consider your target audience first. Consider what their passions are and what will get everyone talking.
Choosing a desirable award will encourage individuals to become followers or convert to potential customers. Consider utilizing it as a giveaway if it's a product that people are excited about. This is a fantastic method to set yourself apart from competitors.

5. Leverage the power of SEO
Social media can bring high-quality online traffic to your site; therefore, it is essential because it indirectly impacts elements that affect search rankings.
Content may take any shape as long as it keeps your audience interested. The following are some examples of content that generate traffic and social shares:
Posts on the blog
Videos
Infographics
Podcasts
These materials provide your marketing persona with relevant information that encourages them to return and, as a result, generates leads.
That is content marketing, sharing helpful information with your audience. However, if you don't distribute them appropriately through content syndication, you won't have much of an influence.
This is where social media come to play. When you share your content, your audience amplifies it by sharing it with others. As a result, your visibility, traffic, and backlinks will all improve.
Link building, according to 84.39% of those surveyed, has a significant influence on brand authority. These are social signals that tell Google that the content on your site is unique.
Although social networking is not a ranking component, it does have a connection to SEO. I discussed how social media and SEO are linked through social signals in the previous section.
These signals bolster the variables Google takes into account when determining a website's ranking. The more helpful information you offer on social media, the more likely your audience will share it with their friends and followers.
As a result, numerous others may link back to the postings as the sharing continues. The shared content may help your blog's exposure and SEO rating. Quality links are valued by Google and are considered one of the ranking criteria.
6. Repurposing content across channels
This is perhaps my favorite content marketing trend right now. With a focus on generating compelling content with fewer resources, it's only natural that reusing content across platforms will become more critical in the next year.
You want to share your high-quality, engaging content with as many people as possible after you invest time and effort in creating it. Repurposing is the best way to go about it.
Content teams will start finding out how to ignite the content wildfire with information from webinars, round tables, podcasts, and conferences.
As a brand, you don't need to reinvent the wheel; all you need to do is make it spin faster. The most efficient way to do that is by creating a content marketing calendar that will structure your content into smaller pieces and redirecting it to the other platforms.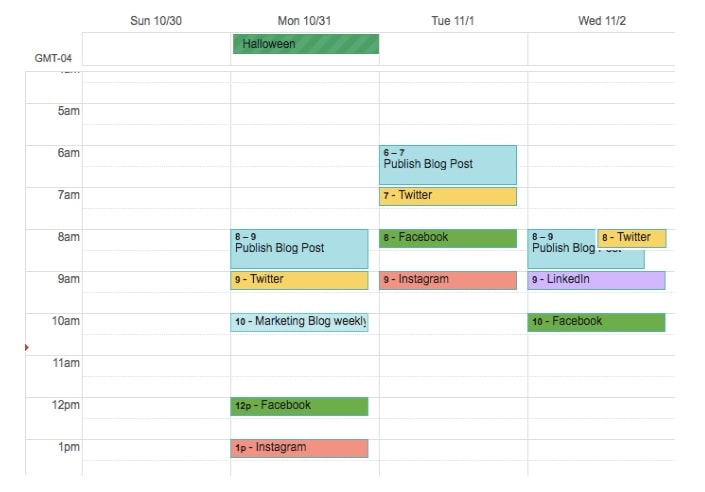 So, you may have a long-form YouTube video which you will break up into smaller pieces to feed your Instagram and TikTok account. Apart from that, you can create blog posts for your LinkedIn account and extract some quotes for your Twitter.
The sky's the limit when it comes to repurposing your content, and it will be one of the most strategic ways to grow your brand at unprecedented speeds for the next couple of years.
Related Content
The Takeaway
Keep these trends in mind as you design your content marketing strategy for the year. The overarching goal for next year is to create high-quality content that adds value to your company without requiring more resources.
That's something we can all utilize in 2021 to improve our content and achieve our marketing goals.
We explored the seven most important content marketing trends to be aware of in the next year:
Building branded content communities
Using live video and creating webinars
Improving content experience
Focusing on social media giveaways
Leverage the power of SEO
Repurposing content across channels
Social media is transforming, and marketing leaders need to embrace this evolution and focus on one area at a time using the right tools. These are the tactics to keep an eye on, so are you ready to tap into social media to your advantage?
Follow these steps to create a winning social media strategy for your business.
Until the next one, keep creating.
---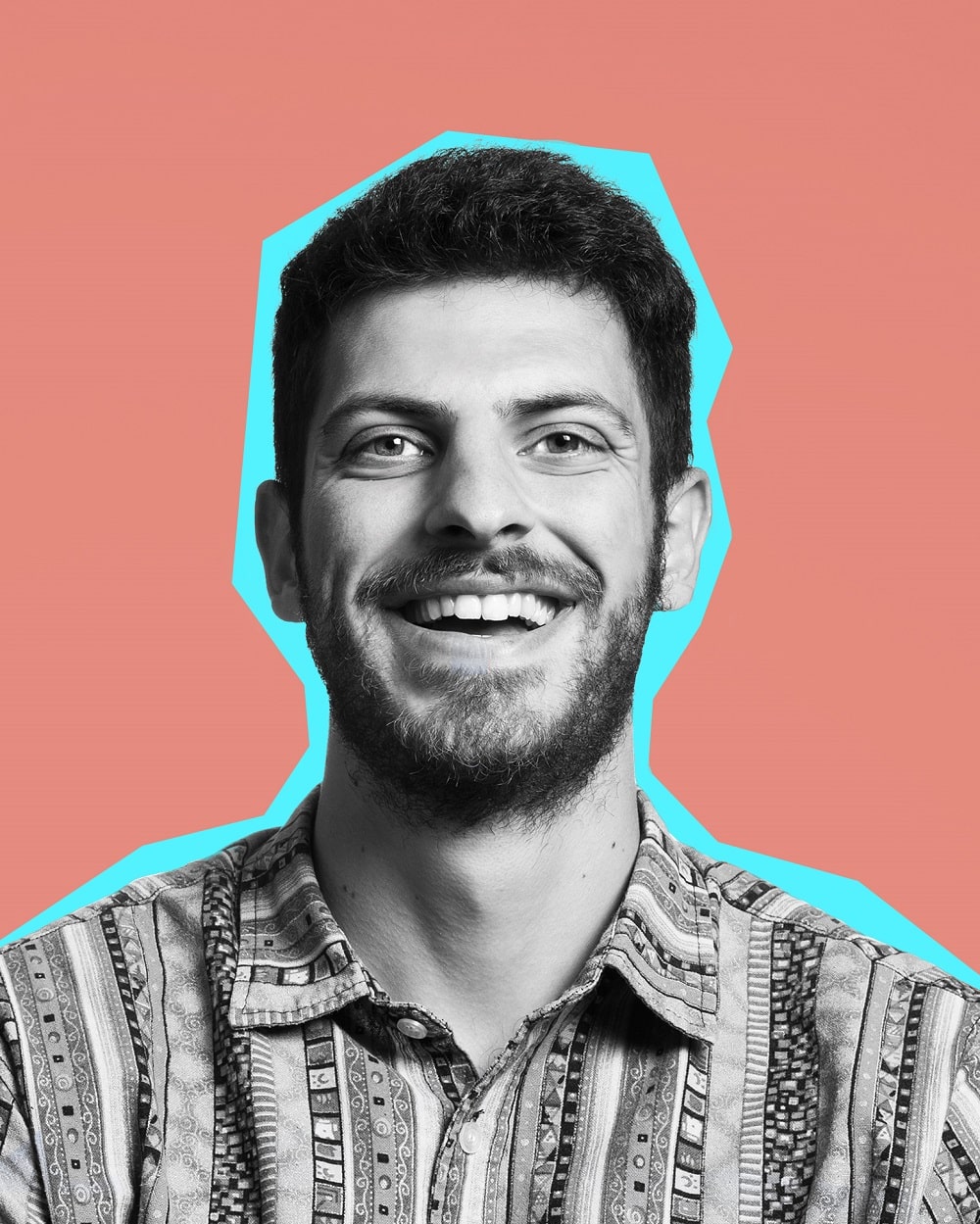 Written by our guest writer Alex Souchoroukof, a content writer at Moosend
He leaped faith in the digital marketing world from an architecture background and has never looked back. You will find him traveling in places around the world in his free time.