Does your business have a running website?
For some, this question will sound like a cut-out from a decade ago newspaper ad. Yet, among many small businesses, having a website is still not a popular opinion.
According to a report, only 64% of small businesses have a functional website.
Nonetheless, having a good website acts as an imperative channel for better connectivity with your audience in this digital age. It adds a symbol of credibility and authenticity to your business.
Most small businesses either avoid creating a website because their operations are too small or can't afford a team of people needed to make one.
If you fall in the latter category, having a good website builder up your sleeve is your best option.
But which website builder is the best for you? Indeed, It's a tricky question. Let us ease it down for you.
Check out our list of the best website builders for small business to make an aesthetic, operational, and scalable website for your business.
8 Best Website Builders for Small Business
1. WordPress
I bet you have heard the name WordPress before.
WordPress is the most popular content management system (and the most lionized way to make a website) for businesses of all sizes. Currently, WordPress powers 42% of the internet. All credit goes to its flexibility, scalability, powerful features, and ease of use.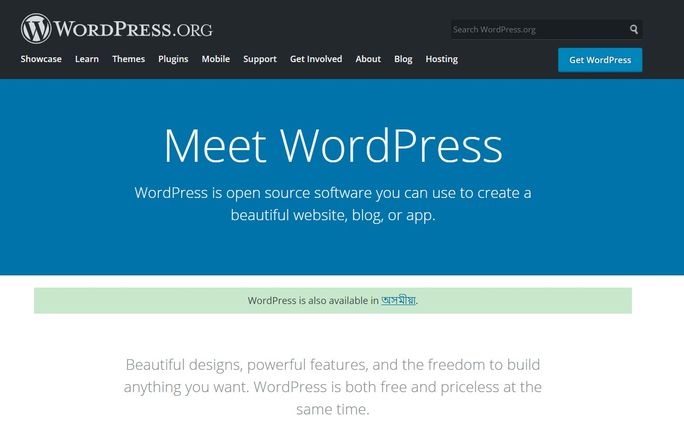 The great thing about WordPress is that it's a 100% open-source platform that enables you to create quality websites, blogs, or apps for free.
Yes, you heard that right. As the company likes to state, "WordPress is both free and priceless at the same time."
On WordPress, you get complete control over every line of code of your website. For a beginner, it may not sound that appealing, but as you grow it will come in handy to make changes on your site as you need.
WordPress is also compatible with tens of thousands of hosting platforms, drag and drop builders, and over 55,000 plugins to add more functionality to your website.
For instance, Elementor, a WordPress website builder plugin enables you to design your website with drag and drop functionality. It also provides you with countless built-in capabilities to add landing pages, contact forms, shopping carts, and many other features necessary to create a professional website.
Let's count the notable benefits of WordPress:
Customizable designs
SEO-friendly
Responsive mobile sites
High performance
Manage on-the-go
High security
Powerful media management
Easy and accessible
Pricing: About the pricing of WordPress, when I say it's for free, it means that you can build a website for your business for free but still, you have to pay for the domain name and website hosting to make your website live.
Rich T
What do you like best?
I like that WordPress is open source and that anyone can develop for it. I like that it's customizable and allows for relatively easy tweaking for those who may not be very technical. Since it's one of the most popular platforms, there is a ton of support for it and plugins from which to choose, which is nice.
What do you dislike?
Having to worry about updates all of the time is a bit annoying and there's always the possibility of security issues with plugins. Granted, that's not purely a WP problem, but it's part of the experience.
2. Wix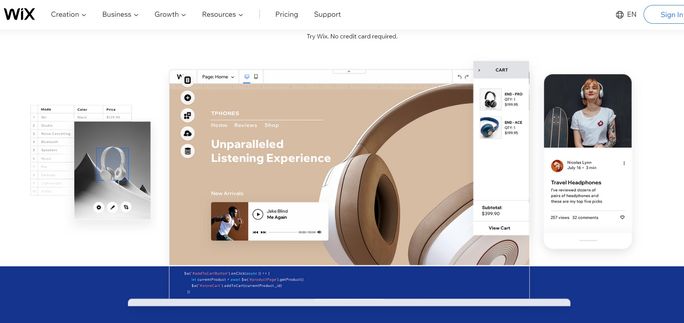 Wix is a straightforward cloud-based website-building tool. It is quite popular among beginners for its ease of use and no learning curve.
Even for a person with no prior technical knowledge, creating an aesthetically pleasing website on Wix is no rocket science. Its drag and drop functionality lets you fix, resize, recolor, rotate and align elements on your website however you'd like.
Want to make things extra simpler? Use Wix ADI (artificial design intelligence) to automatically create one-of-a-kind websites. Just answer a few questions and get a fully designed site with content and images built-in.
Let's note down some of the exciting features that Wix offers:
Drag & drop editor
Free hosting
Over 500 designer-made templates
Advanced SEO tools
Mobile optimized
App market
Customize Colors & Fonts
Velo by Wix for advanced web applications
Pricing: Wix's combo plan is priced at $14/month. You can also get their plan made for freelancers and entrepreneurs for $18/month and a complete online branding package with multiple features for $23/month.
Adrian Romero
What do you like best?
Wix is a well-suited tool when I am looking for a fast, easy and solid way of finishing some of my client's websites. It gives me freedom, authority, and intuitive tools that make my process faster and provide very good results.
What do you dislike?
The cost of the e-commerce options is more than I would prefer to spend as a small business just starting if there is no plan in place for advertising to get sales through the website. But it is a reasonable price for those who plan on having a steady stream of orders through the website.
---
3. Squarespace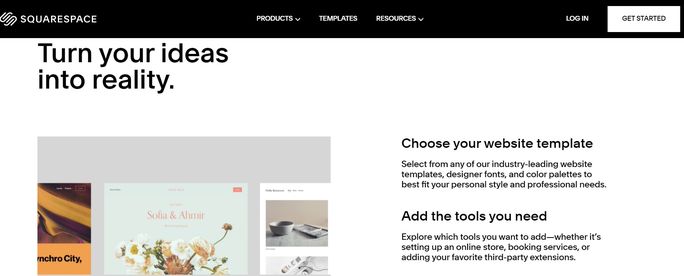 Squarespace is considered one of the best e-commerce website builders for small businesses.
Just a look at its inventory of world-class design templates merged with features like inventory management, product catalogs, related product bar, limited availability label, and you'd know.
On top of that, you get the drag and drop functionality with built-in SEO tools, aesthetic cover page design, and analytics features to make your website stand out from the crowd.
However, for many users, Squarespace is not as intuitive as Wix for beginners and has a relatively steeper learning curve. Still, the sleek designs prowess and extensive feature list make Squarespace an optimum website builder for e-commerce businesses.
Let's take a look at the noted feature list of the tool:
Designer templates
Drag and drop editor
Built-in SEO tools
Site analytics
Team management
Social media marketing connections
Trusted payment gateways
Pricing: SquareSpace has two website plans priced at $12/month and $18/month (billed annually). It also gives e-commerce website plans for $26 and $40/month.
Josh Summerhays
What do you like best?
Squarespace makes it very easy to get products listed in an eCommerce store. The interface is intuitive (they've improved in this regard quite a bit in their recent update, in my opinion) and quick to navigate.
What do you dislike?
Design options tend to be limited unless you venture into the world of add-ons where things can get quite technical. If you're looking for a plug-and-play, you'll get it here, but you will likely have to concede some personal design preferences to fit the boundaries of their templates.
Also, if you're a blogger and want to load up your site with ad placements, Squarespace is not for you. The platform is really unfriendly for any kind of ad network integrations, including AdSense.
4. Weebly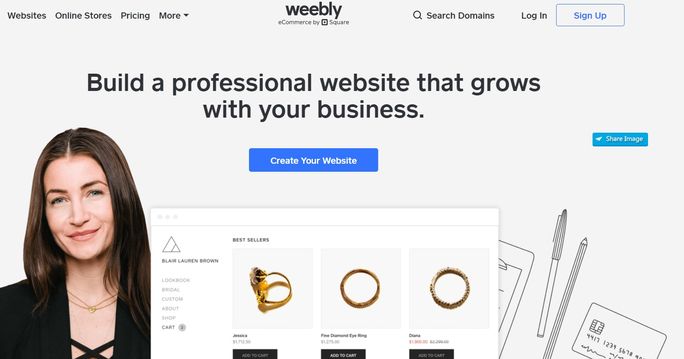 Weebly is another easy-to-use drag and drop builder on the list. It has tons of great features which makes it one of the best website builders for small businesses in the price range.
The tool comes with a decent collection of templates for all sorts of industries. Though the templates are not up to par with the ones present on Squarespace, still they are good enough to present your small business in an elegant, clear, and affordable manner.
One thing that stands out is the Weebly app center. It's home to over 300 apps, covering marketing, communications, e-commerce, social media, and other site tools and features to make your website powerful.
Let's cover some of the most beneficial features of Weebly:
Drag and drop builder
Custom fonts
Advance animation effects
Built-in image editor
Dynamic design elements
Background coding
Integrated analytics
App center
Pricing: Weebly has 3 premium plans, wherein the best one for small businesses is priced at $25/month.
What do you like best?
We are not currently using it across our entire organization but are toying with the idea of implementing more services they offer. It addresses the need to host a website, have an easy way to manage it, and allow you to add functions and features without the need of a programmer/coding knowledge.
What do you dislike?
Weebly is well suited for an individual or organization that is smaller and needs a basic website with limited functionality. Weebly also fell short on the availability of plug-ins and limite SEO functionality. This platform might not be ideal if you're a mid-sized organization or an organization that makes a lot of online sales.
---
5. GoDaddy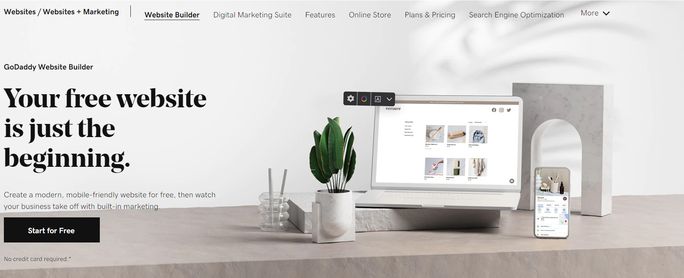 You may know GoDaddy as one of the largest domain names and hosting service providers. They also offer a website builder called GoDaddy website builder.
GoDaddy is a great tool for small businesses to create their website with minimal effort. Simply select one of their designer templates and start customizing it with the drag and drop editor.
But, when it comes to comparison with the tools we have discussed so far, GoDaddy's website builder falls short on design and feature list.
Still, with essential website features like contact forms, image and video feeds, social media links, and more, the tool is a great option for small businesses to create a simple website quickly.
Let's note down the stand-out features:
Click and Drag Reorder
Drop-Down Menus
Customizable Themes
Promo Banners
Members-Only Pages
Calls-to-Action
Pricing: The website builder comes with the $14.99/month standard plan, and $19.99/month premium plan, which both are the apt choice for any new or growing small business.
Katelyn R
What do you like best?
It is easy to use. Building a website can literally happen within a few hours to a day. There is not much work involved on the part of the user because templates are already set in place. The templates are also customized to fit each industry. This makes for a simple select-and-implement process.
What do you dislike?
While the industry templates are a nice touch for beginners, GoDaddy does not allow for much customization. There are custom template options, but even these are somewhat restricted in their form. Also, plugins are pretty much nonexistent. I enjoy a software that allows you to make endless customizations, write your own code, and add whichever plugins you like.
---
6. Gator Website Builder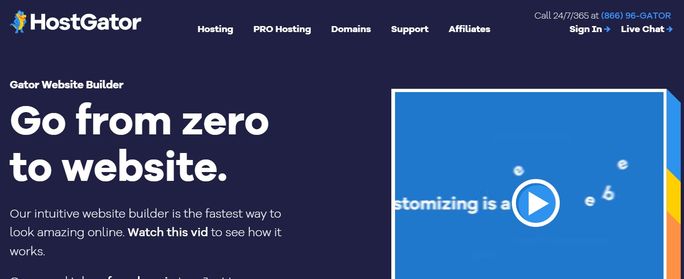 Next in line is the Gator Website builder developed by one of the most popular web hosting platforms HostGator.
With a simple interface, easy-to-use drag and drop editor, and over 200 dynamic templates, Gator is a great fit for small businesses looking to create a simple website quickly.
However, Gator is not the best choice for businesses looking to create an online store. It has limited e-commerce and email marketing capabilities when compared with other tools.
Still, Gator is everything that a small business could ask for – easy-to-use, functional, and affordable. Let's list out the main features:
Drag and drop builder
Customizable templates
Integrated live social feeds
Free SSL certificate
Free hosting
Website analytics
Good support
Pricing: Gator's most popular site plan for small businesses is priced at $5.99/month (billed for 2 years). You can also get an online store plan at $9.22/month.
Mike Williams
What do you like best?
Gator Website Builder's smartly-designed editor is a great way to quickly create professional and good-looking websites. I love how easy it is for someone with no expertise to create a website.
What do you dislike?
The integrated blog and web store are relatively basic, though, and are unlikely to satisfy demanding or experienced users.
---
7. Duda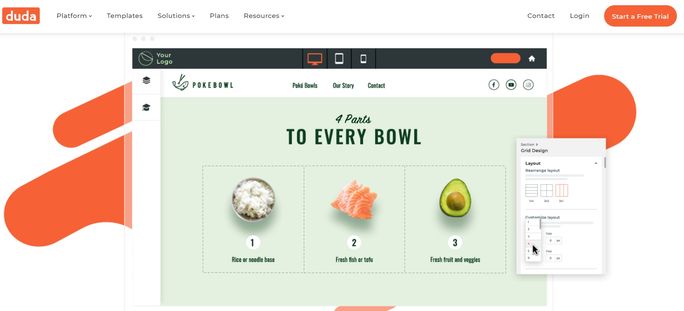 Duda is another amazing website builder to create an amazing website for your small business at a breakneck speed.
You get an easy-to-use drag and drop builder, appealing templates, great SEO tools, shrinking headers, and access to the backend to make changes on your website as your business grows.
One thing that caught my attention is Duda's personalization feature that enables you to change the look of your website and trigger features based on your audience that helps you boost conversion.
For example, showing a welcome video to users visiting your website for the first time, or a buy-in-store pop-up if they live in a nearby location.
So what's the catch? Well, Duda's editing capabilities aren't as flexible as Wix. The tool allows you to place elements in selective areas on the page.
Let's note down the important features offered by Duda:
Drag and drop editor
Website personalization
Multiple site widgets
Modern templates
Team and client management
White Label feature
Pricing: Duda's basic plan is priced at $14/month(billed annually). If you want access to team and client management features too, just pay 50 cents more.
Suzanne B
What do you like best?
What I like best about the Duda Pro program is the level of customer service compared to other platforms such as Wix. The templates are adequate and the editor is fairly simple to use. I've created both simple and complex websites using Duda for my clients. Another thing I really like is the personalization tools which make it easy to add popups, banners, coupons, welcome messages & more.
What do you dislike?
What I like least about using the Duda editor is that it puts everything into boxes, often not where you want the content. This can be frustrating. Also, I struggled with the shipping set-up and found the store widget rather limiting.
---
8. BigCommerce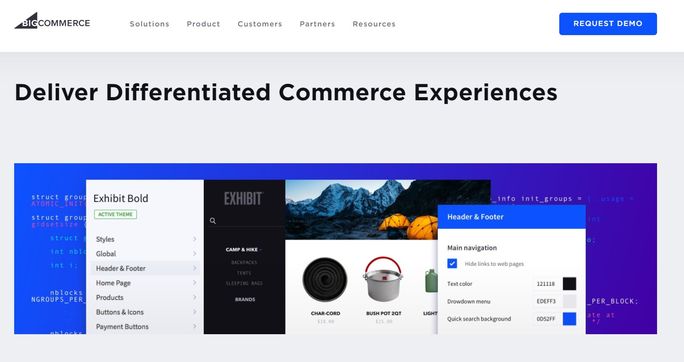 BigCommerce is specifically made for businesses wanting to create an online store to boost their sales. It is arguably the best e-commerce website builder for small businesses.
The platform currently powers big e-commerce names such as Ben & Jerry's, Skullcandy, Black diamond, and many other famous online stores.
With this tool in your arsenal you can create a robust e-commerce store to sell products and services. BigCommerce enables beginners to build, operate, and grow an online store without the need for any coding expertise.
Here are some of the most popular features of BigCommerce:
Drag and drop editor
Checkout customization
70+ native discounts and promotions
Blazing site speed
Multiple digital wallets
Multi-storefront
Pricing: BigCommerce is the most expensive tool on the list, but then again its features are more than any normal drag and drop editor. BigCommerce's most popular plan is priced at $79.95/month. You can also opt for a standard or pro plan, priced at $29.95/month and $200/month respectively.
Charles L
What do you like best?
I like the fact that I can manipulate my website without the use of a designer. It provides you with a simple interface to add multiple products easily. The application is quite robust. With the knowledge base, the user community, and online chat to support, I usually get most of my questions answered.
What do you dislike?
There are some portions of the application that are rather technical and confusing. The tool needs more of a WYSIWYG editor or theme options that do not require coding; most clients cannot handle features that require HTML skills to edit. Another major drawback is the pricing structure. It could be expensive for a low-budget business trying to grow. Our volume increased to a significant level then our pricing tripled.
Wrapping Up
We are living in the age of digitalization. Having a website for your small business is a great way to attract customers, build credibility and grow your business.
Things become more awesome when you can make an amazing website easy peasy with DIY website builders.
There are a plethora of website builders available in the market. We selected these 8 tools based on some crucial factor that makes a difference for small businesses: User-friendliness, affordability, and search engine friendliness.
If these are some of the factors you hold dear, then you'd find the above-listed builders a great match for you.
Speaking of valuable tools, take a look at some of the best social media tools for small businesses to grow your online presence.
Frequently Asked Questions

Is Wix good for small business?
+

Which website builder is easiest to use?
+

Which are the best website builders for an e-commerce business?
+

How much does a beginner website cost?
+

What's the difference between Wix and WordPress?
+
The post 8 Best Website Builders for Small Business in 2021 appeared first on SocialPilot.