If a conference promised me,
The speakers will blow my mind
Killer swag (speaking of which, DonorVoice got killer swag as part of our PETA sponsorship which is neither here nor there but rarely is the swag killer and so props to PETA)
100% money back guarantee
I'd sign up right away.  Hell, we'd sponsor it.  Well, this conference is real and so yes, I did and yes, we did.
We'd strongly encourage you checking out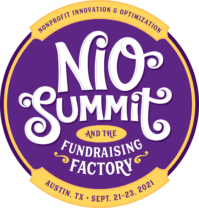 The Nonprofit Innovation and Optimization (NIO) Summit on September 21-23, 2021.  And as a bonus, the conference is in the cool, hip town of Austin, TX.
This Summit is hosted by NextAfter, the firm that does an enormous amount of disciplined, digital testing and reporting . Check out this page on their site and you'll see what we mean.
The agenda is chocked full of apply now insights and bigger picture thinking.  A few of our favorites,
How Charitable Giving Improves Happiness by Michael Norton.  He's a Harvard happiness researcher who is very down to earth and a great presenter.  This isn't pie in the sky or academic jargon to nowhere, it's consumable, entertaining and extremely germane for fundraising.
Fundraising Treats: Donation Page Friction courtesy of the NextAfter team.  Conversion from donate forms/pages is frighteningly low.  A lot of that has nothing to do with your brand or your ask, it's your form designer and context.
A session on Transcendent Principles of Communication and Connection Learned from Years in the Fundraising Trenches from a couple of guys whose combined age makes them older than the rings of Saturn.   Perhaps you know one or both, Roger Craver and Richard Viguerie?  These guys score incredibly high on the Openness personality trait, which means they are naturally curious and lifelong learners.  They'll also tell you that digital is a channel, not a strategy.  Humans are still humans even if reduced to bits and bytes and what makes them tick is not tied to medium.  You're in for a treat with this session.
Consider setting aside 10 minutes today at a time that's convenient and perusing the conference agenda and making your own decision about the priority you'll place on your professional growth and development for 2021.
Kevin
P.P.S. If you're a DonorVoice client then please ping me at
[email protected]
and we'll send along a promo code for a registration discount.