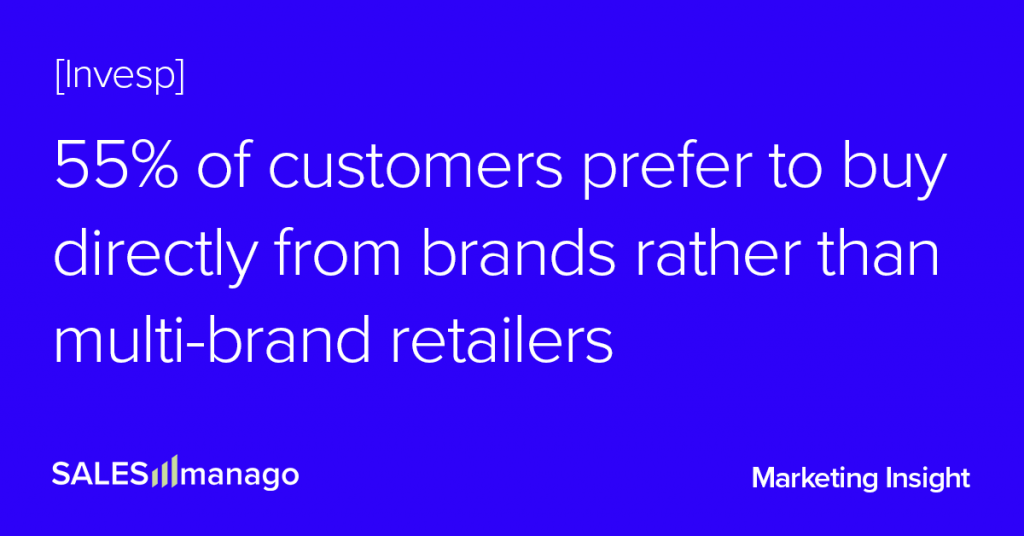 The D2C business model is becoming a better alternative to B2C. More than 60% of customers prefer brand websites over multi-brand retailers because they offer more comprehensive information (Invesp). The increasing popularity of D2C businesses is based on customer needs and the benefits of the model itself.Even if you believe D2C only supports manufacturers, we'll show you how it's beneficial for all business types.
The D2C business model phenomenon
The needs of modern customers are constantly evolving. They value a direct interaction with brands that are willing to consider their needs. For this reason, age-old solutions are becoming increasingly irrelevant, and new, improved alternatives are emerging. 
One of these alternatives is D2C (direct-to-consumer), an eCommerce strategy that eliminates the barrier between producers and their customers. It does this by avoiding retailers and focusing on selling products through online eCommerce platforms, social media, etc. The model provides manufacturers with the ability to easily monitor their customers' behavior and get feedback on how to improve their service. 
In addition to various advantages for customers, this strategy can be beneficial for manufacturers. They can amass more profit by bypassing middlemen, getting access to more targeted customer data, testing products and marketing strategies, engaging customers to create a loyal base, and broadening their market opportunities. Better yet, these benefits are not exclusive to manufacturers and can be applied to all business types.
5 types of D2Cs
Currently, we can see that more and more companies from various industries are deciding to operate as D2C businesses. The largest percentage of them are apparel brands, but the variety of services and goods is endless. Each brand and its clients have distinct needs, which is why 5 models of D2C businesses can be distinguished:
Digital Store
Characterized by a fully developed eCommerce platform that allows a manufacturer to sell their goods directly to a client. It's a proper alternative to traditional stores, but might not be the best choice for a startup brand.
Knowledge Hub
Collects data on customers' interests and purchases to provide a more memorable experience. It gives a manufacturer real-time information on product development, but it won't provide as many benefits for established companies.
Touch Point Commerce
Focuses on reaching new customers through various touchpoints (social media, games, etc.). The most significant advantage of Touch Point Commerce is that it provides innovative methods of gaining and engaging clients, but the actual conversion rates might sometimes be lower than expected.
Subscription Model
Centered on a loyal customer base and provides clients with regular deliveries. The model uses first-time data to gather information about customer preferences, which allows a manufacturer to customize their offerings. However, gaining the trust and loyalty of customers may be a significant obstacle to success.
Personalized D2C
Puts a one-to-one relationship with the client on a pedestal to provide a memorable customer experience. While it is possible for such companies to enjoy high customer engagement, without robust infrastructure, it is also easy to fail.
Reasons to move to D2C
It feels like every brand is now becoming a D2C company. This is being influenced by the fact that 40% of customers expect more than 40% of their spending to go toward D2C brands in the next five years (Invesp). All things considered, the question arises as to what makes this model better than the traditional B2B strategy. The following 4 factors may give D2Cs some advantage:
Independence
A brand can reach customers directly, without having to rely on any retailers, distributors, wholesalers, or middlemen.
Access to customer data
Client data is no longer gathered by third-party retailers. Information about customers' interests, preferences, behavior, and previous purchases goes directly to the manufacturer.
Control
A brand has full control over how their products are presented, marketed, packaged, etc. They are aware of the entire customer experience and any decision is theirs to make. However, this convenience ends when any third-party sellers are engaged.
Lower costs
Self-service and D2C shipping both cost a company less than entrusting distribution-related aspects of the business to a retailer.
The future of the D2C business model
Customers desire personalized and engaging content, and we can confidently say that this won't be changing any time soon. We also predict that these factors will take on even more meaning in the purchasing decision process, forcing companies to innovate in the future. This will motivate the most recognizable companies to make the shift to the D2C business model. The strategy provides the opportunity to constantly evolve and adapt to the needs of customers in order to meet their expectations. Moreover, any brand can appreciate the advantages of this strategy, whether it is a manufacturer or not. The most important thing that companies must consider is choosing the D2C model that is best suited for optimizing their service. This will allow them to experience real profits and satisfy their customers in the long term.