With location targeting, advertisers can trim down their audience to the ones relevant to their business and their product offering. Here in this post, we discuss how you can save time uploading multiple locations to one or multiple campaigns.
The Google Ads platform offers solutions to streamline some key tasks and reduce the time spent on them. One such effort is in the form of pre-defined templates that advertisers can make use of.
Click here to view all the ready-made templates prepared for easy use.
Uploading Bulk Locations to your Google Ads Campaigns
Go to the link specified above. Click on Locations to view the templates available for adding/removing locations to your campaign
We have downloaded the 'Create New Locations' file to upload new locations to the campaign. Here is the raw file:
Step 1: Click here to download the location codes to add to this template. Here is how your entries would appear
Step 2: Once you have added the details, go to your Google Ads account to upload the prepared file
Step 3: Go to 'Locations', Click on More and then on Upload.
Step 4: Select your file and upload it to the account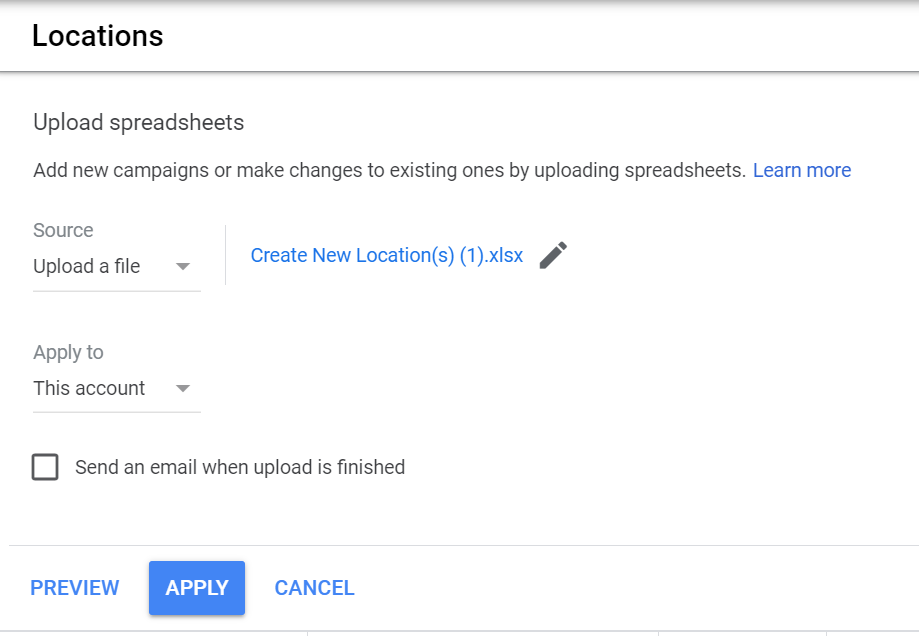 Step 5: You can preview the file to check for any errors and apply the successful changes to your account
Similar to this you can upload bulk locations to exclude, update location bid adjustments, remove location etc.
Related Links:
The post How To Bulk Upload Location in Google Ads? appeared first on Karooya.