It happens to every business.
In fact, it's unavoidable. You're going to lose customers. They're going to vanish or slowly dis-engage, leaving you wondering what it was that sent them adrift.
Before you get too sentimental, remembering all the good times, take a look at the following tips to develop an effective eCommerce re-engagement email campaign.
You won't woo back every customer, but you'll win back a few of the ones that got away.
So, What Happened?
Unfortunately, it's not always possible to determine why a customer has stopped using your product or engaging with your service.
It's possible that a competitor has caught their eye or that they don't have use for your product anymore. Product pricing may have driven them away, or new promotions may have turned them off of your offerings.
To re-engage customers, it's important to know why they left.
Take advantage of targeted customer surveys that offer incentives for a response. You won't hear back from every lost customer, but with effective incentivized surveys, you should collect a fair amount of data pointing you in the right re-engagement direction.
To get ahead of the game, consider implementing customer surveys as part of your postpurchase process. For example, include a link to a customer service survey in the order confirmation details when someone makes a purchase.

What Is a Re-engagement Email?
A re-engagement email is a message you send out to inactive customers. These are customers who have purchased something from your eCommerce business in the past, signed up for your business's newsletter, or visited your website, but have recently, for whatever reason, disengaged.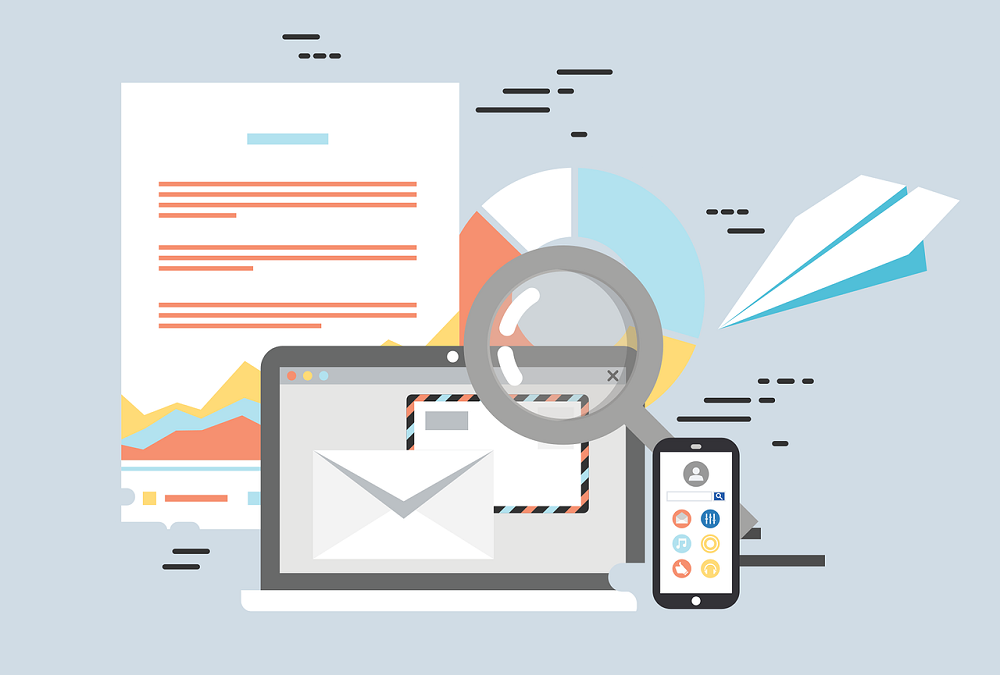 You might be asking yourself, "But how do I know if a customer has truly quit my business?"
This will vary from business to business. An eCommerce retailer selling shoes may opt to send re-engagement emails every six to nine months, as shoes will last through several seasons.
However, if you sell high-quality wireless headphones, you might expect to check-in with customers after 12 to 18 months, as that kind of product wouldn't be purchased very often.
Once you've determined the window for when you'll start to send your re-engagement emails, you can begin to hammer out the strategy and content. This will be key in winning your customer back, and it's where you should focus your energy.
How Many Emails Are Too Many Emails?
Deciding on how many re-engagement emails to send is a delicate balance. You're sending emails to inactive customers, so sending too many might alienate them further, whereas sending too few might result in lost or forgotten emails.
Most businesses find success with two or three emails sent in pre-determined intervals that act as a trickle into the customer's inbox, slowly poking them in the brain, saying, "Hey, remember me?"
You can also set up emails with automated triggers that result in a second email dispatching if the first email is opened. And if the second is opened, a third is sent. And so on and so forth. This strategy allows you to engage but not annoy.
What's in a Subject Line?
The subject line of your re-engagement email is going to make or break your entire effort.
Think about how many emails in your inbox you've skimmed the subject line and sent right to the trash. Winning back your customers with re-engagement emails means you'll have to get creative.
A lot of brands use a conversational tone in their subject line, like "We Miss You" or "What Happened?" or "While You Were Busy With Your Warehouse Management Process…."
Tailor your subject line to your brand, but make it catchy, something that will catch the eye, making the receiver more likely to open the email.
Project management brand Asana takes this approach in their re-engagement email: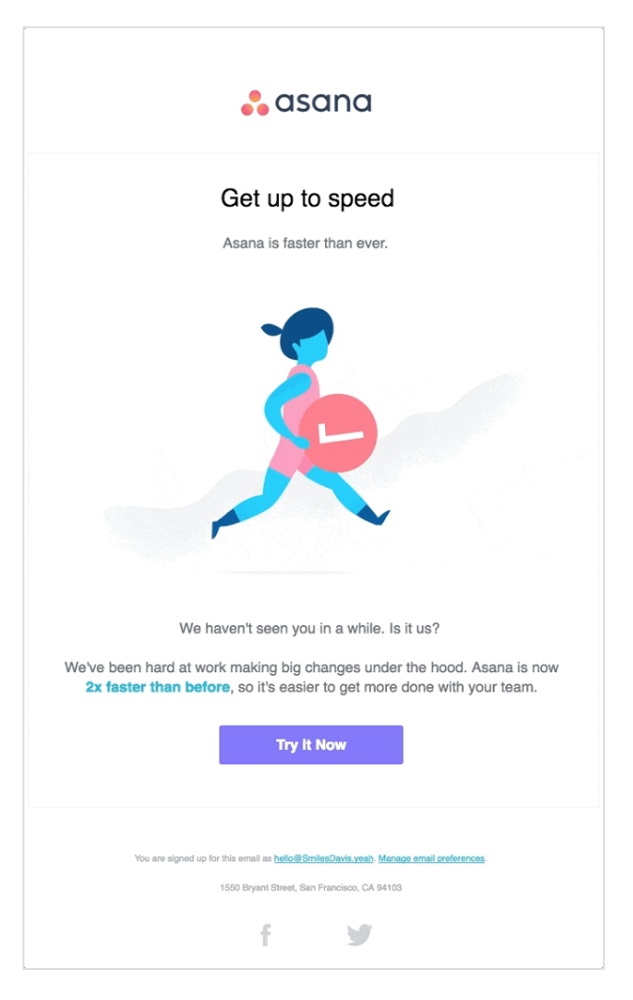 They sent this with the subject line: "Since You've Been Gone…." The body of the email tells the customer that improvements have been made, offering them a reason to check out the service again.
Content
On average, 21% of all emails for all industries will be opened.
If the subject line catches the attention of your customer and they open your email, the content of your email better deliver.
Thankfully, there are a lot of different content strategies, so choosing one or several that fit your brand shouldn't be too difficult.
Discounts
One of the most effective tricks in the book, discounts are a great way to re-engage customers.
Company: Busuu, a language learning company
Subject line: Hit Reboot on Your Learning with 50% Off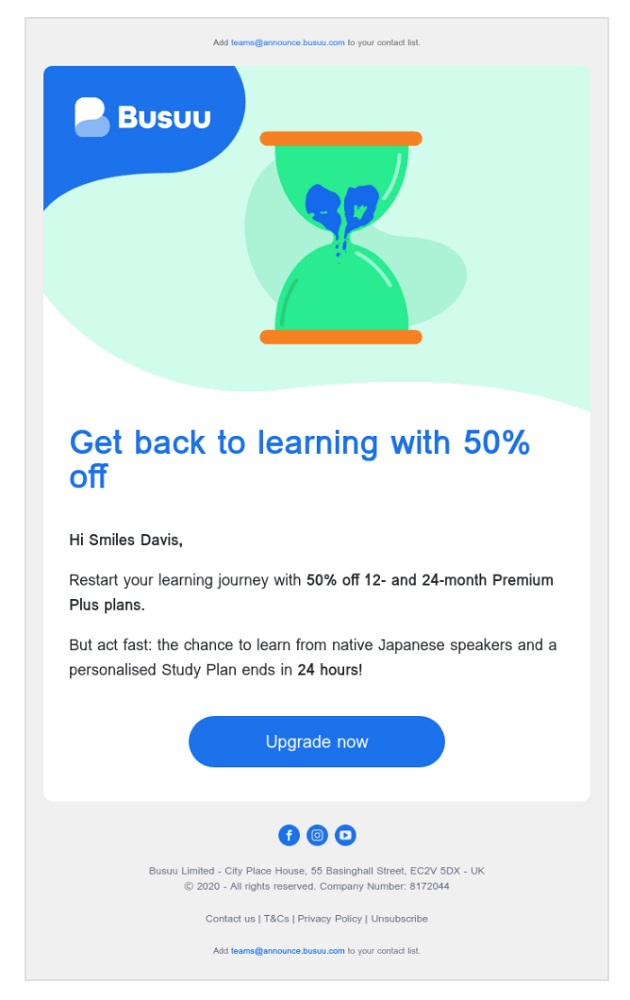 Busuu offers customers a generous 50% discount on their 12- and 24-month Premium Plans — significant savings, sure to catch the eye.
Did you catch their other tactic? They use an "Act Fast" call-to-action (CTA) to put pressure on the customer to accept this great deal because it's not going to last.
Combining a discount and the "Act Fast" CTA is effective, but is it suitable for your eCommerce brand?
Considering the marketing costs of attracting new customers, re-engaging past customers with a discount may be more cost-effective than getting new customers. If you send a series of re-engagement emails, determine if the first email will have the discount or if it may work better as the last email effort.
What's New
An artful way to win back past customers is to show them what they're missing.
Company: Skillshare, an online learning community
Subject line: Come See What's New!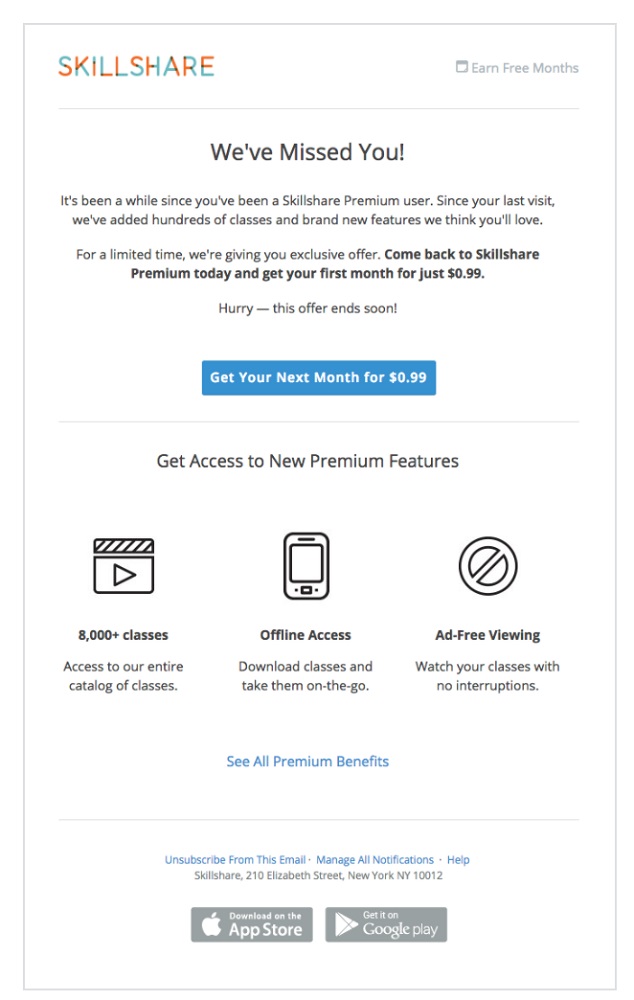 Skillshare smartly tries to win its customers back with a subject line declaring all the new and exciting features they've added.
A "What's New" strategy will click with customers that may have been unhappy with stale products or outdated features. Does your website have a brand new look? Tell your customers, especially the absent ones who might appreciate the revamp.
Again, Skillshare employs several re-engagement strategies in this email. They detail "What's New," offer a discount, and use an "Act Fast" CTA, though the expiration for the discount is vague.
Resource
Brands nowadays really try to connect with customers, and marketing efforts reflect this.
Re-engagement emails can reflect this too. If you can't justify a considerable discount or limited-time savings, or if you just want to take a more laid-back approach, consider a "We're bringing more to the table than just a product" strategy.
Company: eMeals, a meal planning service
Subject line: 3-Ingredient Cocktails to Try This Summer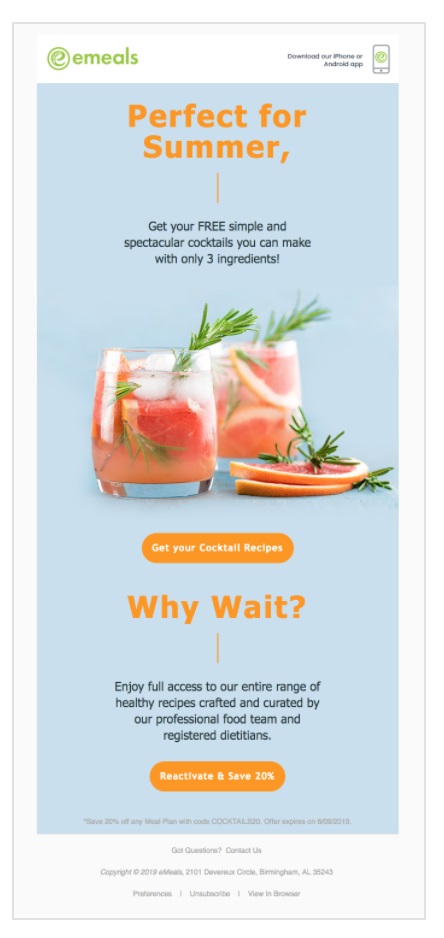 Yes, eMeals is offering a 20% discount re-activation incentive, but they haven't put that in their subject line, and the CTA is buried pretty low in the email. Instead, what stands out is the bold copy highlighting summer cocktail recipes and a picture that really sells the idea.
The recipes are free and only require three ingredients, so a customer sees that eMeals is offering more than just a subscription (though they are offering that). eMeals is offering a resource, i.e., the recipes, in an effort to win them back.
Company: Felix Gray, an eyewear brand
Subject line: Still Have FSA Dollars?
Eyewear brand and podcast darling Felix Gray is also offering a resource, but it's more informational. Raise your hand if you know what an FSA is — no idea? Felix Gray knows, and they have a fun, explanatory graphic in their re-engagement email to help you learn.
Their messaging says, "We've got your back," in a way that will surely bring customers back to their brand.
Administrative
The last email we're going to look at is the administrative-style email. The "We're reaching out because there's some account clean-up needed" tactic.
Company: Zendesk, a customer service software business
Subject line: We are updating our privacy notice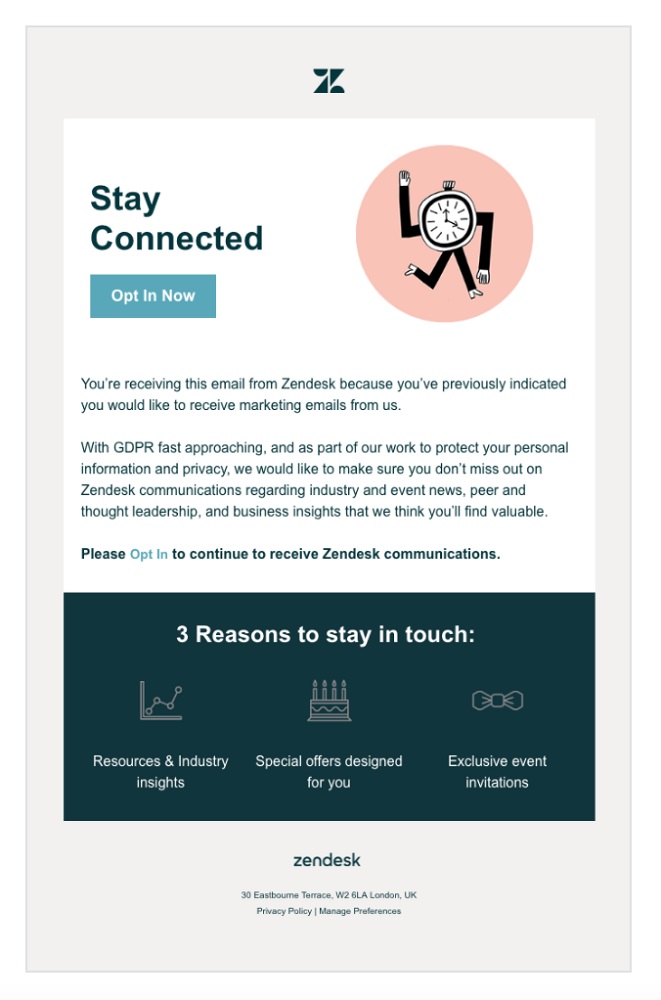 In this email, Zendesk mentions GDPR, personal information, and privacy. They're employing account administration to re-engage you with their company. The idea is if you log in to your account to update sensitive information, maybe you'll stick around.
Here's another example:
Company: Framebridge, a custom picture framing company
Subject line: Goodbyes are hard…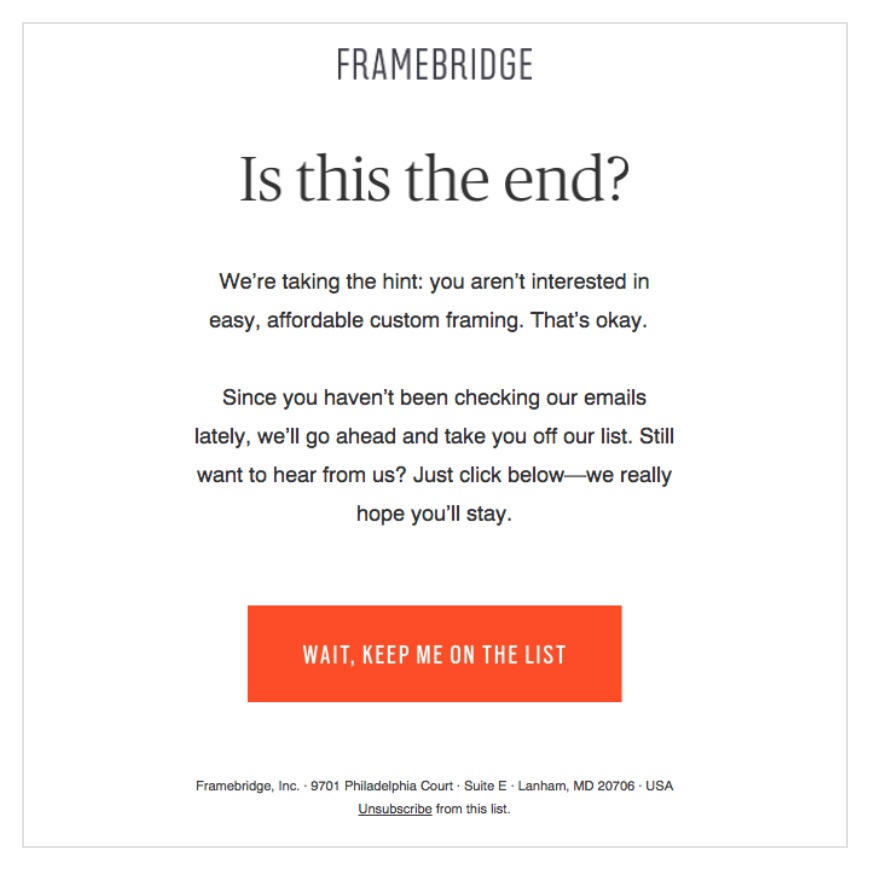 It's a clever take on the administrative angle, as it makes the customer feel like they might lose out on something if they're removed from the mailing list.
To recap, here are all the content strategies you can use in a re-engagement email, some we've covered, and some we haven't:
Discounts on subscriptions, memberships, set dollar amount offers, percentage off offers
Free shipping offers
Showing new features, benefits, or products
Limited-time offer strategy
Free gift with purchase
Promote bestsellers
Customer favorites
Holiday specific
Resource emails that provide informational content
Account administration
Part of developing an effective eCommerce re-engagement email campaign will be determining which of these content strategies will work best for your business.
Subject lines and email content can benefit from A/B testing, so keep that in mind as well.

Related Content
In The End
So now you have everything you need to win back those customers. Send out some customer surveys to find out why they left and then choose from one of the re-engagement email ideas we covered:
Offer them an incentive in a *discount *email.
Entice customers back by telling them what's new.
Offer them something in a resource email.
Keep it informational with an administrative email.
Don't forget to jazz up your content and add a slam dunk subject line.
Losing customers is a fact of life, but it doesn't have to be a catastrophe.
---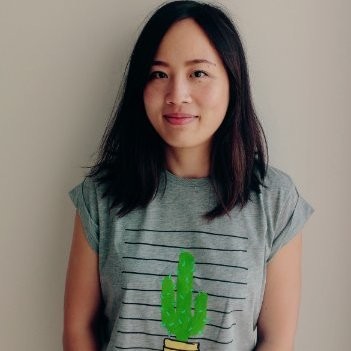 Written by our guest writer Xiaoyun TU, Brightpearl
Xiao is the Global Head of Lead Generation at Brightpearl, a leading retail operations platform specializing in streamlining the purchase order process. She is passionate about setting up innovative strategies to grow sales pipelines using data-driven decisions.