If you want to learn how to manage a sales pipeline for an IT company, you've come to the right place. 
Every IT company needs a constant flow of leads and potential customers to stay afloat and grow. That's where a sales pipeline comes in. 
But your sales pipeline can't run itself. You need to manage it efficiently to successfully generate new leads and convert those leads into paying customers. 
That's why we're covering everything you need to know about sales pipeline management for IT companies in this blog post. Just keep reading to learn more!
What is sales pipeline management?
Sales pipeline management is the process of tracking sales opportunities from when you first generate leads to when those leads eventually convert into customers. Managing a sales pipeline typically involves tracking, prioritizing, and nurturing leads, as well as monitoring your pipeline to continuously make process improvements that help you generate more leads and conversions in the future.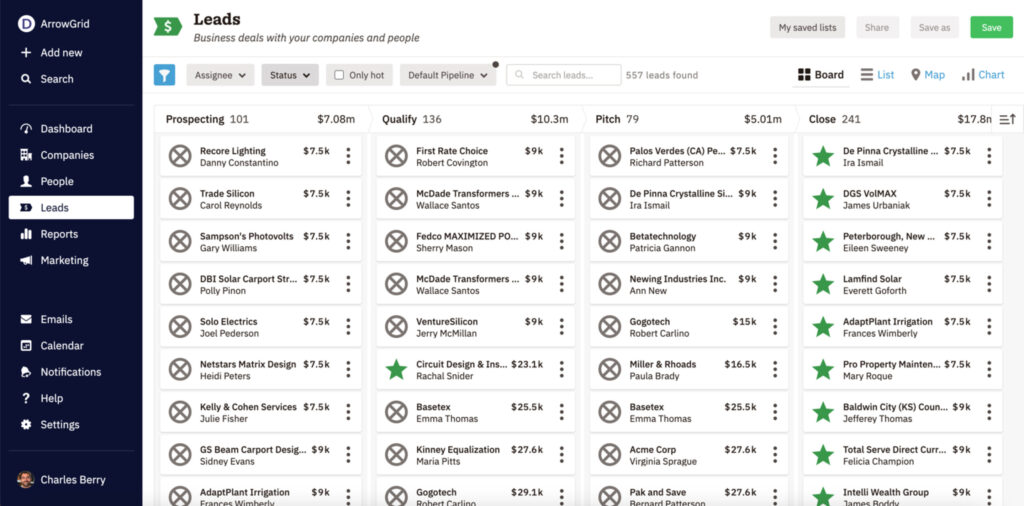 Why is sales pipeline management important for IT companies?
Your sales pipeline is the backbone of your IT company's success. To earn customers and revenue, you'll need to generate leads. And every lead you generate will need to move through your sales pipeline.
Without efficient sales pipeline management, many of your leads will slip through the cracks, and you'll miss out on tons of potential revenue for your company.
In other words, you need to manage your sales pipeline if you want your company to be successful.
How to manage a sales pipeline for an IT company
Now that you know the sales pipeline management basics, let's explore how to manage a sales pipeline for IT companies:
1. Consider the stages of your pipeline
When it comes to sales pipeline management for IT companies, your first step is to think about the different stages of your pipeline.
One of the main goals of managing your pipeline is to track your leads as they move through the various stages on their way to becoming a customer. It helps you understand the next steps and actions you need to take to convert your leads.
The most common stages of the sales pipeline are:
Finding prospects: This stage involves generating leads and finding prospects for your IT company.
Qualifying leads: In this stage, you'll look at your new leads and determine if they are a good fit for your IT company and are likely to convert.
Nurturing: Once you've qualified your leads, you can work on converting them into customers by nurturing them.
Finalizing sales: When one of your leads is ready to invest in your IT services, you'll work on finalizing the sale.
Following up: Once you perform your IT services for a customer, it's a good idea to follow up with them afterward to ensure they are happy and find out if they need help with anything else.
Your sales pipeline stages may look different than the ones above, depending on your IT company. However, thinking through your stages beforehand is important to ensure you're prepared.
DOWNLOAD
Create a roadmap that guides your team toward more sales
Download our Sales Process Worksheet to learn how to outline the key steps your team needs to take for sales success.
2. Find your prospects
The second step in how to manage a sales pipeline for IT companies is to find your prospects and leads. After all, you can't earn revenue unless you have customers, and to get customers, you need to generate leads.
There are several ways you can generate new leads for your IT company, including:
3. Qualify and prioritize your leads
While your goal is to convert as many leads as possible, the reality is that only some of your leads will become customers. Time spent communicating with and nurturing prospects who will never pay for your services is time and money wasted.
That's why it's important to qualify every lead you generate. Qualifying a lead involves determining whether they're a good candidate to become a customer.
Depending on your IT company, you may need to qualify leads based on their budget and current needs. For example, if a lead is looking for in-person support, but you only offer remote support, this lead wouldn't be a good candidate because you don't offer what they need.
4. Nurture your leads
Lead nurturing is the process of communicating and interacting with your leads to encourage them to convert into customers,
You may need to interact with leads multiple times before they decide to invest in your IT services.
You can nurture leads by:
Sending them emails
Calling them
Scheduling meetings
Sending them custom quotes
Investing in remarketing ads
And more
5. Use a customer relationship management (CRM) platform to measure and analyze your results
The next step in how to manage a sales pipeline for IT companies is to measure and analyze your results.
The key to driving more revenue for your IT company is to continuously improve your sales processes and strategies, and your sales pipeline is a critical component of that.
You'll need to measure and analyze the results from your sales pipeline, like how many leads you generate (and their sources) and which interactions encourage leads to become customers.
A CRM platform is the best way to understand your sales pipeline performance. For example, with a CRM like Nutshell, you can access custom, easy-to-understand reports that allow you to view:
The sources of your leads
Which leads convert and which don't
How many conversions and sales you've earned
And much more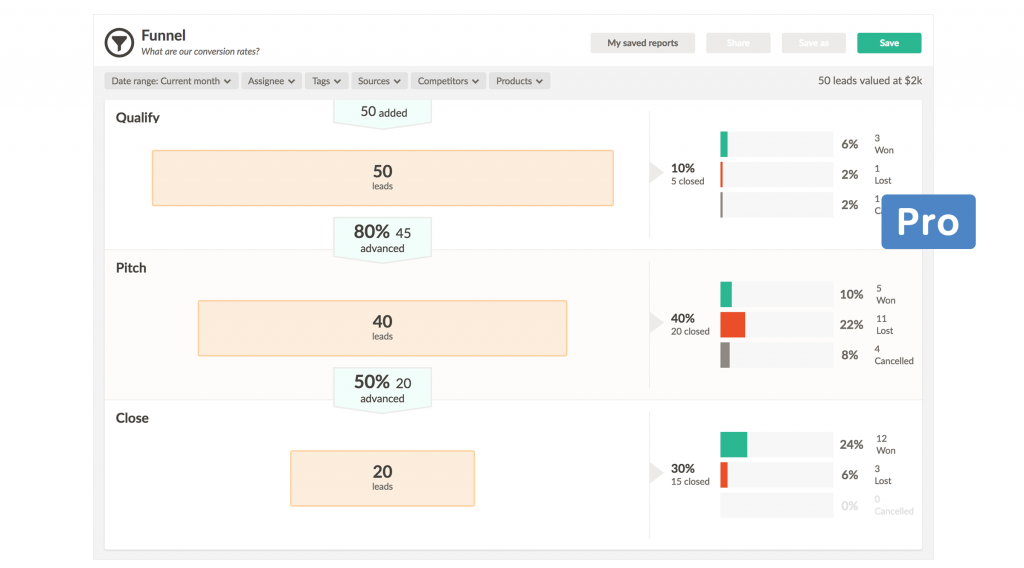 A CRM makes it easy to evaluate which strategies drive the most leads and conversions for your business.
6. Update and improve your IT company's sales pipeline
Once you have a better understanding of your pipeline's performance, you can start to improve it to drive even better results.
For example, you might notice that you generate the most leads from organic search traffic on Google. In that case, you can optimize your SEO strategy or invest in SEO services to improve your visibility on Google and earn even more leads.
You can also learn which interactions encourage your leads to convert into customers and use those insights to inform your sales process.
For example, if many of your leads convert after receiving an email, you can work on improving your email marketing strategy or implement an email drip campaign.
When you optimize your sales pipeline, you can drive more revenue for your IT company and reach your business goals.
Master sales pipeline management for your IT company with Nutshell
Looking for a way to manage your sales pipeline like a pro? Say hello to Nutshell.
Nutshell is a CRM platform designed to help IT companies like yours track and prioritize leads with ease. Plus, it helps monitor their interactions with your company and keep all lead contact information in one place.
And that's only scratching the surface of what Nutshell can help you achieve. Learn more about how Nutshell can help you drive revenue by starting a free 14-day trial!
The post How to Manage a Sales Pipeline for an IT Company appeared first on Nutshell.