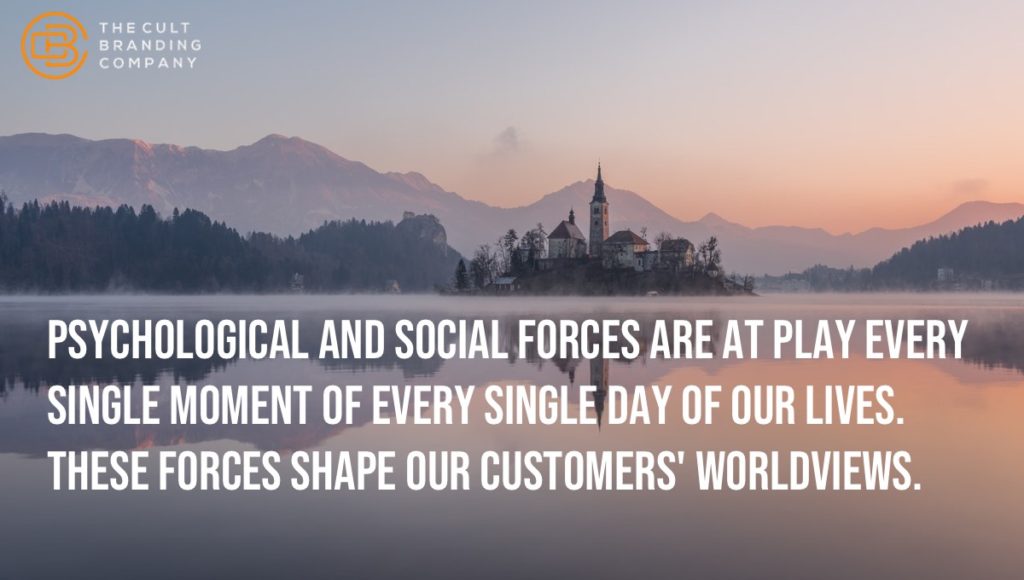 In our book Customers First, we looked at some of the world's biggest brands—companies like Apple and Nike—to discover how they connect so effectively with their customers. To build powerful, profitable connections, it helps to understand that customer behavior is driven largely by a combination of psychological and social forces that are at play every single moment of every single day of our lives. These forces shape our customers' worldviews. 
Once you understand what those forces are, it becomes much, much easier to craft messaging that resonates effectively with the customer.
That sounds easy enough, right? There's only one little problem: these forces that are so pivotal and compelling are also largely unconscious. The customer is often wholly unaware of them.
Customers don't understand the real reason they started shopping at Nordstrom's more and Bloomingdales less. They don't know why a burger and fries at Wendy's seems more appealing than a burger and fries at Burger King.
If you ask customers directly about their purchasing decisions, they'll likely have an explanation to share with you.  Maybe they'll show you a 20% off coupon or cite a location's convenient, pleasant atmosphere as the reason they opted for one business over another.
Listening to those explanations and hearing the reasons consumers give about their shopping preferences is important.  It's a practice that every good business should engage in. Companies that are interested in transitioning from good to great need to take the process one step further. They need to dig a little deeper and understand why those reasons matter to the customer.
Let's look at that coupon for a moment: On the surface, the appeal of a coupon is easy to understand. The customer enjoys getting a discount. They like the fact that they save money when they make a purchase.  It's kind of a no-brainer. Everyone likes to save money.
Yet, not all discounts have universal appeal.
What It Means To Listen To Your Customers
In 2012, JCPenney made headlines with a new marketing strategy that included eliminating both coupons and sales events while slashing merchandise prices significantly—in some cases, up to 40%. Forbes called the Fair and Square approach refreshing and daring. They said that J.C. Penney would be "the most interesting retailer of 2012."1
If by interesting, you mean a 20% sales drop in the first quarter (and a 19% drop in same-store sales—ouch!) then Forbes was right on the money.
If those aren't the types of results you're interested in for your brand, it might be worth considering why the Fair and Square approach wasn't a good fit with Penney's customers.  That involves examining discounting, and especially coupons, with an understanding of how these retail tools are perceived by the customer's unconscious.
One type of unconscious psychological force is known as a biological driver. Biological drivers have played a critical role in humanity's survival as a species. When we think about early humans, it's easy to imagine them working hard, scouring their environment for nourishing food and natural resources they could capitalize on to make their lives easier. 
The person who did the best job at identifying and acquiring resources generally turned out to be the healthiest, wealthiest, and strongest in their society. That means those people were more likely to wind up in a position where they could safely and effectively raise families.  When this cycle plays out over hundreds of thousands of generations, we wind up with a competitive drive hard-wired into our collective psyche.
Today, not many of our customers are worried about where they'll find their next meal or some shelter from the elements. Ye,t the compelling drive to seek out needed resources—more efficiently and effectively than anyone else—remains.
When a customer uses a coupon, they're doing more than saving money: they're using their skills and savvy to fulfill a deep abiding need to search, gather, and acquire in the most effective and efficient way possible. They gain social capital from this process as well. 
The woman who brags about getting a great outfit for $89 because she has shopping smarts (and a great coupon!) is the sister of the woman who countless generations ago knew that if she stood in stream-side shadows she could spear more fish than anybody else.
Just saving money isn't enough.
When JCPenney focused on the Fair and Square approach, they ignored the why behind their customers' decisions and failed to support their psychological needs to feel like they've made the effort to provide and to feel like they're gaining social capital by being savvy.
Good companies succeed because they give their customers ways to fill deep, compelling, unconscious needs. Great companies take market leadership positions because they understand why it works.
Great companies don't waste any time, money, or resources trying to pound square pegs into round holes. They just get a round peg—the combination of messaging and operations that customers find both relevant and compelling—and then they win.
Watch out tomorrow morning for a special announcement from The Cult Branding Company.
_______________________
The post Stop Trying to Put the Square Peg into the Round Hole: What It Means To Understand Your Customers appeared first on cultbranding.com.