With more than half the world's population now active on social media, social channels are a critical way to build brand awareness, contact customers, drive traffic, and even sell products and services.
That's a lot of functions for one communications channel. Social media management tools increase efficiency and allow social teams to get more done.
Bonus: Read the step-by-step social media strategy guide with pro tips on how to grow your social media presence.
What is social media management?
Social media management involves a long list of tasks spread over multiple social media platforms. These can include scheduling social media posts, replying to comments, tracking the success of social strategies, and much more.
Social media management tools can reduce the amount of time and effort required for those tasks. At the same time, they increase performance, security, and data tracking capabilities.
Social media management software streamlines processes and creates better collaboration across teams. They're particularly useful for complex organizations. But they can also be a lifesaver for small teams and freelancers that have to wear a lot of hats.
The best social media management tools meet a variety of needs. They simplify everything from marketing to customer service to social selling.
8 benefits of using social media management tools
1. Save time
For smaller brands and solo social media managers, this is likely the biggest benefit of a social media management platform. Stop opening apps or tabs and logging in and out of accounts. Instead, you can manage all your social accounts in one place.
You can also save time by preparing social media posts in advance and scheduling them to post later. You won't need to interrupt your other work to post throughout the day.
if your diary isn't full of 5 min appointments to post are you even a social media manager?

— WorkInSocialTheySaid (@WorkInSociaI) November 28, 2021
This allows you to better plan content and improve your posting consistency. It also frees up time to work on other aspects of your social media presence.
Another time-saving benefit of social media management tools? The ability to manage your organic and paid social posts in one place. Nearly two-thirds (65%) of marketers have completely integrated paid and organic social media marketing efforts. This is much easier with a social management tool.
2. Plan a cross-platform content calendar
It's important to plan your posts—both created and curated—in a social media content calendar.
Many social media professionals use spreadsheets to plan and organize their social posts. But it's more effective to use the planner built into a social media management platform.
Social media management tools with planners allow you to:
Balance different types of social messaging
Publish posts when they are likely to receive the highest engagement
Curate compelling content to share with your followers
Plan for seasonal and release-specific messaging
A built-in content planner allows you to schedule posts at the right times. In most cases, you can adjust your schedule with a simple drag and drop.
3. Automate social listening
You need to know what's said about your brand, your competitors, and your industry. In fact, 48% of marketers strongly agree social listening increased in value for them in the last year.
Social listening allows you to monitor conversations across channels from one central dashboard. You never need to switch between browsers, and you never miss relevant conversations.
Social listening is also a powerful content curation tool. Use appropriate industry keywords and hashtags to source great third-party content. Share that content to complement work created in-house.
4. Centralize creative assets
Keeping content consistent across channels and teams can be a challenge. A content library can help make it easier.
A content library makes it easy for teams working in various locations to share appropriate, pre-approved content. This ensures all your social channels remain on-brand and on point.
5. Streamline permissions
It is a truly terrible idea to share passwords among members of your team. A social management dashboard creates unique passwords for each person who needs access to your social accounts.
You can control permissions for each team member based on their role. It's easy to revoke that permission when someone leaves your team. And the appropriate stakeholders can sign off on social content right within the posting workflow.
6. Unify analytics
It's important to use real data to test your social media strategy.
Social media metrics tell you when your content strategy is performing well. And where it might need reworking. A good analytics tool helps crunch the numbers that matter to measure performance.
Most social platforms offer native analytics. But these don't give you the full picture of your social successes (or misfires).
A social media management platform shows you cross-platform analytics. You can see which content works best on which social network. Then, create custom reports based on your business needs, not network-specific stats.
7. Improve customer service
Have you tried calling an airline's customer service number recently? Hold times can still be many hours. Customers are fed up, and have turned to digital channels. So it's no surprise that 59% of respondents to the Hootsuite Social Trends 2022 survey said social customer care has increased in value for their organization.
Customers who reach out on social expect a customer service response. But often, the person monitoring the social channels is not a customer care rep.
Social media management tools can help ensure the right messages get to the right teams. They also create a unified view of the customer. They merge messages across channels, and even connect to your CRM.
As artificial intelligence improves, chatbots have also become invaluable for social customer care. They provide answers 24/7 to basic customer requests like package tracking and order status.
8. Simplify social commerce
The global social commerce industry is worth more than half a trillion dollars. And it's expected to keep growing.
Social media management tools can help your brand sell more through social, automatically. AI-powered chatbots help guide shoppers to the products best suited to them.
Who are social media management tools for?
We've already mentioned that social media managers wear a lot of hats. Just for reference, here's a look at some of the tasks Hootsuite social managers are responsible for, and their favorite tools to make the job easier.
Freelance social media managers
Freelance social media managers may wear the most hats of all. They manage tasks in multiple social platforms for multiple clients.
Bonus: Read the step-by-step social media strategy guide with pro tips on how to grow your social media presence.
Social media management platforms are especially useful when working with clients, because they minimize the risk of accidentally posting to the wrong account.
Halfway through week one of being a social media manager and I haven't posted a panda to the wrong account… yet… pic.twitter.com/nv3zRtI5aS

— Ant (@anttheeditor) September 3, 2021
One-person marketing teams
One-person marketing teams may not be juggling multiple clients. But they're certainly juggling multiple tasks.
When you're running the whole show, you need to automate and simplify as much as possible. You need time to think about strategy rather than just the day-to-day tasks of content creation and posting.
When you're on your own, it's also easy to let engagement with your target audience slide. Social media management tools can help carve out more time to engage in conversations that build relationships and lead to sales.
Small but growing brands
Small business social media management tools offer major benefits for growing teams. In particular, a social media management platform allows your team to collaborate effectively and securely.
Social media management software also allows you to function like a larger team. Post content anytime your audience wants to see it, even if you don't have the person-hours to bring staff in every day.
You know, a lot of people ask us why we don't post on weekends. The short answer? We social media managers need rest too

— Linguistic (@LinguisticApp) November 21, 2021
Medium-sized companies
In a medium-sized company, your social team should be collaborating with your customer service team. Social media management tools can help coordinate the handoff from social media to customer care agents. They also integrate all customer interactions with your CRM.
Teams at this level will get a lot of benefits from using social media management tools for analytics. Social listening should also be on the table for customer and competitor intelligence.
Enterprise-level organizations
At the enterprise level, social media can become a little complicated. There are just so many stakeholders involved. You may also have to deal with industry-specific concerns like compliance and security risks.
Social media management tools help protect your brand reputation. Permissions controls, approval pipelines, and compliance checks keep your organization safe.
9 Social media management tools for every type of business
1. Social media dashboard
Hootsuite's social media dashboard allows you to manage all your social media accounts from one screen. View, post, and engage with your social channels with one simple login, with no need to change tabs or screens.
2. Calendar and scheduling tool
Hootsuite's simple calendar view allows you to schedule posts for all your social networks with a few clicks. You can review your scheduled posts at any time, and make changes with a simple drag and drop.
The Best Time to Publish feature suggests the best time to publish for your audience to maximize engagement.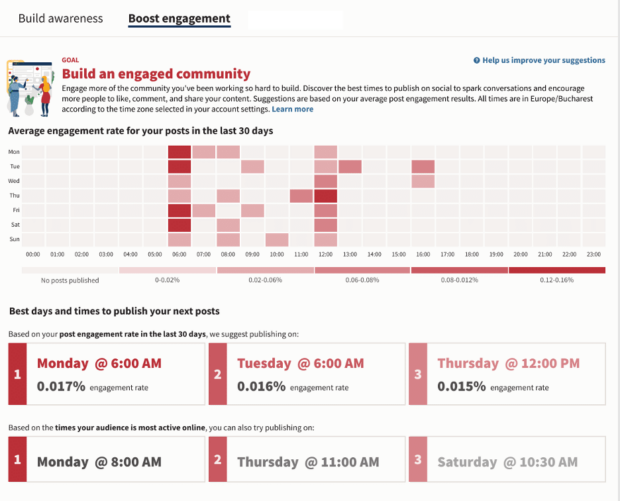 3. Bulk posting tool
Hootsuite's bulk composer allows you to bulk upload up to 350 social media posts at once. This saves even more time while still sharing consistent, high-quality content.
4. Social listening tools
Hootsuite custom streams track all the important conversations in your field. Stay on top of your own business—and one step ahead of the competition. You can filter by keyword, hashtag, and location. Streams are laser-targeted to your needs.
Other great social listening tools include:
5. Content library
Hootsuite's content library is a home base for approved content and marketing assets.
Social media teams can store and organize images, videos, and message templates. You can also integrate the content storage solutions you already use. (For example, Microsoft OneDrive, Dropbox, and Google Drive.) This allows you to access a wide range of content and resources directly from the post composer.
6. Permissions management tool
Hootsuite allows you to control passwords and set specific permissions levels. Every team member has the access they need. When someone leaves your team or changes roles, you can remove or adjust permissions immediately.
7. Analytics and reporting tools
Hootsuite Analyze provides metrics and reports for multiple channels in one dashboard. Measure team performance and share custom reports to prove the return on investment (ROI) of your social efforts.
Other great social media analytics tools include:
We've also created a free social media analytics report template you can use if you're not yet ready to invest in analytics tools.
8. Social customer service tools
Hootsuite Inbox consolidates messages, mentions, and comments across channels into a single dashboard. You can assign messages to appropriate team members, and ensure nothing slips through the cracks.
Sparkcentral automates, prioritizes, and triages customer inquiries across social media, messaging, and chat. Connect Sparkcentral to your CRM to give customer care agents a full view of all customer interactions. This allows a better service response.
Other great social customer care tools include:
9. Social commerce tool
Heyday's virtual sales assistant can provide product recommendations through social messaging. This is an easy way to increase social conversions.
Heyday also uses AI-powered chatbots to resolve more than 80% of customer queries. It intelligently passes the customer on to a human agent when a more personal touch is required.

Save time on social media with Hootsuite. From a single dashboard, you can manage all your accounts, engage the audience, measure results, and more. Try it free today.
The post What Is Social Media Management? (Plus 9 Tools for 2022) appeared first on Social Media Marketing & Management Dashboard.