Etsy is an amazing place to sell online without needing your own eCommerce store. If you sell handmade goods, vintage items, and unique crafts, then you should definitely be on Etsy. With over 80 million buyers, Etsy can open up a whole new world of sales for your bespoke products.
If you want to maximize your sales on Etsy, then you will need a clear marketing strategy. There's also a lot of competition on the platform, so you need to make sure that your products stand out.
In this guide, we'll uncover the 18 most effective marketing strategies that you can use to boost your sales for your Etsy shop.
Let's get started!
1. Use Pinterest to Promote Your Shop
As an Etsy shop owner, you need to be focused on social media marketing. While there are many different channels to use, Pinterest can offer some of the best results for your store. Pinterest is one of the most effective channels for visually promoting Etsy products, and you can easily connect your Pinterest account to your Etsy shop.
Etsy offers a Pin It button which allows you to pin straight from your Etsy shop. When you use this, Pinterest will automatically grab the description from your shop and add this to your pin. To do this, you need to claim your Etsy shop. You can set this up by going to Pinterest, choosing Settings, and clicking Claim. Now you can link your Pinterest boards directly to your Etsy store.
Remember, people shop on Etsy to find something special. People also go onto Pinterest to find inspiration or discover unique product ideas, looks, and decor trends. Because of this, Etsy and Pinterest go hand in hand.
If you pin consistently and make sure that all of your pins are directly linking to your Etsy shop, you could attract a lot more customers.

Above is an example of how you can use Pinterest Pins to send traffic straight to your Etsy store.
This guide offers plenty of valuable information for using Pinterest to sell products online.

2. Create a Clear Brand
Before diving too deep into your marketing efforts, you need to have a clear brand in place. You might have amazing products on your Etsy store, but if you want your business to stand out and be remembered, then you will need to develop a recognizable brand. Having a clear brand is necessary for a complete marketing strategy across different channels and platforms.
Your brand will be displayed on your Etsy shop, website, and across your social media channels. You need to use the banner and square image spaces on Etsy to display your brand. This needs to align with your social media pages. Watermarking product photos on your Etsy shop is a good idea to increase brand visibility. You could also add visible tags to your products when photographing them to make your brand visible.
Because Etsy is focused on authentic, handmade products, many sellers forget about the importance of developing a brand. Make sure that you have a unique logo and brand name clearly present on your Etsy shop.
Check out these free graphic design tools to help you easily develop your brand.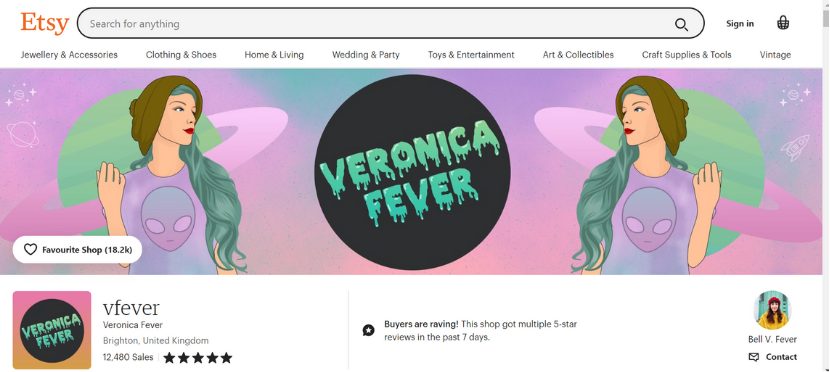 3. Develop a Strong Social Media Marketing Plan
One of the best ways to market your Etsy shop is through social media. Once you have established a clear and concise brand, you need to establish a presence on social media. Social media offers many great opportunities for selling products online. The different channels allow you to connect with your niche audience and engage with your customers. Visual platforms like Instagram and Pinterest offer the perfect space to show off your products.
The social media platforms that you choose to focus on should depend on your brand. We recommend focusing on Instagram, Pinterest, and Facebook. Instagram and Pinterest are great spaces to highlight the visual appeal of your products, while Facebook is perfect for finding and connecting with your audience. Of course, you can implement other social media channels, like TikTok, but it's best to start small and focus on what you're comfortable with. You can always grow from there.
When using social media for your Etsy shop marketing strategy, here are a few tactics that you can implement to get started:
Create a business page on Facebook and use it to show off your brand. You need to make sure that you link from your Facebook page to your Etsy store.

Set up a social media content strategy and post frequently and consistently across all platforms. Your customers will probably see your product a few times before making a purchase, so make sure that you post often.

Join Facebook groups that relate to your niche and use these groups to connect with potential customers.

Create short video content for social media platforms like Instagram, Facebook, or TikTok. Use these videos to reveal your products, show them in use, and demonstrate how they can help customers.
Run a social media giveaway. This is an important Etsy marketing strategy, so we'll cover it in more detail later.

Use social media to engage with customers. Respond to their comments, accept feedback, and open up discussions about your products. You should also encourage happy customers to leave reviews on your Facebook page.

If you're just starting out and are struggling to attract an audience on social media, then you can reach more customers with paid advertising. We'll cover this in more detail below.
For a more detailed look into social media marketing strategies for your Etsy shop, you can check out this guide.
4. Categorize Your Products
When users search your Etsy shop, you need to make sure that your products are in relevant categories. This makes your product much easier to find, which will result in more sales. Categorizing products may sound like an obvious step in your marketing strategy, but so many Etsy sellers don't get this right. Sellers often focus on describing how their product can be used or what it's made of, instead of using the right keywords and categories to describe what their product actually is.
Narrow down a single word that best describes your product, and use this to categorize it. Let's say you sell hand-crafted scented soy candles. This should be categorized simply under "candles". When Etsy users search for candles, your product will have a better chance of showing up. Otherwise, users might need to search for "hand-crafted scented soy candles" to find your product, and they're probably not searching for this.
Once your products have been properly categorized, you can use the Shop Sections to organize your categories neatly on your Etsy store. This makes it easier for customers to browse through your store and find the right products.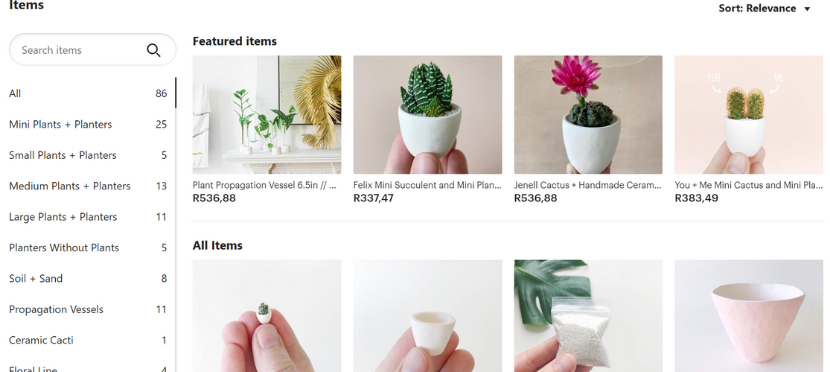 Above is a good example of how products can be categorized. The categories are shown on the left.
5. Run a Product Giveaway
One of the best sales-boosting tactics for any business on Etsy is to run a product giveaway. Hosting a giveaway can help you increase brand awareness, get more social media followers, increase social media engagement, promote a specific product, generate leads, and ultimately increase your sales.
All you need to do is give away one of your Etsy products to the contest winner. In return, you will be able to attract a much bigger audience who are interested in your products. You can then send special offers to these entrants via email marketing, and hopefully, convert them into customers.

To run a successful product giveaway, you will need to use a tool like Wishpond. This will help you to create promotions that let you capture your entrants' details, incentive referrals, sharing, user-generated content, and more. Here are a few great types of social contests and giveaways that Etsy sellers can create with Wishpond:
Sweepstakes
Photo contests
Bonus entry contests
Referral contests
Hashtag contests
Vote contests
Pinterest contests
And more
Simply choose the type of contest that you want to run, create a set of rules for your contest, and pick a prize. Now you can promote the contest on social media to attract an audience of interested customers.
Follow this step-by-step guide on how to run online giveaways for more helpful information.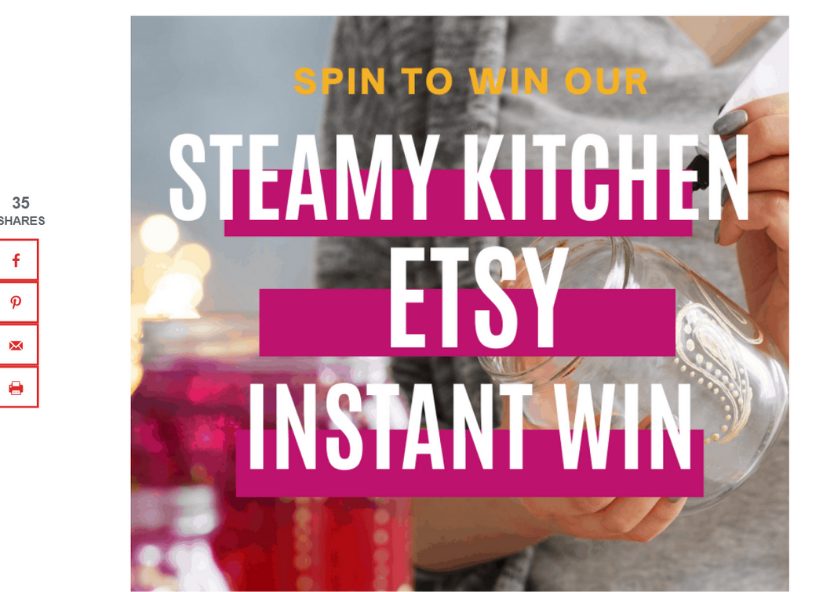 6. Create Helpful Content to Attract New Customers
Content marketing is really important for e-commerce, and it can go a long way in improving your Etsy marketing efforts. As an Etsy store owner, you should be creating content that offers value to your potential customers. This content should be used to excite and inspire customers to shop for your products.
Using your blog is a must, but you could also consider other channels, like video marketing. Some effective content strategies could include helpful guides to your products, explaining what kind of value your products offer, or offering tips to your potential customers that relate to your products.
Let's say you sell jam on Etsy. You could write blog posts about the benefits of certain ingredients in your jam, or recipes that customers can make with your jams. Then you can use your helpful content to link back to your Etsy store to boost your sales.
7. Use Email Marketing to Grow Your Popularity
Email marketing is one of the most effective ways of reaching new customers and maintaining relationships with existing ones. With the right email marketing tools, you can send out regular newsletters, updates, promotions, and personalized content to your newsletter subscribers.
To do this, you will need to build an email list first. A good place to start is to capture the email addresses of your customers and add these to your mailing list. There are loads of different lead generation tactics that you can use, here's a good beginner guide to get you started.
Once you've got a mailing list, you can schedule regular email communications. Ideally, you should segment your contacts into different lists and send each list personalized content. The lists can be based on factors like location, or whether the person is an existing customer.
When putting together your email marketing strategy, you can send out communications directly to your customers on all kinds of topics. This can include sending coupon codes and special offers, thank you messages after they have made a purchase, sending out your blog or video content, or any other news related to your business. Your emails should always link to a piece of content that you have published, or directly to your Etsy shop.

8. Optimize Your Etsy Store for SEO
It doesn't matter how good your product is if customers can't find it. To do this, Etsy sellers need to focus on creating SEO-optimized listings. If your product tops the search results, then you'll see a big rise in sales.
To optimize your product listings for SEO, you will need to start by understanding the right keywords. These are the keywords that your customers will be searching for, and being visible for them will help you to win over more sales. Once you have the right keywords, you can focus on the following:
Include your keyword in your product title (and try to use it at the beginning of the title)
Optimize your product tags to include relevant keywords
Optimize your product description to include your keywords
Make sure that your shop title includes your keyword and enough relevant information about your products
Each shop section has its own landing page which makes a difference to your SEO rankings. Briefly describe the different items in each of your shop sections. Use category listings to include relevant keywords to each of these shop sections.
Your keywords should be based on what your product is. For example, your main keywords would be things like "jam" or "vintage jacket". You can type these keywords into a free keyword tool, like Ubersuggest, Wordstream, or the Google Ads Keyword Planner, and find any additional keywords that your users might be searching for.
Etsy SEO also likes long-tail keywords. These are longer, more detailed search phrases that will help your products to appear in more specific search results. These keywords can include things like "blueberry jam" instead of just "jam" or "vintage denim jacket" instead of just "vintage jacket". The trick is to think like a shopper and imagine what they're searching for and what queries they would type to find your product.
Another important factor for Etsy SEO is getting links that point towards your store. The more people you have talking about your store and linking to it, the more authority you will gain. This will help to boost your SEO rankings. Publishing consistent, relevant content will help you to gather more backlinks.

Example of a product title that makes use of keywords.
9. Run Paid Ads on Social Media
Social media is one of the most important places for your Etsy marketing strategy. To make sure that you are visible to enough users on these platforms, you should consider running paid ads. When using platforms like Facebook, you can run paid ads that target a very specific audience. This is especially helpful if your Etsy store only serves a local area.
Hyperlocal Facebook ads allow you to choose the exact radius of people who can see your ads. This lets you target the specific zip codes that your store can deliver to, making sure that only the right people see your ads.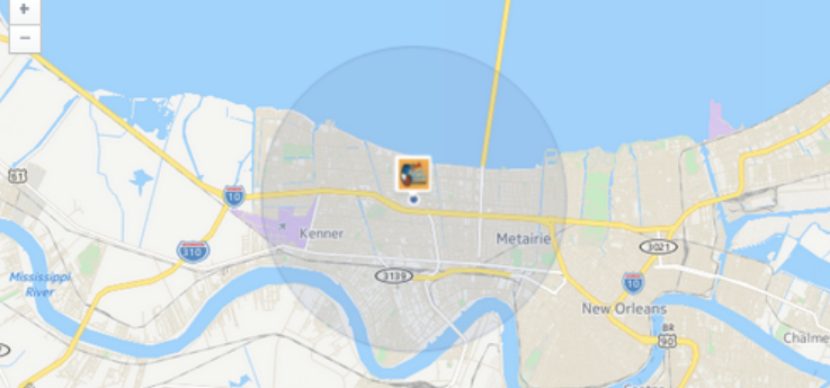 Social media ads also allow you to narrow down and target a very specific audience. You can target people based on things like their interests, age, time online, and location. This will help you to get your Etsy products in front of the right customers, which will result in a greater ROI.
10. Incentivize Customers to Leave Reviews
Positive reviews go a long way in boosting your sales. If your Etsy shop has great reviews, it will be much easier for customers to trust your products. Not only this, but positive reviews will result in a better Etsy quality score. Basically, the more positive interactions a customer has with your store (like purchases, favorites, and reviews), the higher your quality score will be. This will help your Etsy store to become more visible to new customers.
Simply asking your customers to leave a review is always an effective approach. You could add thank you notes to your orders, kindly asking customers to leave a review if they enjoyed the product. This could also be done via email marketing.
Another effective approach is to incentivize reviews. You could offer coupon codes, discounts, or an entry to your giveaway with each review. This will result in more positive reviews, which will lead to more sales.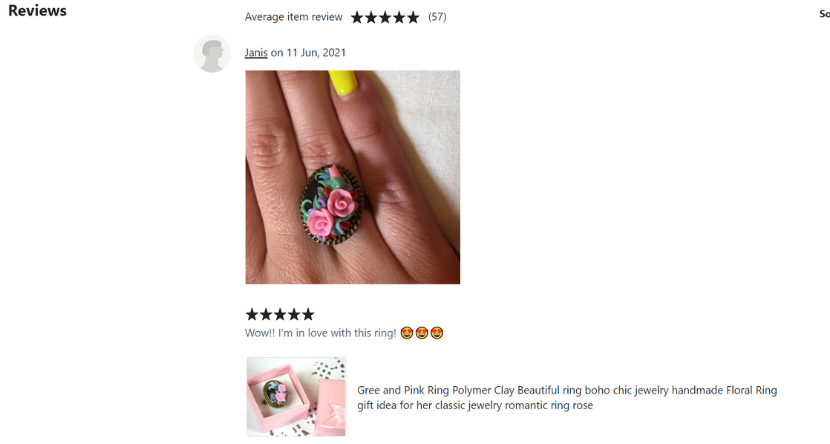 11. Include Attributes to Your Store
On Etsy, attributes are the details that you can add to your product listing. Basically, the more relevant attributes you add, the easier your Etsy shop will be to discover.
When you add a product to a specific category, that category will have its own specific attribute options that you can select from. For example, let's say you sell clothing and you categorize your product under the jackets category. You should be able to add attributes like material, style, and color.
The more attributes you add, the more likely it will be for your product to show up in different search results based on these attributes. Just make sure that the attributes you add actually apply to your products.

12. Use All of Your Product Tag Options (And Use Them Wisely)
When filling in information for a product, you want to be able to add as many relevant tags as possible. Etsy gives you 13 available slots, and you should use all of them. The more tags you use, the more visible your product will be.
As we mentioned earlier, Etsy also recommends using long-tail keywords, or multi-word keywords. Make sure that your tags are specific, and describe your products properly. The more specific you are, the more successful you will be at attracting interested buyers to your shop.
When filling out your tags, use the most important keywords that relate to your product. You can also use words or phrases that can describe the use of your product, such as "gifts for boys" or "kitchen accessories".
People use Etsy to find unique products that they wouldn't find on major online retailers. This is why you should be specific with your tags, and use them to promote the special benefits and uniqueness of your products.
13. Optimize Your About Section
The About section of your Etsy shop plays an important role in winning over customers. Remember, people go onto Etsy for something special, and they love to know the humans behind the products.
Your About section is a great place to tell the story of your brand and give your business some personality. You can include images and videos to captivate your audience and get them interested in your store.
So go into detail about your story and the story of your brand. Be authentic, and offer a clear depiction of who you are. This will help to encourage shoppers to support you, as well as get them interested in who you are and what you do.
Also, always remember to add your social media handles, website, and blog address to your about section.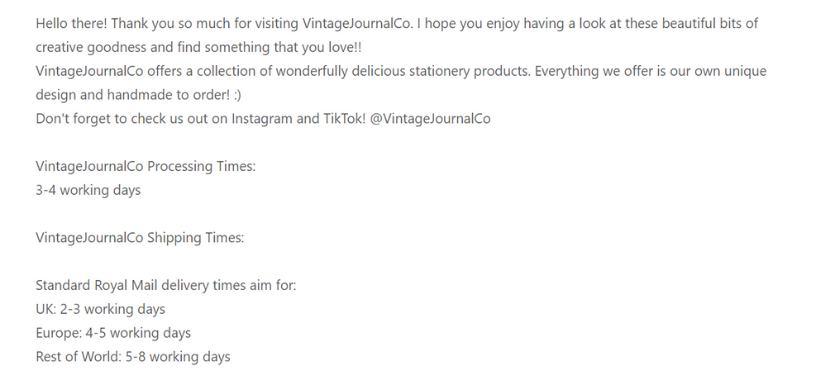 14. Consider Partnering With an Influencer
Influencer marketing is always a great way to reach a bigger audience. If you can find the right influencer that matches your niche and target customers' interests, then they could make a big difference to your sales.
You will have to offer the influencer some kind of payment – this could be monetary or in the form of free products. The influencer will promote your products and provide some valuable social proof. A simple approach is to send a free product to an influencer with a handwritten note explaining who you are, why you like them, and asking if they would tag your brand on Instagram.
Just make sure that you choose the right influencer. You don't necessarily just want someone with loads of followers. You want someone that has the right kinds of followers. These need to be people who are actually interested in your products and would buy from you. If your Etsy sales are limited to certain locations, then make sure to use a local influencer in these areas. Making use of micro-influencers can often help to get the most authentic promotions for your brand, and this is easier to achieve when you're a small business without a big marketing budget.
15. Build Relationships With Other Etsy Shops That Complement Your Brand
Etsy is designed for selling, but it's also a great place to meet other store owners and businesses. Just like a market, you can use Etsy to connect with other businesses and build relationships with them. Doing this can help your marketing efforts.
Cross promotions can be done by two Etsy businesses that compliment each other. A good strategy would be to find a business that complements yours but isn't your direct competition. You just want to make sure that your customers will have the same general interests and will be interested in the same products.
Then you can promote their product on social media, and they can promote yours. This allows each of you to tap into each other's audiences and get your products out to new people. Building friendly relationships with other related businesses is always a good idea, because you never know who might end up recommending or promoting your brand.

16. Focus on Customer Interactions
Your shop on Etsy is seen as much more personal than other major eCommerce sites. It's important that you spend time connecting with your customers and offering a more personalized shopping experience. This is what customers want from the types of craft small businesses found on Etsy.
Make sure that you check your Etsy store at least once a day for any new customer interactions. Respond to any comments or queries, ask customers questions and their opinions on your products. Always make sure that your audience is listened to.
Simple things like responding to comments or leaving a handwritten personalized note with your orders will go a long way in building up positive relationships with your customers. This will result in more positive reviews, more referrals, and more return customers.
17. Publish a Product Roundup
Posting a product roundup is an excellent way to reach a bigger audience and provide useful content to your followers. The idea is to create a list of the best products under a certain theme, making sure that yours are present. You can send this roundup to the other businesses whose products you've included, and hopefully they will share it to their audience. This can get your products seen by loads more people.
To create a product roundup, choose 1 – 3 products of your that you want to promote and decide on a theme that they fit into. This could include something like "Winter Kitchen Essentials" or "Mothers Day Gift Ideas". Then choose a bunch of complementary products from other brands. These shouldn't be too similar to your product, but they should appeal to your same target customer.
Add all of these products into a single image, and number each product (your products should be first). Then share this image on Pinterest, Instagram and Facebook. Tag the different brands that you mentioned, include links to their shops, and send each brand a friendly email showing them your roundup. Every product listed will get free exposure with each share, so it's a win-win situation.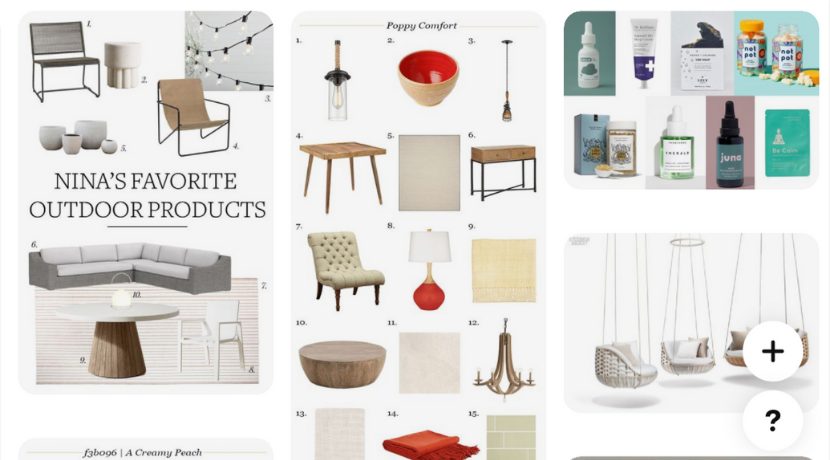 18. Know Where Your Traffic is Coming From and Focus on That
Etsy has a great feature that shows you exactly where all of your shop traffic is coming from. Marketing your store can take up loads of time and effort, and you don't want to be wasting your effort on under-performing marketing channels.
So, review your analytics and keep an eye on your traffic sources. Focus on growing your most effective marketing channels. If you're putting a lot of time and effort into marketing channels that aren't helping your store, you might want to slow down your efforts on these and spend your time on what really works. It's important to focus on techniques that work for you if you want to keep your revenue growing.

Conclusion
Marketing on Etsy doesn't have to be difficult. As long as you understand your customers and use the right methods to reach them, you will be able to make a big difference to your business. Any successful Etsy business relies on good marketing to help them stand out. Without good marketing, your products could easily get lost in the competition.
Follow the strategies and steps listed above, and you will start to see a rise in your sales.
Related Content