One of the most popular (and profitable) marketing niches is online learning. This is a broad niche that can be divided into smaller sub-niches, such as:
How to make money online
How to start an online business
How to build an email list
How to generate traffic
How to create a sales funnel
And so on…
If you're a consultant, coach or really good at just about anything, you can build an online learning business teaching others to do what you love.
We're going to take a look at what it takes to be successful in this niche, and we'll also reveal some shocking things we learned about online learning.
So, let's get started…
1. There's a LOT of Opportunity
The market for online learning was $315 billion in 2021 and is projected to observe 20% CAGR from 2022 to 2028!
No matter what you know how to do — there are likely tens of thousands of people who want to know what you know!
According to McKinsey, if you want to be successful in this field, you need to do these 5 things:
Meet students where they are
Transform career planning and coaching
Revolutionize employer relationships
Deliver a distinctive learning experience
Build a brand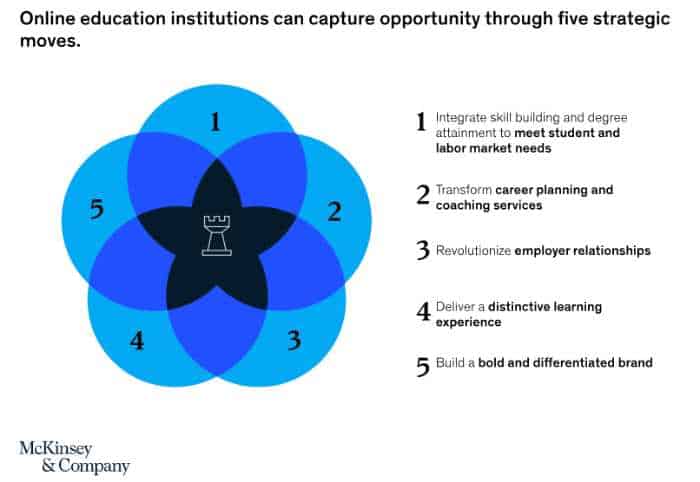 But here's something (or should I say someone) that this research didn't really talk about —
2. Seniors are ignored as online learners
And this is where the shocking part of our research with QuestionPro uncovered.
These online learners aren't kids, or college students — and they aren't even professionals (per se) — they are seniors; people who are 65+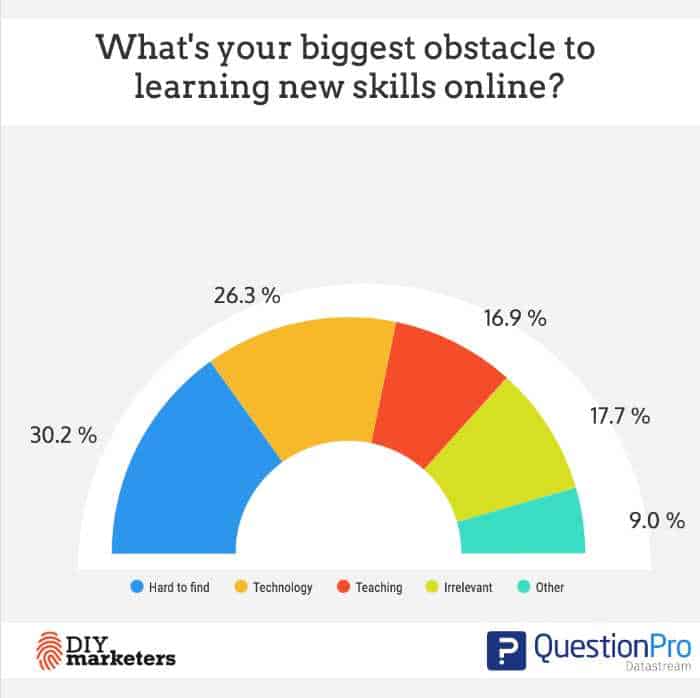 That's right, the majority of online learners (in our survey) are seniors.
In fact, when we looked at the data, we found that:
The largest group of online learners are people aged 65 and older (41%)
Working folks (ages 25-44) were the second biggest category at about 28%.
Sorry, but that was SHOCKING to me.
3. Seniors LOVE to Learn
We also wanted to understand how folks felt about learning new things:
42% LOVED learning new things
38% said they liked learning new things
80% of our respondents liked learning. That's astonishing.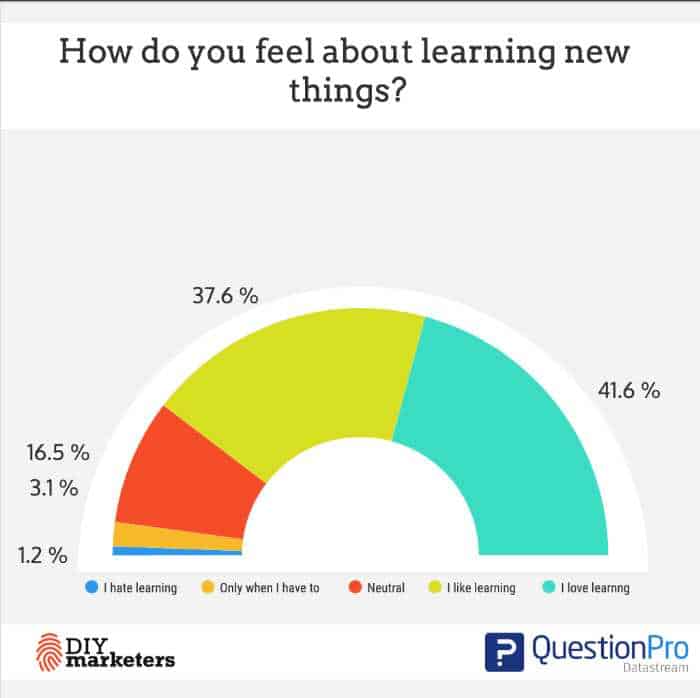 Let's layer this information and give it context;
older people were the majority of our respondents
older people like learning
Now let's see HOW they like learning.
Another shocker.
4. 70% of Learners Prefer Online Learning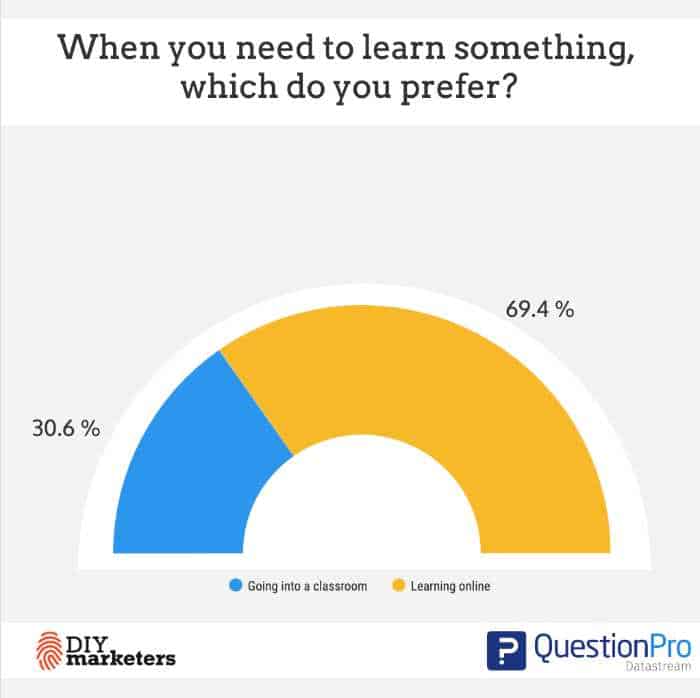 Not only do they prefer online learning, they prefer on-demand learning.
4. On-Demand Beats LIVE Webinars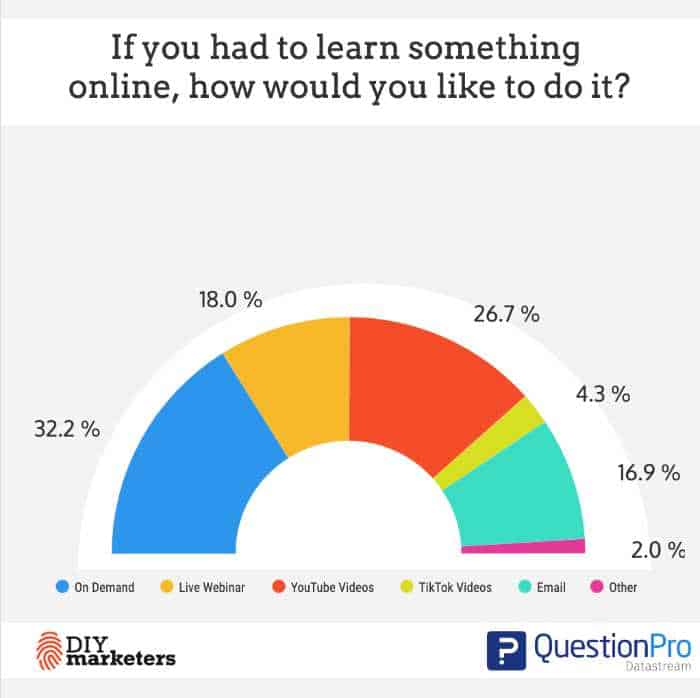 When we asked them where they go to learn, you can see that on-demand videos and YouTube videos (which are also on-demand) are the preferred medium for learning anything.
Tips for Coaches, Consultants and Trainers
Create on demand content
If you're a coach, consultant or trainer, these findings should give you some ideas on how to better serve your students.
Seniors prefer on-demand content, so don't worry about stressing about live webinars!
Keep your content to under 20 minutes
Be very specific and prescriptive. Be sure to use simple language without jargon.
We also asked consumers what their biggest obstacle was to learning new skills online —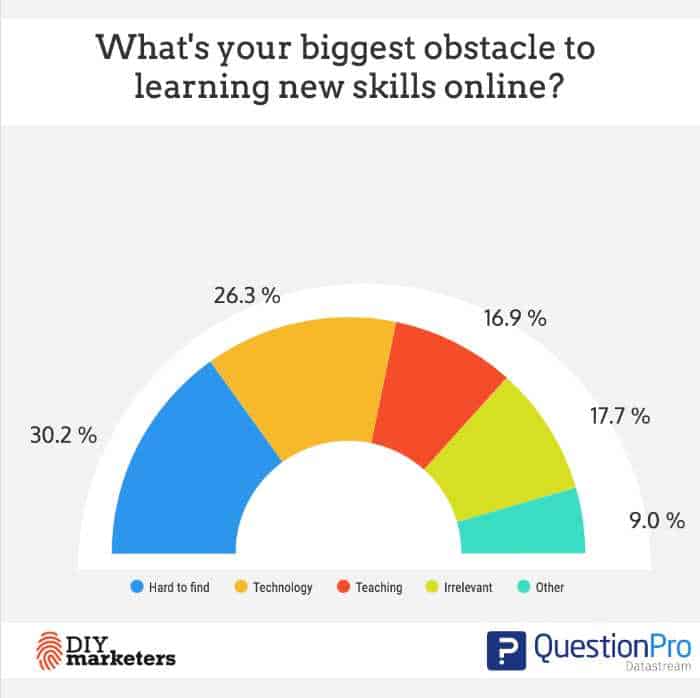 One third of our respondents said they couldn't find content on what they were looking for. Close behind was dealing with the technology.
So what does this mean for content creators?
Build your brand where they will find you
Build your brand and establish yourself as an authority in your field, and make sure your students know who you are and what you offer.
Most seniors are on Facebook, so make sure that you're visible there.
Tailor your content to the audience
Make sure your content is tailored for this demographic. Keep things simple, focus on practical information, and avoid jargon.
Advertise on Google
The first place most seniors go is Google. So, if you're teaching a skill that seniors are interested in, Google is a great place to start.
Simple Guide to Google Advertising
Create YouTube videos
Create informational and instructive YouTube videos and make sure that they contain clear keyword rich descriptions.
Create simple links and show them ON the video
Don't bury your links inside the comments. Create a super simple link and display it on the video all the way through so that seniors can get to your content easily.
What Will You Teach to Make Money?
If you're a coach, consultant or trainer, these findings should give you some ideas on how to better serve your students.
Here are some ideas to get you started:
How to use social media
How to use technology
How to stay healthy and fit
How to eat healthy
How to find a job
How to start a business
How to save money
How to travel cheaply
How to get around town
How to make friends
How to stay safe online
How to be a better grandparent
How to improve your memory
How to deal with stress
How to make your home more energy efficient
How to choose the right Medicare plan
How to get the most out of your retirement savings
No matter what you know how to do, you'll find an enthusiastic audience of seniors willing to learn.