One of the truly impressive qualities of folks in fundraising is their generosity when it comes to giving back to advance our trade.
You can see this generosity in the Comments sections of The Agitator –the willingness to share criticism, thoughts, and ideas.
….And in the countless hours of webinars and conferences presented by dozens and dozens of our colleagues who ride the continuing education circuit offering insights and advice.
… And in the hundreds of posts on other blogs signifying the willingness of so fundraisers to take time out of their day, their weekend or vacation to share thoughts with the rest of us.   posts created because they care.
…And in the financial generosity of fundraisers who donate—sometimes in the millions – to support formal, academically solid education in philanthropy and fundraising.
The list of 'giving back' actions is almost infinite. As the late, beloved Simone Joyaux—the Gold Standard Bearer of Giving Back–  would say, "And…And…And."
I'm hesitant to create a list of all those who give back to our profession.  You know who you are.  We know who you are.  Just know your willingness to give and share are greatly appreciated.
HOWEVER…in a sort of "how did you spend your summer vacation?" mode I do want to single out two fundraisers who are right now undertaking a "giving back" project that will benefit all of us. AND…it's a project you too can get involved in.
They are two old friends of The Agitator and many Agitator readers:  Ken Burnett and Chip Grizzard.
Here's the story.  A story in which you can play a part.
When Ken Burnett turned 70, he didn't retreat to retirement.  In that three score and tenth year he wrote another classic fundraising book —The Essence of Campaigning Fundraising in 52 exhibits and 199 web links—and accepted a challenge to walk 500 miles along the unforgiving trail that is the Camino de Santiago de Compostella, in Northern Spain.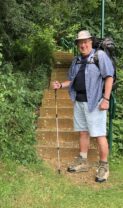 As pilgrims since the 9th Century have discovered this journey will  take five weeks at least, plus all the grit, fortitude and positive thinking Ken can muster. Wonder why?  Here's the detailed itinerary.
Here's The Giving Back Part
Ken's not doing this solely for the blisters.  He's making the trek to raise money for SOFII (The Showcase of Fundraising Innovation and Inspiration) that treasure trove of great fundraising examples available in multiple languages to fundraisers the world over.
Ken's walk begins September 2nd, and you can read about here on SOFII .
Here's Where YOU Become Part of the Story
You can help SOFII for the long haul and bolster Ken's spirit and resolve as he walks the 500 miles by becoming a Sponsor.  Ken and SOFII have set a target of raising £ 7,500 ($10,000) from this walk.
Perhaps you want to give 10 cents or 10 pence a mile or maybe you want to up that to $1 or £1 or €1 a mile.  Whatever amount you choose for your sponsorship you'll be helping yourself and all us fundraisers by helping SOFII.
Just click here to Sponsor Ken and help SOFII.
Here's Where Chip Grizzard Enters the Story
Chip Grizzard and his company Grizzard Global Consulting and Idearaising will match your contribution Pound for Pound or Dollar for Dollar up to £7,500 or $10,000 PROVIDED SOFII raises £7,500/$10,000 before Ken completes his walk.  Thank you, Chip.
Frankly, I hope we can all show our appreciation for SOFII and meet this matching challenge before Ken leaves. The Agitator is making its contribution today.  I hope you'll join in by helping give back to SOFII, the organization that gives us all so much.
Just click here to Sponsor Ken and help SOFII.
Meanwhile, our thanks to Ken and Chip for giving back.  An Agitator Raise to you both.
Roger