Reading Time:
12
minutes
How does an average of $15,000 in sales per month from SMS marketing campaigns sound?
That's the case for wig retailer Divatress, and why owner and founder Rob Lin says he can't imagine operating the business without SMS marketing.
If you want to drive more sales through a channel where your customers are—and who doesn't?—then it's time to seriously consider an SMS marketing plan.
SMS stands for "short message service," most commonly referred to as "text messaging." SMS marketing is a way for a business to communicate with its customers or subscribers via SMS—and each year it's growing.
In 2021, Omnisend customers sent 75% more SMS than in 2020. SMS clickthrough rates also increased by 8.56%, while SMS conversion rates grew by 21.56% year-over-year.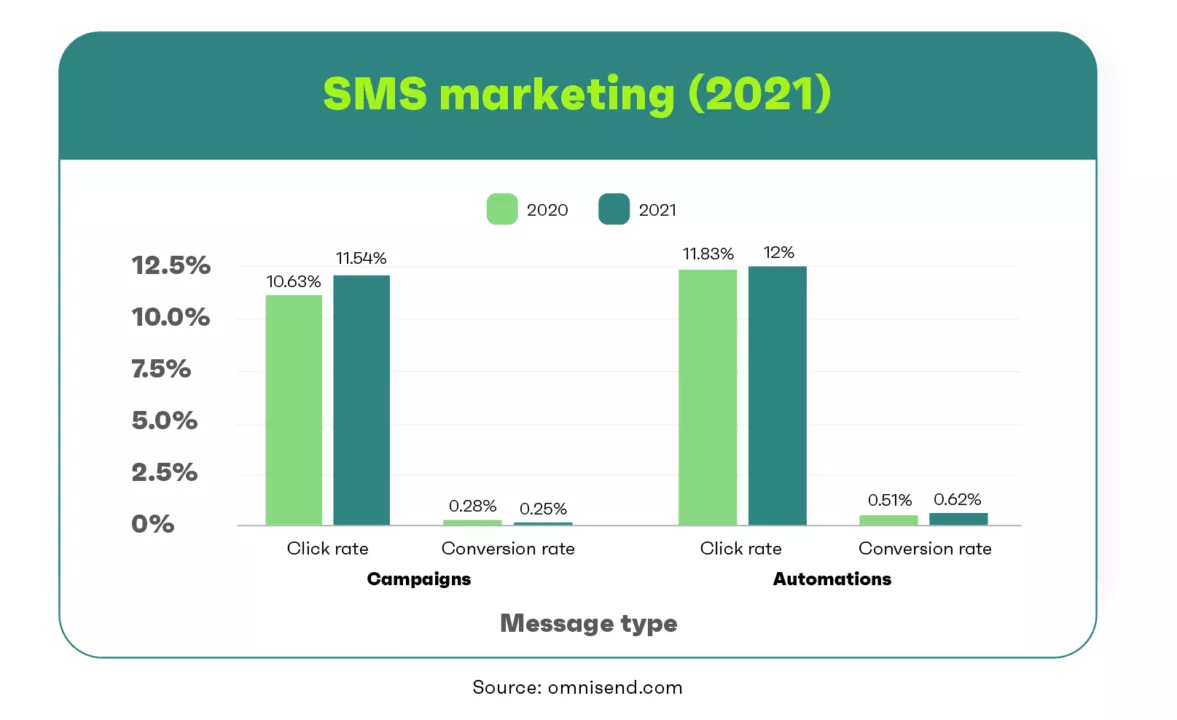 Whether you're in the research stages, an SMS novice, or a seasoned marketer who wants to use text messages to the fullest potential (hint: automations), you've come to the right place.
In this article, we're taking a look at:
Text message marketing ideas to inspire
How to begin and the best practices for getting it right
Proof of SMS' worthiness if you need further convincing
Common SMS marketing questions
Start using Omnisend for free & drive sales on autopilot with pre-built email and SMS workflows.
Start free
6 SMS marketing examples, from standard to unexpected
Let's jump into some SMS marketing examples that demonstrate how ecommerce marketers can build better relationships with their customers or subscribers.
1. Welcome offers
Everyone expects a welcome email, but adding an immediate SMS to the mix can make for a nice surprise.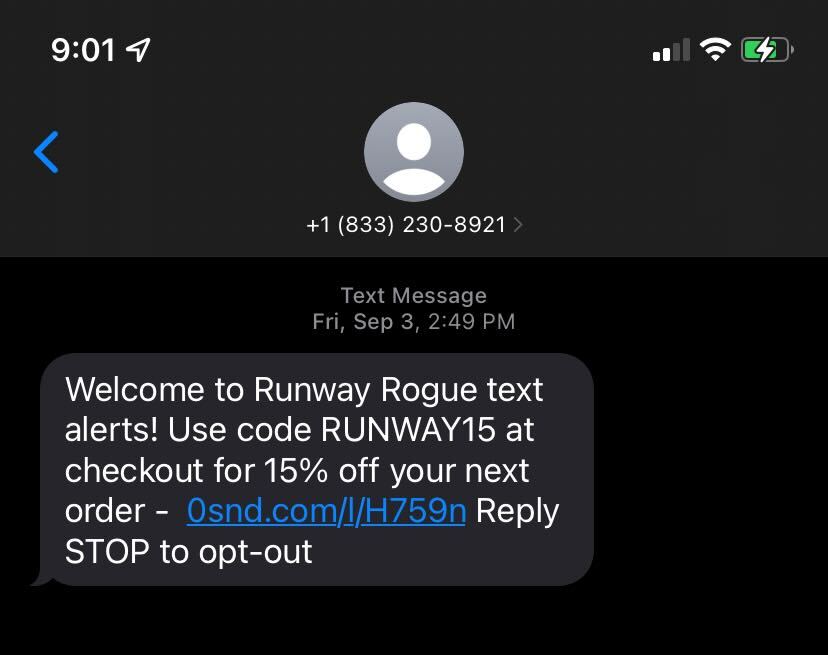 If you offer an incentive for signing up, send the discount code or link via SMS like Runway Rogue does. Then follow up that SMS with another email in case the SMS wasn't enough to get a purchase. In fact, it's always wise to send an email that provides further details and images that SMS can't accommodate.
2. Special time-sensitive offers
SMS is great if you have an extra-special promotion and want to make sure your customer has every opportunity to participate. For your very best sales and promotions, incorporate a bit of urgency in the language.
Or, skip the discount and play on the fear of missing out (FOMO). FiGPiN has a customer base that is eager to get ahold of its limited edition collector pins. As FiGPiN Senior Marketing Manager Allison Caufield puts it, FOMO is "really, really high." So SMS marketing naturally works.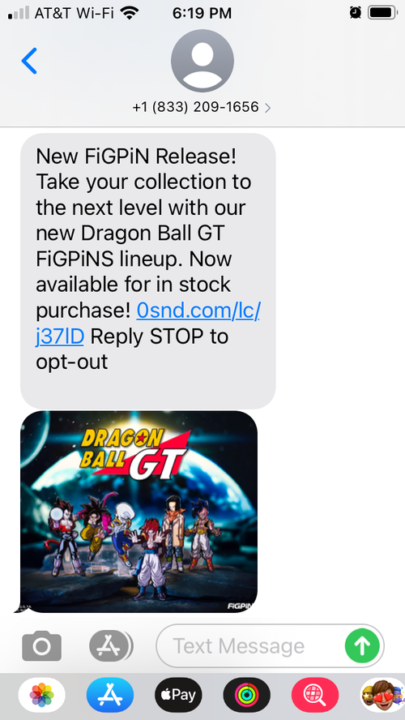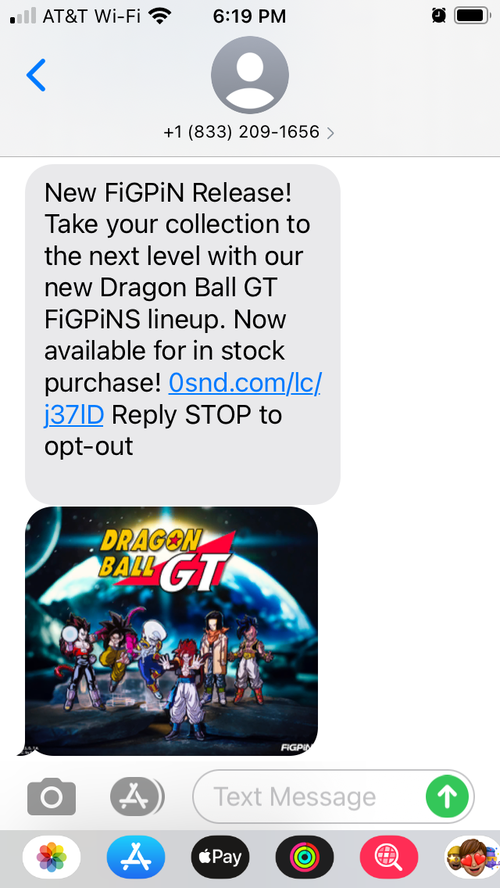 "The SMS has been extraordinarily successful because people want to see those drops right away, so that they don't miss out on any sort of limited edition character or variant that they need to have for the collection," she explains.
I started SMS several months ago just to kind of test it out. The ROI on it has just been absolutely insane. So we will continue to do it for our customer base."

Allison Caufield, Senior Marketing Manager, FiGPiN
3. Order confirmation and shipping updates
SMS really shines with order confirmation and shipping updates.
Your customer doesn't need to be concerned with checking their email to ensure the order was placed. And if the email is somehow slow in arriving, it eliminates second-guessing.
It's a great idea to follow up with SMS messages that include tracking details, too.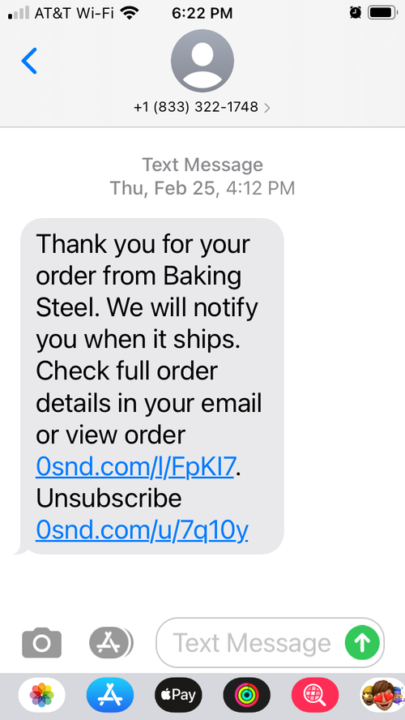 "I think it just adds a layer of transparency to the order and shipping process. It also makes you feel more comfortable with the brand," says Greg Zakowicz, senior ecommerce expert for Omnisend.
"It does have this kind of subtle psychological factor where it makes you feel like the brand's got it together. You get that level of comfort, which I think you can't buy just from branding and marketing, unless you're a really established player."
4. Customer service
Here's another SMS marketing example that demonstrates texts don't have to be about the sale. They can be used to proactively address issues before they become problems. For instance, consignment shop Once Upon a Child warned its SMS subscribers of their limited availability because of staffing shortages.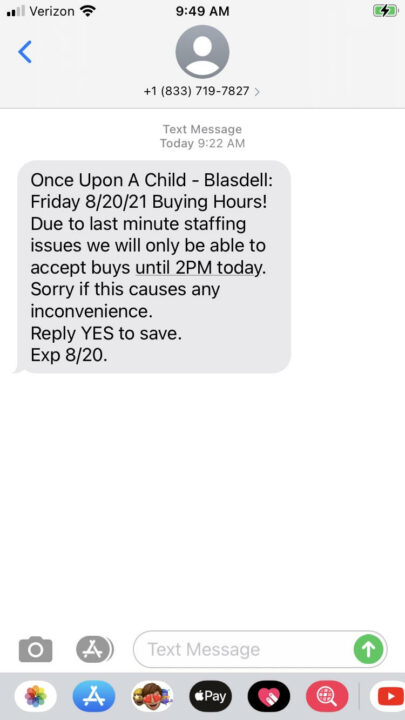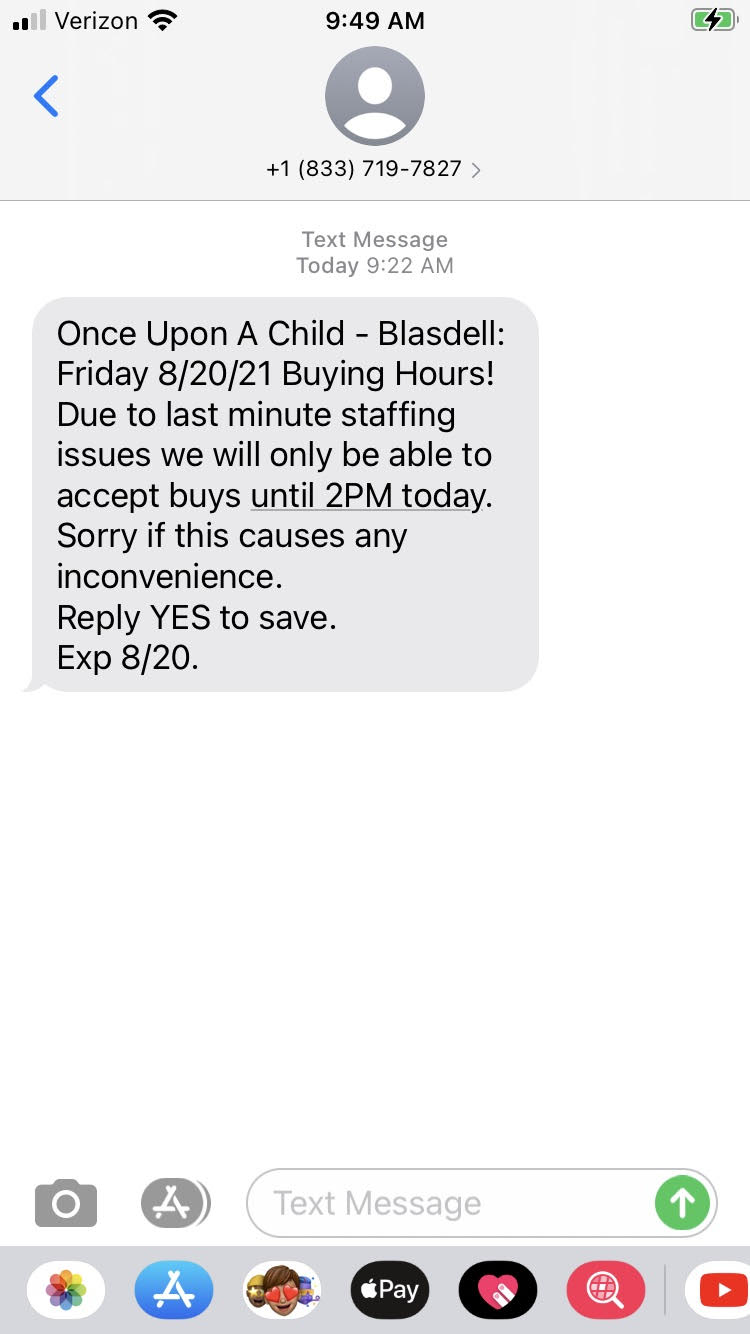 Another SMS marketing idea around customer service is using it to reassure anyone experiencing shipping delays. SMS is a more intimate channel to explain the delays and show the human side behind the brand.
"SMS can be utilized as an opportunity on the front end, or being a little more candid in your communication," says Gabe Macaluso, Omnisend director of customer success. "People want it to be conversational. SMS is an opportunity to build that relationship deeper."
5. Current events
When it makes sense, why not jump on a current event and send a relevant text that ties in with your brand? The SMS marketing example below from Mom Life Must Haves is a case in point.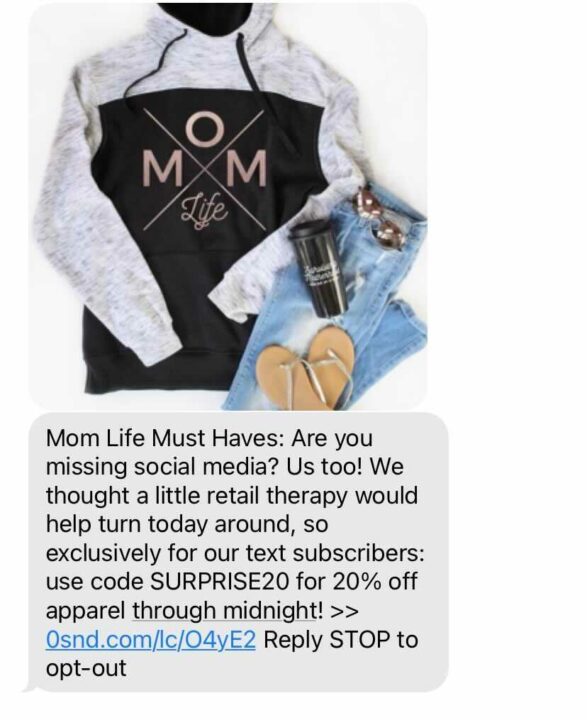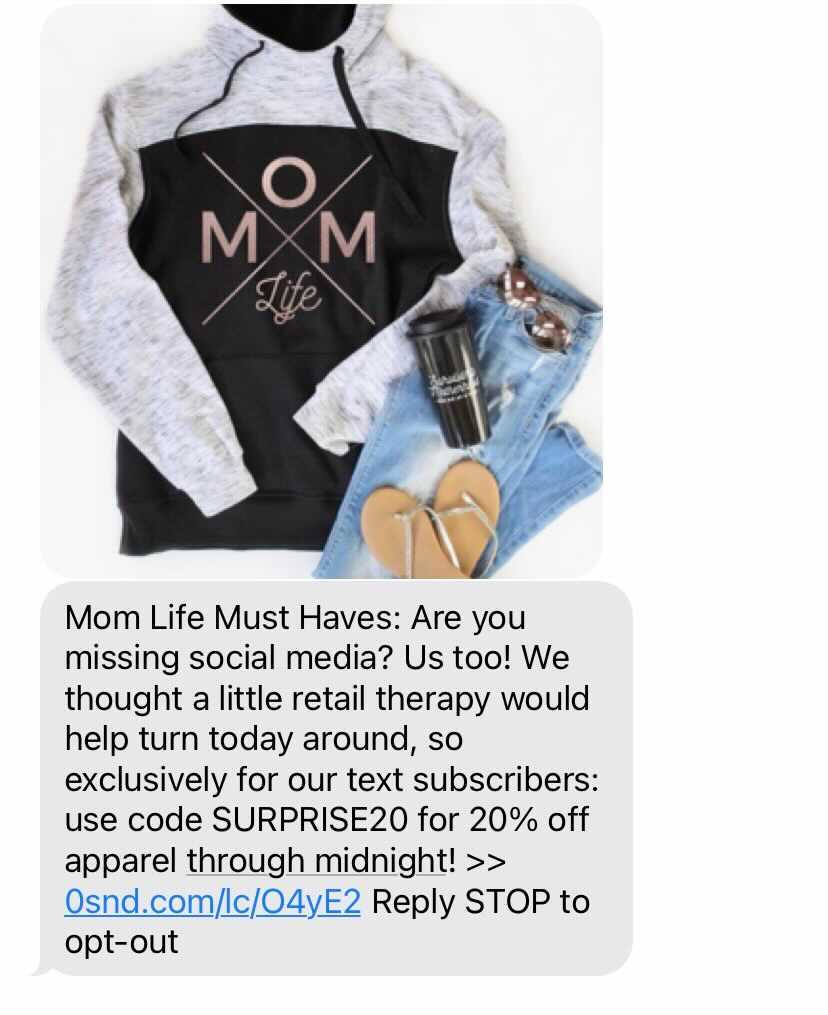 Instead of allowing a six-hour shutdown of Facebook and its family of apps to impede their marketing efforts for the day, they capitalized on it.
Of course, be mindful of the current events you launch from. It might be best to stay mum, depending on your brand, on potentially controversial issues.
6. Recognizing a special occasion
Show your customers they matter. Remember noteworthy occasions like their birthday, or their one-year anniversary as a special rewards member. Recognition is nice, but an offer that lasts for a few days around that time frame is even better.
Place the offer directly in your SMS message, or use the SMS as a teaser to check their email for a special gift.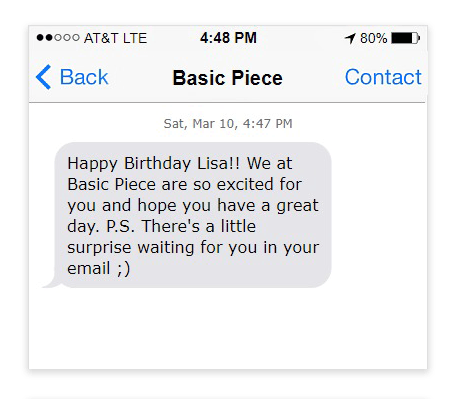 6 SMS marketing best practices
Because people are so connected to their phones, it's important to get your SMS messages right the first time.
We've got the skinny on the dos and don'ts, key SMS best practices, and what you need for embarking on your SMS marketing plan.
1. Get permission (and keep it)
The same opt-in rules as email marketing apply to SMS marketing, too. Marketers are bound by law to gain explicit consent from customers or subscribers before sending marketing communications.
The easiest way is by including a phone number field within your newsletter subscription signup. Popup forms also work great.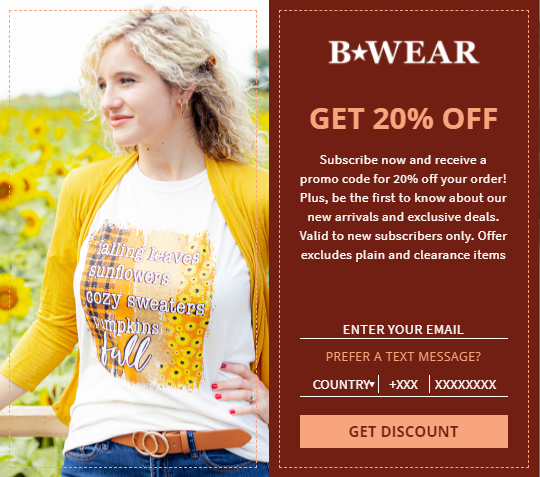 The real challenge, however, is maintaining permission. Start off with full disclosure: tell them what types of messages they can expect. And don't abuse the permission granted. We advise using SMS marketing campaigns for time-sensitive and critical information. Overusing it can quickly send customers away.
On that note, each text message needs to include a way to opt-out. Allow them to respond with a "STOP" text or, if sending to a recipient outside of the United States or Canada, insert an unsubscribe link.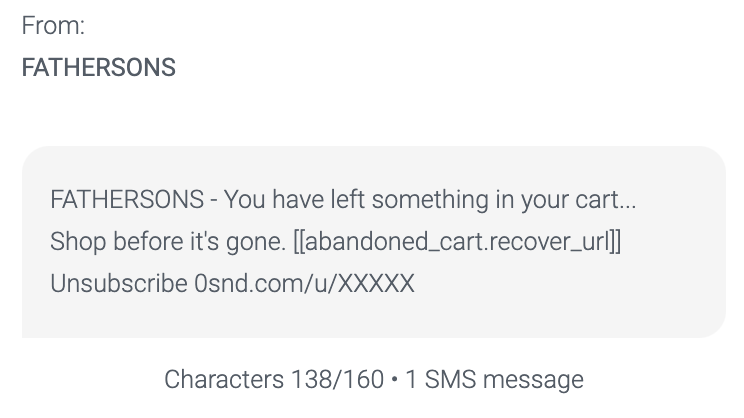 Another convenient option for collecting your people's permissions is Omnisend's Text to Join feature, where customers simply text a keyword to your number. All you have to do is promote that number elsewhere to encourage people to text it and sign up.
Since it isn't dependent on people visiting your online store, Text to Join is a particularly convenient SMS marketing opt-in method: your customers can find this option anywhere you share it, including emails and social media.
By the way, if you're an Omnisend user, you get your own Text to Join number completely free.
2. Use an SMS marketing tool
SMS marketing software can help you nail your text marketing strategy in several ways.
Most importantly, you can automate your messages and send several at once. And many like Omnisend allow you to add a text message into your email automation workflows.
An SMS marketing tool will also provide you with important metrics and reporting to see the exact impact. With that data, you can adjust your text campaigns and try different tactics to get the highest ROI possible.
3. Keep it short yet valuable
SMS messages are limited to 160 characters, so you have no room for rambling. Here are a few tips to help shape your message:
Think about the value. Ask yourself one question before sending any SMS campaign: How will this SMS text message add value to my customer's life?
Identify yourself. Your recipients should immediately know who you are. Otherwise, they won't understand the context of your message. This is the stuff of fundamental brand marketing.
Use proper grammar. Stay away from text slang and abbreviations since they're not understood by everyone. Unnecessary abbreviations, text speak, and improper capitalizations make your brand look unprofessional.
Make your message different from the subject line if you're promoting an email campaign. "Create a text message that you would actually send to someone," advises ecommerce marketing veteran Lucas Walker of the Rolled Up Podcast Network. "That will have a huge impact on whatever quality metrics you're looking for."
Always include a clear call to action (CTA) to prompt the recipient to take the next step, as well as a link that has more detailed information. Some examples:

Subscribe through <link> to receive weekly email marketing news.
Use <code> at checkout before 6PM today for free shipping.
Answer our survey <link> for a chance to win prizes!
Visit <link> by midnight to snag clearance items before they're gone.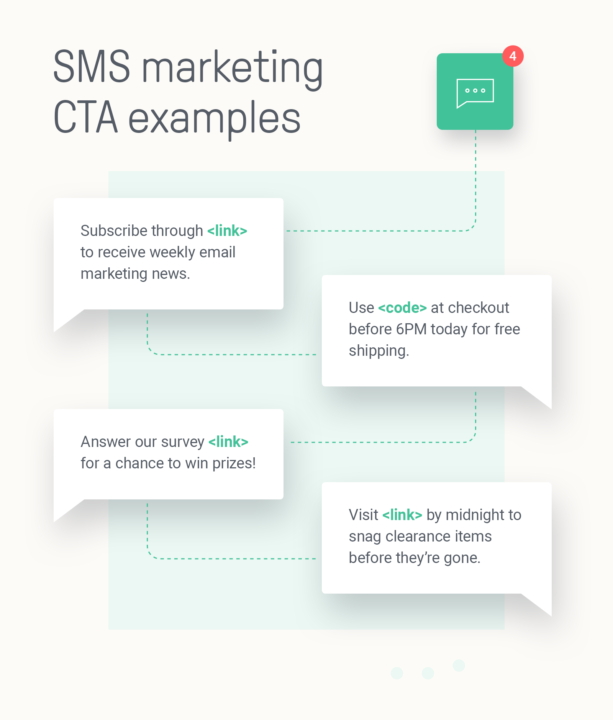 5. Personalize SMS campaigns
A great SMS marketing tool will allow you to incorporate segmentation and therefore target your contacts the same ways that many marketers do with email.
Use the subscriber's first name if possible. Send pertinent messages based on such aspects as the subscriber's location or previous purchases to build and maintain relationships with your subscribers.
Personalization also involves sending an SMS at the right time. Many people have their text message notifications enabled. Deliver your messages during the hours that people are typically awake—and not too early or too late—to avoid aggravating anyone.
Sending irrelevant or ill-timed messages can affect your campaign goals and lead to higher opt-out rates, not to mention a tarnished brand reputation.
6. Add an SMS layer into marketing automations
The SMS marketing strategy of weaving text messages into automated workflows is our favorite best practice. For starters, we know the power of automations. Adding text to the mix enhances that.
Omnisend Manager of Customer Success George Moser says that texts within automations result in greater traction than stand-alone SMS campaigns.
"Three of the highest converting automations you can have with any email service provider out there are a welcome series, abandoned cart and browse abandonment. So if somebody hasn't opened or clicked on the first two emails of a welcome series, I'll suggest that third communication be a new channel," he explains. "That's the lowest-hanging fruit in terms of where a lot of value is."
Divatress includes SMS in its top-performing workflow. The abandoned cart series averages a 29% conversion rate. It accounts for 28% of all revenue generated through Omnisend marketing, yet totals just 5% of all sends.
The workflow operates like so:
An email is sent about an hour after the cart is abandoned
A second email is sent 10 hours later if there's no activity
A third message is sent 24 hours later—either an SMS or web push notification, depending on customer subscription—accompanied by one final email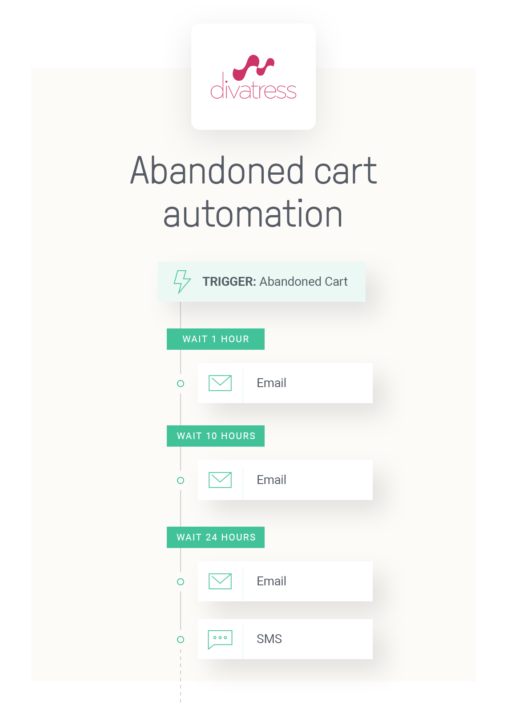 As Divatress does, we recommend limiting your SMS to one per workflow. Follow up with an email when sending any type of SMS, whether part of a workflow or not.
Top 3 benefits of SMS marketing
Brands that deploy an SMS marketing plan of any kind do it for three main reasons: to increase brand awareness, boost engagement and generate more sales.
Email is so widely used that customers expect it. SMS, on the other hand, is used less frequently and therefore great for capturing attention exactly when you want it.
It's important to note that these are only some of the aspects of SMS marketing that make it stand out as a unique channel with the potential to increase your competitive edge.
1. Smartphones are everywhere and consumers depend on them.
A study revealed that Americans spent an average of 4 hours on their phone each day in 2020. So if someone is awake for 15 hours, we can assume that one-quarter of their attention is devoted to their phone screen.
SMS marketing allows you to hit your audience where they already spend a lot of their time.
2. SMS is fast
SMS campaigns are received instantly after you send them, and most importantly, they're read almost immediately as well.
It's no surprise that 90% of SMS are read in the first three minutes. This makes SMS marketing campaigns great for hyper time-sensitive offers.
Even if the phone isn't nearby when your text arrives, chances are the message will be seen not long thereafter. Instant push notifications remain on the screen until the message is read.
3. SMS earns high engagement rates
We have found that about one-third of SMS recipients engage with the message's CTA. And of that engaged group, 47% will make a purchase.
SMS marketing shines during the holiday season. On Black Friday 2021, there was a 39% increase in promotional SMS sent over 2020, which led to a 9% increase in orders compared to 2020. That may not seem like a big deal, but it represents tens of thousands of orders.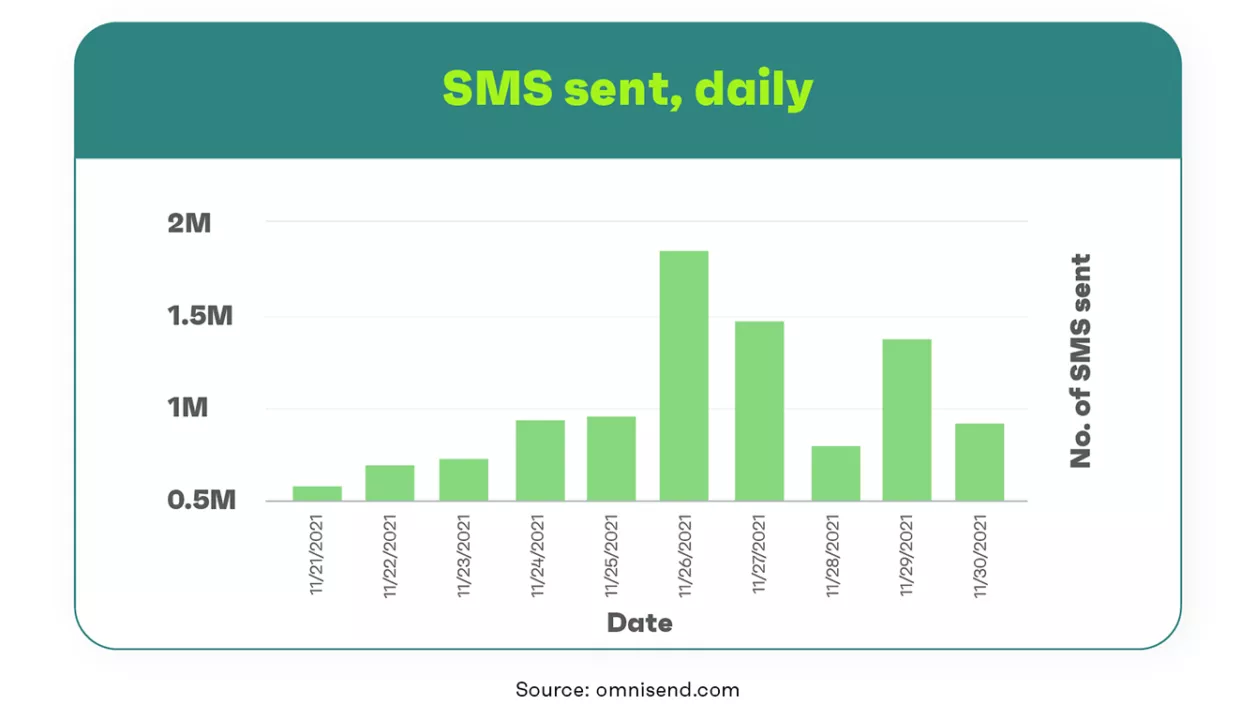 Drive more sales with SMS campaigns using Omnisend's features for free!
SMS FAQs
At this point, we hope that those who are on the fence about SMS marketing understand just how valuable it can be to their ecommerce marketing strategy.
But let's look at some other key questions you may have.
How much does SMS marketing cost?
SMS marketing services don't generally operate on a set monthly rate. You're charged upfront for credits, as opposed to receiving a bill after you've sent text marketing messages.
For example, you might buy $50 worth of SMS credits and use them as you see fit. Once the credits are used, you add on more as you need them.
One important thing to note is that the price per SMS depends on the country in which you're sending the text messages. You can use Omnisend's pricing calculator to get a good idea of how much your SMS campaigns will cost in different countries.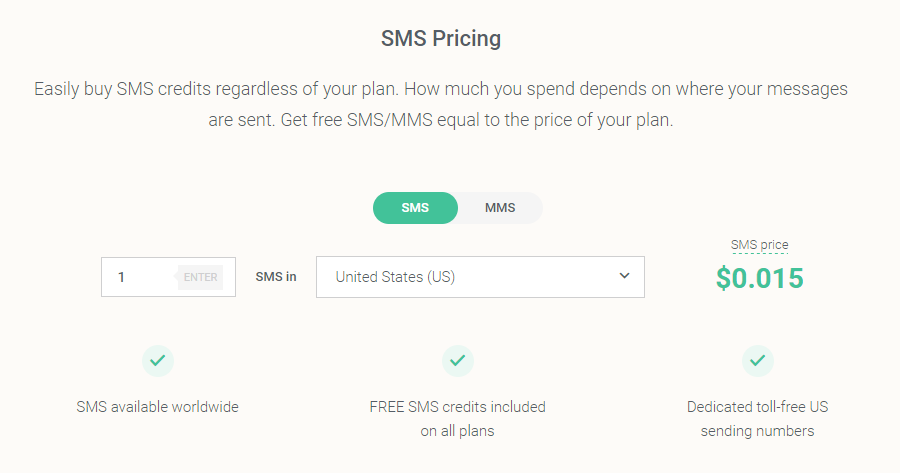 Marketing platforms that are omnichannel in nature operate a bit differently. With Omnisend, SMS marketing costs are baked into the pricing plans.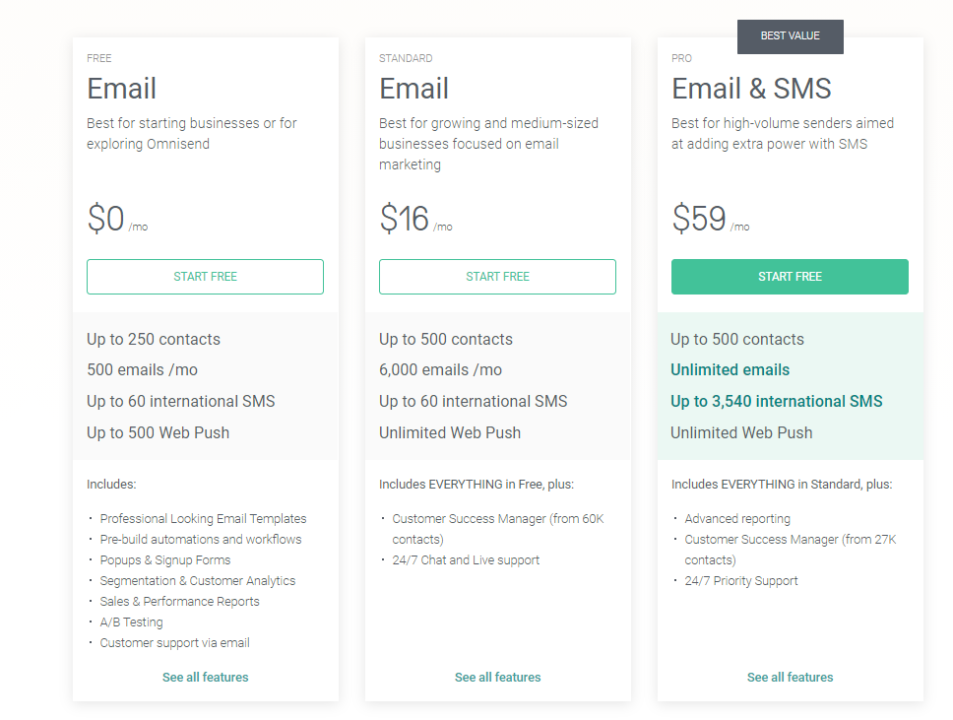 Specifically:
If you're on the Free or Standard plans, you have up to 60 SMS credits
If you're on the Pro plan, you will get free SMS/MMS equal to the price of your plan
Do I really need a marketing tool for multiple channels? Won't a platform for SMS marketing do the trick?
No, you don't need an omnichannel marketing platform. A platform designed solely for sending SMS messages does a great job at reaching your audience. But your marketing efforts will be so much easier—and better—when you can work multiple channels from one command post and not worry about misaligned data.
SMS marketing should be part of your overall marketing strategy. Operating a separate SMS marketing software can lead to lots of headaches later.
What is MMS?
MMS (multimedia messaging service) is an enhanced version of SMS that features imagery, either static or an animated gif. Character count can expand to 1,600. MMS is a great tool to create compelling messages that play on emotion.
Crust Club does a great job of leveraging MMS by showcasing a yummy-looking menu item and taking advantage of the real estate to list the ingredients.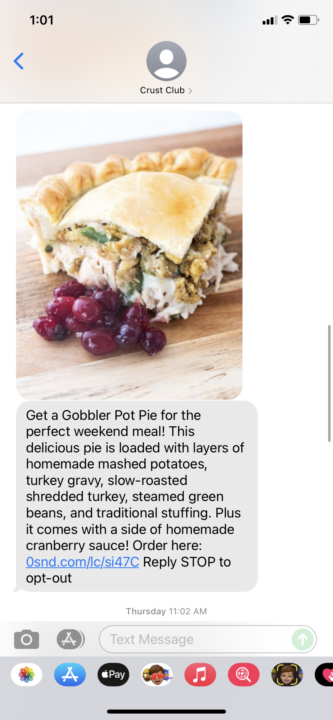 How often should I use SMS?
Remember that communicating via text is more intimate. It's best not to abuse the trust that someone hands over when providing their personal phone number. Unless you have verified that your fan base wants to hear from you a lot, go about your SMS marketing plans more conservatively than you might when sending email campaigns.
Tell your customers what to expect from your SMS campaigns. Treat that as a promise and keep it. If you tell them you'll only use SMS for critical or time-sensitive information, don't use it for anything else.
Reserve this channel for the most exciting or compelling messages so you can condition your customers to be happy to hear from you. They won't just be more receptive to what you have to say, but they'll be more open to whatever it is you have to offer.
Next steps for your SMS marketing strategy
When you follow these SMS marketing best practices, and use SMS when it's going to make the biggest impact, you can drastically improve your ROI.
So what's next?
If you're ready to make the leap, the first step is to find an SMS marketing tool to do the job. There are a lot of software options to consider.
Think about your goals and priorities. What types of features do you want? Will a text-only tool suffice?
Or is it more logical to adopt Omnisend's full suite of tools for SMS campaigns and automations that can integrate alongside emails for an omnichannel experience?
And if you're already signed up but not sure what to do first, follow our four simple steps:
Start gathering customer phone numbers
Send your first SMS campaign
Track the campaign results
Add texts to your automation workflows
Alternatively, we've got a video walk-through of how to set up SMS using Omnisend, for those who learn best from demonstrations.
Along the way and as you want to branch out, dig into our knowledge base for more specifics on topics such as credit technicalities and SMS troubleshooting.
Start Omnisend for free and see how SMS marketing can help improve your sales today.
Add SMS to your marketing campaigns and automation workflows with Omnisend!
The post SMS marketing 101: examples, best practices and how to start appeared first on Omnisend Blog.