And it is a BIG storm. Are you ready? 
As of June last year, inflation has jumped by 9.1% — making it one of the most significant increases since the early 80s. As a result, customers and brands are already feeling the weight of additional spending, which is only expected to worsen this year. 
But it's not all doom and gloom.
Yes, the hard truth is rising inflation is already affecting eCommerce brands and will continue to do so. But with the right budget tweaks and strategies, you can maintain revenue and stand out from your closest competitors. 
In this post, we give you the tools to do just that and will cover:
Let's jump in. 
How Inflation Is Impacting Online Businesses
As prices rise and shoppers cut back on spending, profit margins decrease. 
According to an early 2023 eCommerce trend report by Shopify, commerce growth is continuing to slow as inflation worries increase. Many eCommerce businesses fear that a recession is just a matter of time.
Therefore, they are already actively looking for ways to reduce operating costs and increase prices in order to counteract the risk inflation is likely to play on their brand's growth. 

When you add this to the ongoing supply chain issues, we're looking at what financial publications are calling "eCommerce inflation." 
What Is eCommerce Inflation? 
eCommerce inflation is when online retailers cannot meet increased demand due to supply issues, increased operational costs, and a general rise in prices. This often results in rising product costs across entire categories. And when combined with general economic downturns, eCommerce inflation dramatically affects how shoppers are spending online.
The bottom line: It's a perfect storm. 
While the increased rate of out-of-stock products results in buyer availability fear and bulk shopping, rising costs are resulting in far more careful spending. This results in more buyers spending less, and less often, despite insecurities. It also means they are becoming more cautious on how they spend. 
Let's dig a little deeper. 
How Inflation Is Affecting eCommerce Growth 
While most of us expected a leveling off after the pandemic, many of us were unprepared for such a quick economic downturn in 2022. 
According to a global Shopify Plus survey, brands are already seeing lower conversion rates, a 50% decrease in store traffic, and a 35% shrinkage in average cart sizes. Additionally, they found that 73% of Shopify Plus brands were looking for external investors in 2023.
However, due to a rise in funding thresholds and feared higher interest rates, raising capital may not be as easy or cost-effective in the coming year. The result? Diminishing cash flows. 
In addition, due to supply bottleneck increases, rising operational costs, and cash flow issues, online retailers are also dealing with rapid changes in consumer buying habits. 
This is not new. Thanks to inflation worries, consumers have been changing their spending habits since 2022. According to McKinsey, these are how shoppers reported adjusting their spending.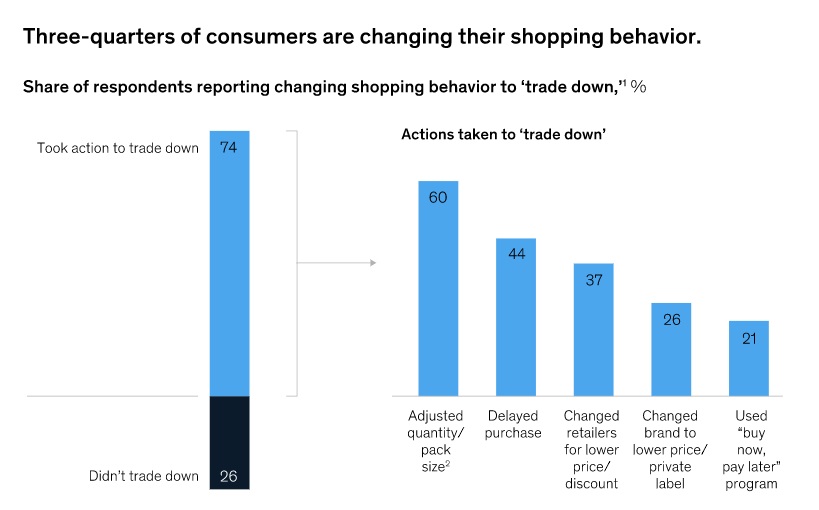 Now, let's factor in growing online competition. 
How Inflation Is Affecting eCommerce Consumer Behavior and Brand Expectation 
Some typical buying behavior changes you can expect with rising inflation include: 
Shopping for less, less often 

Looking for bulk product deals 

Cutting back on unnecessary spending — such as gift buying or products they view as luxury items 
However, that's not a complete picture of what to expect. 
Online shoppers aren't just getting very selective about how they are spending, but where they are spending. And when you factor in the ever-increasing eCommerce market saturation, they have a lot to choose from. 
Fighting competition is not simply about out-pricing your competitors. Why? Because many shoppers aren't just hunting for better deals. 
The choice about where they spend their much more limited spending often comes down to environmental, social, and governance concerns. PWC estimates that almost half of all global consumers look beyond the price tag. 
In fact, product shortages often play an even more prominent role in brand switching. 
One report found that as many as 46% of shoppers have moved to competing stores because their usual brand was out of stock of the products they needed. 
And when browsing other stores and channels for products they are searching for, they want their experience to be seamless and quick.

Ultimately, shoppers want a personal, responsive shopping experience. And with so much competition for their budget, it's absolutely critical that brands are able to provide that for them. 
So, how do you keep costs down and stand out during an economic downturn? Let's look at five strategies!
5 Strategies to Weather Economic Instability
If you want to counteract inflation and economic changes, you will want to do the following to futureproof your brand:
Let's look at each strategy more closely. 
1. Focus on Loyalty Building 
The first and most important strategy you have at your disposal is loyalty building. Not only does it cost you less to market and sell to loyal customers than new customers, but loyal shoppers are 90% more likely to pay more for a product from a trusted brand. 
In one study, they found loyal customers to be worth as much as 22X more than first-time shoppers and average customers.   
In another report, Yotpo found that 40% of loyal customers are likely to still buy a store's product, even if a cheaper option from a competitor is offered. Therefore, loyal customers save you in terms of costs and increased sales. 
If you do need to adjust your pricing due to inflation, you have a better chance of keeping your retention rates stable. 

The cost of sales to loyal customers is much less, helping you maintain your margins in the face of rising operational costs. 
The bottom line is that the loyalty stage of your eCommerce sales funnel is vital this year, and you want to invest in the three Rs of customer loyalty: 
Retention 

Related sales

Referrals 
How to Boost eCommerce Customer Loyalty
Here are some strategies to boost loyalty, such as: 
Prioritize and optimize your customer service 

Offer exclusive VIP discounts and promotions 

Reward retention with referral strategies 

Review and upgrade your loyalty program

Personalize your store's

shopping experience

Engage regularly with your customers 

Create a multi-channel, omnichannel experience 
2. Offer Timely Discounts
A good way to fight saturation and slow spending is with strategic discounts that will promote spending and loyalty. 
The trick is to include as much value as possible. 
Some sales promotion examples that offer this kind of value include time-sensitive sales on: 
personalized recommended products

product-bundled deals with multiple products for less cost 
And when combined with slow-moving products, the latter can be very effective. 
Another way to use timely discounts to boost sales during slow spending is by combining these deals with pay-now-buy-later paying options or gift card incentives. 
Discounts don't just have to be monetary. There is definitely a good case for testing free shipping threshold incentives, if you aren't already using them. Let's look at some stats from a recent Shopify report.

3. Investigate New Income Streams
Widening your eCommerce brand offerings can also help you boost sales and build loyalty despite economic shifts.
An excellent way to do this is by expanding catalogs to include subscription and membership packages. And when you add good customer service into the mix, this doesn't just boost sales but builds long-term retention and loyalty. This could mean offering a well-timed auto-refill promotion. 
Auto-refills, or restocks, are becoming increasingly popular, as they offer more value for items customers intend to refill anyway and help them to remember when it's time to refill. 
You can also promote these as a matter of convenience, not price. 
Dollar Shave Club has had a lot of success with this by simply offering "Auto-restock" or "Buy Now" options in checkouts.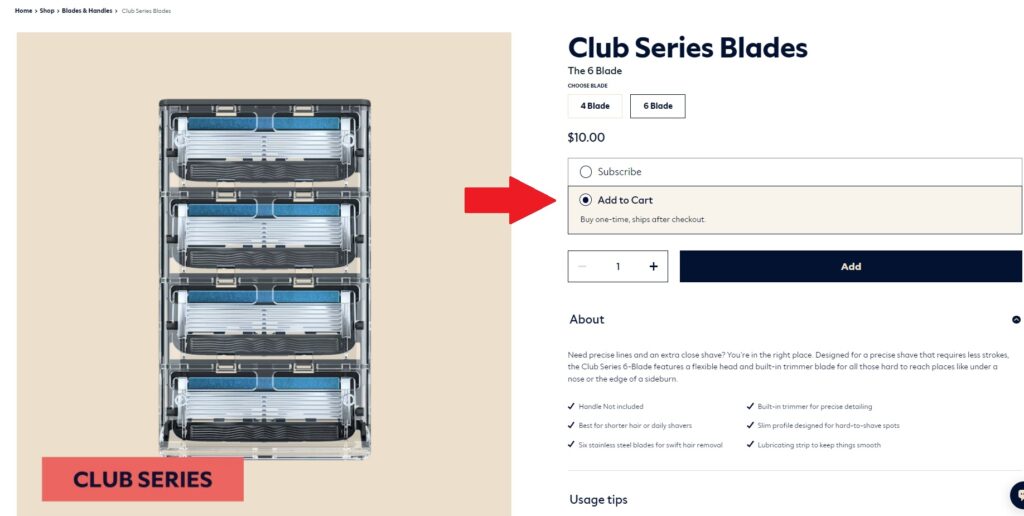 But, with inflation, monetary positioning can be an important driving force — especially when customers are feeling the pinch. Subscriptions and refills that are marketed as a way to save money can help keep customers engaged and shopping during the downturn. 
As can memberships. 
Offering membership promotions, or incentives that go with them, can be compelling. Especially when you consider shoppers are actively searching for them. 
Athletic apparel brand Lululemon, for instance, predicts that as many as 80% of their shoppers will be signed up for their membership within the next five years. Below, you can see just some of the above-and-beyond customer perks a member can receive.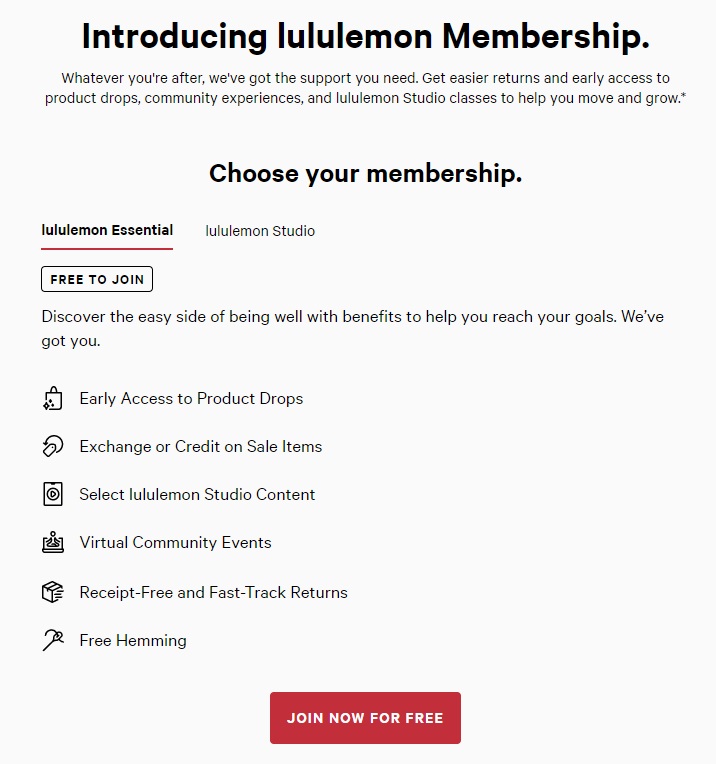 4. Change Prices Strategically 
It is likely that you are one of 80% of businesses who are looking for ways to increase your product prices to keep up with inflation.
However, raising your prices can be a tricky thing. Before you increase, you want to ensure that you have optimized other store elements — so you have a solid brand foundation. This includes optimizing: 
Shopping experience 

Customer service 

Product quality 

Operational and other backend costs 
Once you know you have a strong starting point, you will want to find ways to strategically increase prices to create minimal disruption. Here are some tips to get you started: 
Have a set strategy in place to deal with economic fluctuations that may come up in the future. You don't want to have to increase your prices too regularly. Yes, dynamic pricing may be effective for new shoppers, but changing prices can hurt your loyal customers' perception of you.  

Think of ways you can provide more options. For instance, if you're selling packaged goods, you could offer a reduced size option to lower the cost to the consumer but improve costs on your end. 

Get your price increase timing just right. Think about increasing pricing with new varieties or products you add to categories. Newer, more trendy products will naturally be perceived as having more value. 

Add value in your messaging and your product presentation. For instance, consider adding it to a bundle package instead of increasing the price of a product. 
Or you could take the complete opposite approach. 
Bonus Tip: Price Freezes 
Instead of increasing your prices, you can build loyalty and stand out by freezing prices. Old Navy's "Price ON-Lock" US campaign, for instance, promised not to increase clothing prices to help lessen parents' back-to-school budget worries. While this big UK beauty brand froze all their brand prices from July last year.  
5. Cut Overhead Costs
Last, but not least, the best way to fight inflation is by reviewing your backend costs and looking for inefficiencies that you can trim. 
The first thing you will want to assess is where you can add automation. 
Why? 
Adding automation can go a long way to helping you reduce costs and improve ROIs and ROAS for various business tasks. 
According to recent research, it is estimated that the global automation market will grow by 23.4% from 2022 to 2030. This proves just how critical automation is to reducing fixed overhead costs and improving performance. 
Here are just some of the aspects you should look at optimizing and tools that will help you do it: 
The latter helps you prevent costly marketing mistakes while boosting conversion results. 
Here are some other ways you can reduce your operating costs in 2023: 
Identify and eliminate wasteful spending 

Outsource business functions when possible 

Renegotiate with suppliers

Review and optimize your marketing strategy

Implement strategies to reduce returns
You can read more about these strategies in our Reduce Operational Costs guide. 
Wrap Up 
There is no beating around the bush; this year will be challenging for many online retailers. However, with the right strategies in place, and some solid foundation building, it is possible to not only ride out the storm but increase customer loyalty along the way! 
Got questions? Post them in the comments below! 
The post How Inflation Is Impacting eCommerce Business and the Strategies You Need to Ride Out the Storm appeared first on .