How to Start a Catering Business From Home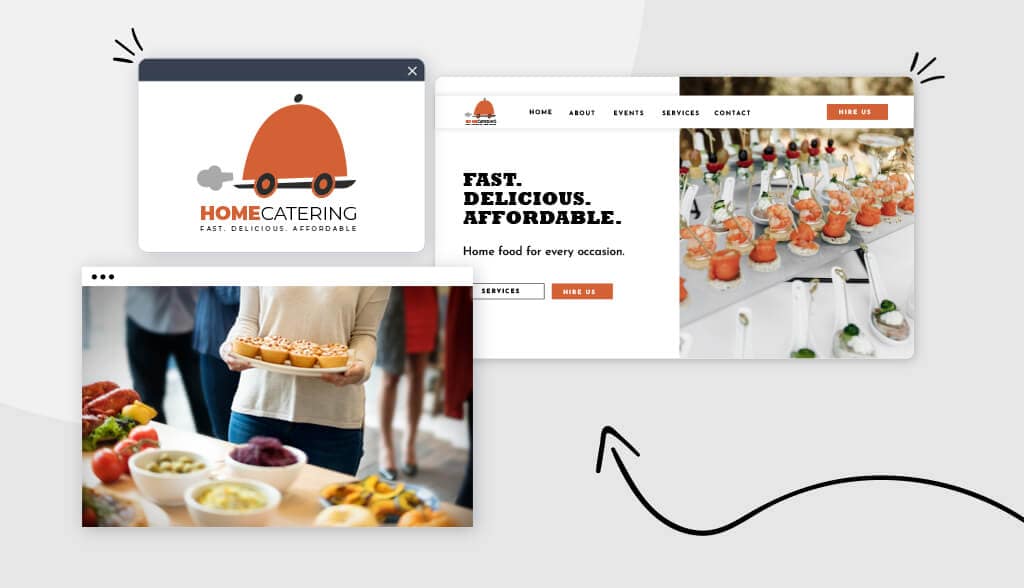 Starting a catering business from home is like preparing a plate of Cacio e Pepe, Rome's most famous and delicious dish.
There are only 4 simple ingredients: Pasta, ground black pepper, pecorino cheese, and a ladle of cooking water. The result is an exquisite taste of Italy that, when first eaten, astonishes even the most seasoned culinarians. 
The secret, of course, is the ingredients and how you bring them together; they must be regional, fresh, and infused accordingly.
Just like when you start a catering business from home: It, too, needs the right medley of business ingredients to create a balance for success. Things like licenses, permits, kitchen appliances, your menu, target market, pricing, and ordering platforms. 
Hungry to learn more? Great, because as the Italians say: "l'appetito vien mangiando" (appetite comes with eating).
Step 1: Determine if it's Feasible
Before you start a catering business from home, you should determine that it's feasible with your state, property, and family life.
For instance:
Does your state allow it?
Some states allow you to run a catering business from home while others don't. And some states only enable you to prepare specific types of food, while others are more flexible. Contact your state's food regulatory board to learn more about your local rules before investing.
Is your kitchen up to the task?
Most states require home-based catering businesses to meet specific food prep and hygiene standards. These can include separate fridges, freezers, storage areas, or a separate commercial kitchen with water and sewage to avoid cross-contamination. 
Pros and cons of a home based catering business
Legalities and logistics aside, before you start any home-based business, consider the pros and cons and the effect they might have on you and your family. For example, a commercial kitchen is no place for adventurous little ones, and your daily family life and business duties often intertwine.
Here are some pros and cons when you start a catering business from home so you can judge if it's right for you.
The cons of starting a catering business from home: 
The pros to starting a catering business from home:
Step 2: Get the Business Licenses and Permits You Need 
You'll need 2 key ingredients when you start a catering business from home: Licensing and permits. Each license and permit has its own requirements, which you apply for from different state agencies, and the time to get them varies.
3 ways to find out what licensing and permits your new home-based catering business might need are:
Contact your state health or occupational licensing department to learn about your needs.
Review the U.S. FDA department's

list of regulations and codes 

for food service regulations in various states.
Contact the

Small Business Administration

 (SBA) for guidance on catering rules in your state.
But before you lose yourself on a government website, here's a list of the most common catering business licenses and permits:
Every business needs a local or county license to gain approval to operate in its jurisdiction. You obtain a business license by applying via your official state's website. You'll only receive one when you've proven you comply with all other catering permits and licensing requirements.
Anyone who handles food requires a food handler's license/food safety certificate and training. The certification involves a short class ending in a final exam, which you can take online or at a local community college or private culinary school.
Caterers need a catering license (and maybe a food vendor license) if your catering business model involves delivering your goods to your client's event. You apply for a catering license by contacting your county health department.  
To start a catering business from home, you might also need to apply for a home occupation permit/business license with your local city council. Review any restrictions about your location and ensure your local council allows you to start a catering business from home to avoid future disappointment.
Consider contacting your local building department, zoning administrator, and fire department to verify that your home business occupation aligns with all building and city codes. 
Your state might also require you to get a building health permit to prove you comply with all sanitation regulations. It's your responsibility to ensure you're compliant, so talk with your local health department to find out more.  
Tip: The Small Business Administration offers information on state and federal licenses for many business types. And local Small Business Administration offices provide business development services to anyone starting a new business. 
Now, with feasibility, licenses, and permits in the pot, it's time to get your kitchen ready:
Step 3: Get Your Kitchen Ready
You've got a lot of work to do to ensure your kitchen is ready for action and complies with your local health department's regulatory requirements.
Standard kitchen equipment won't cut the mustard for your catering business. You'll need industrial-grade appliances and equipment, which are more complex and expensive. And, your kitchen must be large enough to fit your commercial kitchen appliances, equipment, and of course, to prep and cook your food. 
Catering kitchen design requirements can include: 
Food storage, hygiene, and prep areas
Design your kitchen to comply with all health and safety standards regarding food storage, hygiene, and prep. You might need separate commercial-grade refrigerators, one for raw foods and another for prepared food. Storage areas for dried and fresh produce, extra ventilation, and stainless steel work areas. A 3-compartment sink, and a separate one for you and your staff. 
Gas, water, and electricity
All your gas, electricity, water supplies, and appliances must meet regulatory catering standards. You'll need to set your kitchen up with adequate fire extinguishers, fire blankets, a first aid box, and an emergency plan if things get too hot to handle!
Proper waste disposal and management systems are essential in any catering kitchen, especially when handling raw produce and used cooking oil. Some states require catering businesses to employ a regulated 3rd party company to remove and dispose of their waste. Contact your state's health and safety department to find out more. 
Purchasing new kitchen equipment can be costly; it's advisable to make a list that suits your budget and stick to it. That said, you could need the following equipment and appliances in your kitchen: 
Restaurant Depot is a great place to source equipment. You don't have to buy it all upfront; you can rent larger appliances from any commercial food equipment business on a need-to-use basis. 
And search for high-quality new and 2nd hand commercial kitchen equipment at restaurant supply stores throughout the U.S. As you can see from the the image below there are many locations across the country where you can get the equipment you need.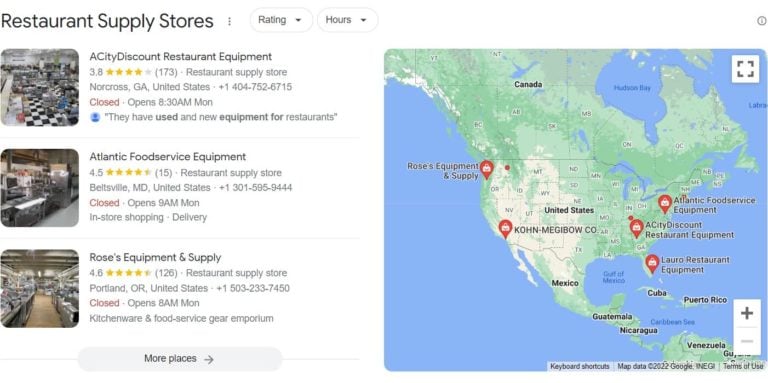 Step 4: Define Your food Specialty
You've got 2 approaches to choose from when starting a catering business from home. You can offer a jack-of-all-trade service or define your specialty. There are a range of niche markets like plant-based, gluten-free, vegan catering, or farm-to-table regional cuisine. 
Both approaches have pros and cons, so let's boil the broth. Defining your specialty can reduce your client pool, but as you focus on one specific niche, it's easier to run your catering business, and you can market directly to your ideal clients.
In contrast, catering to multiple niches provides a larger pool of customers, but it also increases your equipment and production needs and makes it harder to establish yourself as the go-to catering business for your location.
An excellent example of defining your specialty is Hannah Carter, founder of Oggs. Hannah found a gap in the catering market for a vegan alternative to eggs using aquafaba (the liquid leftover from cooked chickpeas). While her niche has a smaller customer base, she grew her business into a $3 million per year venture by defining her specialty.
When defining your specialty, consider on-site versus off-site delivery because any food you deliver to a client's venue must maintain quality throughout transport and setup.
The menu you choose also defines your target market; I'll explain why that's important next.
Step 5: Identify Your Target Market

Your target market is the group of people who'll love what's on your menu. Once you know who they are, you can create a menu and a marketing strategy that'll suit their tastes.
Many new catering businesses succeed by conquering one niche, enabling them to bring the highest quality food to their target market's table while reducing overheads.
And there are plenty of niches to choose from, here are just a few:
You can define your target market even further. For example, some catering businesses focus on cocktail parties, finger foods, or international cuisines like Indian food or good old American BBQ. You can even target specific cultures and events, such as providing a Kosher menu for a Bar Mitzvah and advertising using Jewish publications.  
Step 6: Determine Your Menu Pricing
Determining how to price your services can be challenging when you start a catering business from home. You can't just charge whatever you like because if you overprice, you could lose prospective clients. Yet if you underprice, you might not turn a profit. So, what do you do?
The solution to the pricing problem involves accounting for these 5 factors:
Your location is a huge factor. A catering business in New Hampshire could charge more per person than one in Louisiana, as per statistics from

worldpopulationreview.com

.
Your catering niche affects your pricing because cooking for people with special dietary needs, such as vegan, gluten-free, or dairy-free, costs more than the average buffet.
Labor costs concerning how long it takes to prepare each dish/menu.
Food costs of every ingredient you use. 
Additional overheads such as insurance, licenses, and permits.  
When determining your menu pricing, you aim to cover all of your expenses and earn a profit from each event. To help you achieve it, you can use one of the following pricing strategies:
Many catering businesses use price tiers that provide a specific menu and level of service for various amounts. Each tier menu you create has a different cost per person, giving your clients flexibility when choosing their menu while staying within their budgets. Price tiers also make it easier to run your catering business since you're working with fixed menus.
An à la carte approach takes more time to create since it's unique to each client. But the upside is your clients can create a menu that suits their tastes. Custom proposals make your service unique, and clients are often happy to pay for the privilege.  
Many articles and resources are available to help you price your menu. Check out the Pricing Guidelines for Catering and the New York Food Truck Association's complete pricing guide to learn more. 
Step 7: Set up Your Ordering Platform
Online ordering has become an essential tool for the catering industry. It enables your audience to reach you directly, allowing clients to book your services and order food from any smart device.
Any catering business worth its salt needs a modern, streamlined ordering platform to receive orders, bookings, payment, and schedule future events. But your ordering platform should also account for your catering business's distinct needs because the saying, "We eat first with our eyes," applies. 
And it's the sight of delicious looking food that'll turn prospective clients into paying customers. It pays to invest in an ordering platform that presents your catering menu with mouth-watering images and allows you to create an illustrative description of each item. 
Step 8: Get your First Clients (and Keep Them)
How you get your first clients depends on your catering specialty. For example, caterers specializing in weddings could attend bridal shows, lease a booth, and hand out tasty food samples. Corporate caterers could focus on LinkedIn advertising. And, you can reach out to new venues in your location, ask what type of events they accommodate, and if they need a catering business to accommodate their needs. 
But the best type of marketing for a catering business is word-of-mouth marketing. WOMM is free as people promote your business because they're happy with your service. Client referrals are essential.
You encourage WOMM and keep your customers coming back for more by providing exceptional service and great tasting food every time. And encourage referrals by rewarding clients with discounts or a thank you meal for recommending your catering business.
The takeaway: To ensure your catering business rises like a soufflé, focus on creating and maintaining strong customer relationships and incentivizing WOMM and referrals at every opportunity.  
Now you have the ingredients to start a catering business from home, next "Mise en place," the ones that suit your menu.
Treat each stage as you would preparing your favorite dish; take your time and don't skip any steps. 
And if you find you can't handle the heat, don't get out of the kitchen because, as the French say: "Non si può avere la botte piena e la moglie ubriaca."
I'll leave you to look that one up!
This portion of our website is for informational purposes only. Tailor Brands is not a law firm, and none of the information on this website constitutes or is intended to convey legal advice. All statements, opinions, recommendations, and conclusions are solely the expression of the author and provided on an as-is basis. Accordingly, Tailor Brands is not responsible for the information and/or its accuracy or completeness.
The post How to Start a Catering Business From Home  appeared first on Tailor Brands.